Rod Grizzard
GUARD | (6-8, 205) | null | COLLEGE STATS
Season Averages
YR
GMS
MIN
PTS
REB
AST
TO
A/T
STL
BLK
PF
FG%
FT%
3P%
PPS
2002
35
30.8
14.1
6.1
1.8
2.3
1/1.3
1.1
.7
2.2
.423
.772
.278
1.26
Season Totals
Rebounds
YR
GMS
MIN
FGM
FGA
FTM
FTA
3PM
3PA
PTS
OFF
DEF
TOT
AST
TO
STL
BLK
PF
2002
35
1078
166
392
122
158
40
144
494
60
153
213
62
80
38
25
76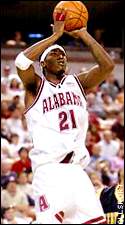 Notes: Rod Grizzard leaves Alabama a year early after a junior season that saw him earn third-team honors by both SEC coaches and the Associated Press. Grizzard was among the top 15 players in both scoring and rebounding in the SEC, while also being chosen to the 2002 All-SEC Tournament Team after scoring 33 points against Tennessee in the SEC tourney quarterfinals.

A John R. Wooden Award finalist, Grizzard recorded nine career double-doubles.

As a sophomore, Grizzard was voted to the All-SEC first team by coaches and the AP. He was second in SEC scoring at a 17 ppg clip, while finishing 17th in rebounding (6.1 rpg). He scored 20 or more points in 15 games and was among those players invited to try out for the USA Basketball national team last summer.

Positives: The word athlete is thrown around often about Grizzard. Hes got all the tools to become a contributing player. Grizzard isn't a shooter but he is a scorer and has become a better defender. He needed another season to let his body mature and grasp the game even more. His defense improved immeasurably as well.

Negatives: He cant make 3s. At least not consistently. He shot 29 percent and there was no sign that he was going to be an even better shooter with more college. That means he has to play small forward at the next level, but teams might try to squeeze him in at shooting guard because of his size. He must become a more consistent 3-point threat.

Summary: Grizzard has got first-round talent, more so than former teammate Gerald Wallace, taken last season late in the first round by Sacramento. But a knee injury in the spring could hamper him in workouts and drag his stock down a few notches, possibly into the second round.