Chris Massie
FORWARD | (6-9, 253) | null | COLLEGE STATS
Season Averages
YR
GMS
MIN
PTS
REB
AST
TO
A/T
STL
BLK
PF
FG%
FT%
3P%
PPS
2002
36
21.7
9.8
8.8
0.9
1.7
1/1.8
.7
.5
2.9
.562
.519
.000
1.46
Season Totals
Rebounds
YR
GMS
MIN
FGM
FGA
FTM
FTA
3PM
3PA
PTS
OFF
DEF
TOT
AST
TO
STL
BLK
PF
2002
36
780
136
242
82
158
0
1
354
136
179
315
33
60
26
17
104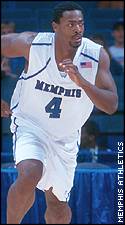 Notes: Chris Massie leaves Memphis after just one season after arriving on the Division I scene from Oxnard College. Massie played his best down the stretch for the Tigers last season, averaging 13 points and 11.2 rebounds while shooting 58.5 percent from the field in the Postseason NIT. He also had nine steals during the five-game tournament as Memphis won the NIT.

For the year, Massie ranked ninth in Conference USA rebounds, while his rebounding average was third-best in C-USA. Massie led the Tigers in offensive rebounds (136).

Massie started his Memphis career with a double-double, finishing with 13 points and 11 rebounds against Wofford. Massie went 8-for-10 from the field against Eastern Kentucky and finished with a career-high 23 points. Also had six rebounds in just 16 minutes of play.

He Averaged 18 points and 12 rebounds as a sophomore at Oxnard College when Condors lost in the second round of the California state playoffs. As a freshman, he averaged 20 points and 15 rebounds. In addition to being named to the JUCO All-American team, was named all-Western State Conference and all-state when Oxnard captured the Western State Conference championship and advanced to the second round of the junior college playoffs freshman season.

Positives: Massie is big and has a Larry Johnson-type frame. But he's got to get more out of his game. He can score close to the basket and can hit the occasional mid-range jumper. Massie has got to do that more often and prove that he can be a valuable contributor. His defense wasn't bad in the post, but could be much better.

Negatives: Massie is still undersized and he's older than most juniors. He's got to prove that he's worth the risk. He was a disappointment at Memphis where he was expected to dominate. That didn't happen and Massie now has to show he simply didn't get enough touches.

Summary: Massie is second-round or undrafted material. Massie will have to work out well to get selected. If he doesn't get picked, then he'll have to have patience to stick in the game. It could take a while for him to stick in the NBA, but he has the upside to eventually make a roster.