Smush Parker
GUARD | (6-4, 190) | null | COLLEGE STATS
Season Averages
YR
GMS
MIN
PTS
REB
AST
TO
A/T
STL
BLK
PF
FG%
FT%
3P%
PPS
2002
28
35.0
16.5
4.4
4.4
4.4
1/1
2.3
.3
2.5
.433
.730
.328
1.31
Season Totals
Rebounds
YR
GMS
MIN
FGM
FGA
FTM
FTA
3PM
3PA
PTS
OFF
DEF
TOT
AST
TO
STL
BLK
PF
2002
28
980
153
353
100
137
57
174
463
36
86
122
123
122
64
7
71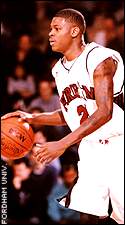 Notes: Smush Parker is a true point guard, but also proved he could score at the Division I level in just his first season at Fordham by netting 20 or more points in eight games and leading the Rams in scoring (16.5 ppg). Parker was named to the Atlantic Ten's second team as a sophomore.

Parker is a gifted ball-handler. He scored in double figures in 24 of 28 games at Fordham, but also was sixth in the A-10 with 125 assists and third in the conference with 2.3 steals a game. Parker arrived at Fordham after transferring from Southern Idaho College. He is also known for his playground heroics in New York City, where he was raised watching his father play at the West Forth Street Ball Court in downtown Manhattan.

Positives: There is a buzz on Parker that is unlike a number of other unheralded players. Parker has a rep out of high school and was able to be one of the top scorers at Fordham. But he didn't do enough with the Rams to generate a definite first-round pick. He needs to prove he's a consistent scorer who can play either guard spot.

Negatives: If he couldn't dominate in the Atlantic 10, then can Parker be a contributor in the NBA? That's the question NBA scouts are wondering. He could have really helped himself by returning to Fordham and he has left open the possibility by not signing with an agent.

Summary: It would be a reach for him to get into the first round. Parker is more of a second-round pick, but might not even go through with the whole process if he can't play in Chicago. Enforcing the rule that would mean sitting games next season for playing in the pre-draft camp could force him to make a decision earlier than expected.