Theron Smith
FORWARD | (6-8, 225) | null | COLLEGE STATS
Season Averages
YR
GMS
MIN
PTS
REB
AST
TO
A/T
STL
BLK
PF
FG%
FT%
3P%
PPS
2002
35
33.0
19.6
10.9
1.4
2.7
1/1.9
1.1
.6
2.8
.513
.743
.378
1.51
Season Totals
Rebounds
YR
GMS
MIN
FGM
FGA
FTM
FTA
3PM
3PA
PTS
OFF
DEF
TOT
AST
TO
STL
BLK
PF
2002
35
1156
233
454
176
237
45
119
687
120
261
381
48
93
39
22
98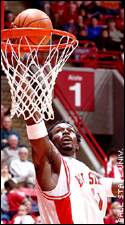 Notes: He may have played for a "mid-major" team, but there was nothing "mid" about Theron Smith's major overall contributions to Ball State's success in 2001-02. The All-MAC first-teamer led the conference in double-doubles with 23 and only Drew Gooden had more such games last season. Smith, who's leaving after only three seasons at Ball State, recorded seven double-doubles in the last nine games and was one of only two MAC players who averaged a double-double.

Smith ranked third in the MAC in scoring and led the conference in rebounding. Smith had at least 20 points and 15 rebounds in same game five times last season and scored in double figures in 34 of 35 games this season (Duke held Smith to 8 in the Maui Invitational title game).

Smith leaves Ball State as the school's seventh all-time scorer (1,553) and ranks fourth all-time in rebounding with 862. Smith was named to the 2002 MAC All-Tournament Team and 2002 College Insider.com Mid-Major All-American.

Positives: Smith is a scorer and he did plenty of it at Ball State. He's got the credentials to be a potential NBA player and he intrigues scouts. He could really change their mind about his draft status if he can get some workouts in or around the Chicago pre-draft camp.

Negatives: Smith was not a dominant player in the MAC and he's not known to be a tremendous rebounder or defender. He worked in perfectly in Tim Buckley's system at Ball State. Smith isn't expected to stay in the draft and might not work out at Chicago. That message might mean teams won't spend too much time worrying about him on their draft lists.

Summary: Smith is expected to return to school and be one of the preseason MAC player of the year candidates. If he stayed in the draft, he's a second-round candidate.