Marcus Haislip
FORWARD | (6-10, 230) | TENNESSEE | COLLEGE STATS
Season Averages
YR
GMS
MIN
PTS
REB
AST
TO
A/T
STL
BLK
PF
FG%
FT%
3P%
PPS
2002
25
33.5
16.7
6.7
1.0
2.0
1/2.1
.4
1.8
3.4
.518
.721
.326
1.34
Season Totals
Rebounds
YR
GMS
MIN
FGM
FGA
FTM
FTA
3PM
3PA
PTS
OFF
DEF
TOT
AST
TO
STL
BLK
PF
2002
25
838
161
311
80
111
15
46
417
56
111
167
24
51
11
44
86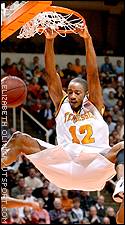 Notes: Marcus Haislip leaves Tennessee after a junior season that saw him earn second-team All-Southeastern Conference honors by the leagues coaches and a third team pick by the Associated Press. Haislip ranked among the SEC leaders in six different categories including scoring (fourth; 16.7 ppg), rebounding (eighth; 6.7 rpg), field goal percentage (fourth; 51.8 percent), free throw percentage (ninth; 72.1 percent), blocked shots (second; 1.76 bpg) and defensive rebounds (eighth; 4.48 rpg).

Haislip recorded 44 blocks in 25 games last season and only one SEC player (Auburns Kyle Davis with 77) had more blocked shots. Ranks ninth on Tennessees career blocked shots list with 116 career rejections. His 44 blocks on the season ranks in a tie for ninth on Tennessees single-season charts.

At 6-foot-10 he owned the highest vertical jump on the Vol roster, and prior to last season Haislip recorded a 40-inch vertical leap in testing. An extremely hard worker in the weight room, he improved his bench press from 175 pounds as a freshman to 400 pounds this year.

Positives: Haislip is rangy, can block shots and can be a pest on the offensive backboard. He's got plenty of upside on his offensive game but wasn't able to fully develop it under two different coaches at Tennessee. He was suspended for the first six games of this season and that didn't help his progress.

Negatives: Scouts aren't sure just how good an offensive talent he can be in the NBA. They don't doubt Haislip's defensive skills, but they want to know why he has never been a consistent scorer. If he can shake this rep then he's got a great chance to move up in the draft.

Summary: Haislip's size and ability to alter shots make him a must in the top 20 and with a good chance to crack the back end of the lottery. He'll be a player who could really leap up in the draft in private workouts.