Mike Dunleavy Jr.
FORWARD | (6-9, 230) | DUKE | COLLEGE STATS
Season Averages
YR
GMS
MIN
PTS
REB
AST
TO
A/T
STL
BLK
PF
FG%
FT%
3P%
PPS
2002
35
32.4
17.3
7.2
2.1
1.8
1.2/1
2.3
.7
2.3
.483
.681
.378
1.34
Season Totals
Rebounds
YR
GMS
MIN
FGM
FGA
FTM
FTA
3PM
3PA
PTS
OFF
DEF
TOT
AST
TO
STL
BLK
PF
2002
35
1134
218
451
81
119
88
233
605
45
206
251
72
62
80
26
79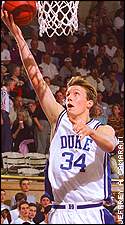 Notes: The second generation Mike Dunleavy may still return to Duke for his senior season, but if he decides to remain in the draft, he should go among the top 10 picks. Dunleavy was one of only six players last season to receive votes for the Associated Press national player of the year award and was a first team NABC All-American. Dunleavy also earned first-team All-ACC honors and was one of the 20 finalists for both the Naismith Award and Wooden Award.

During his junior season, Dunleavy led Duke in blocked shots (26) and was second behind Carlos Boozer in rebounding (7.2 rpg). He also ranked second in 3-point shooting (37.8 percent, 88 of 233) and steals (80). Dunleavy was the only player ranked in the top 10 in the ACC in seven categories and was seventh in the ACC in scoring (17.3 ppg), eighth in rebounding, second in steals (2.3 spg) and ninth in field goal percentage (.483).

As a sophomore, played on Duke's national championship team and scored a team-high 21 points in the title game. Set a career high with 30 points last season against Wake Forest.

Positives: Dunleavy was the toughest matchup in college basketball this past season. He can score from the 3-point line, college or pro. He can score along the offensive glass. He can finish along the baseline and get fouled. When he's at the free-throw line, he makes a high percentage of shots. He comes from good NBA genes and that will help his stock stay high.

Negatives: Dunleavy still needs to develop his body and he could use another season at Duke to be physically stronger. He's already got the mental aspect of the game down and is extremely coachable.

Summary: Dunleavy is a top-five talent and should stay in the draft if he can go that high. He might not be ready to contribute because of his body, but he should be a Dirk Nowitzki-type talent for years to come in the NBA.