Curtis Borchardt
CENTER | (7-0, 230) | STANFORD | COLLEGE STATS
Season Averages
YR
GMS
MIN
PTS
REB
AST
TO
A/T
STL
BLK
PF
FG%
FT%
3P%
PPS
2002
29
31.0
16.9
11.4
2.0
2.0
1/1
.6
2.9
2.8
.576
.670
.407
1.65
Season Totals
Rebounds
YR
GMS
MIN
FGM
FGA
FTM
FTA
3PM
3PA
PTS
OFF
DEF
TOT
AST
TO
STL
BLK
PF
2002
29
898
171
297
138
206
11
27
491
109
223
332
59
57
17
83
82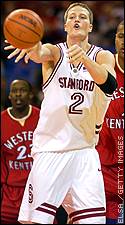 Notes: A nagging foot injury (Borchardt missed the last 14 games of his sophomore season and final 11 games of his freshman season with a stress fracture in his right foot) kept Curtis Borchardt from showing just how dominating he could be in the paint for two seasons. But, he more than played up to his potential during a junior season that saw him earn first-team All-Pac-10 honors and honorable mention All-American honors by both the Associated Press and Basketball America.

A shot-blocker extraordinaire, Borchardt leaves Stanford as the school's second all-time leader in blocks despite missing 28 games during his freshman and sophomore seasons. Borchardt collected 146 blocks in 66 career games. His 85 blocks in 29 games played last season ranked No. 1 in the Pac-10 and 17th nationally.

Borchardt also averaged a double-double for the Cardinal, and shot an impressive 58 percent from the field last season and 53 percent for his career.

Positives: Borchardt simply can block shots with anyone in this draft. He can finish around the bucket and he can run. His feet are fine -- at least they were this season. He continues to develop more post moves and he's a pleasure to be around. His character will win him points in any NBA interview.

Negatives: Borchardt has had only one injury-free season and that could scare a team or two -- but not enough to drop him out of the lottery. He still needs to get stronger and be able to rebound in traffic. He has to finish with a bit more authority, too. Stretching his shooting out further would help.

Summary: He's a top 10 pick based on his potential, his size, his overall skills around the basket at both ends of the court. NBA teams love true centers and he's one of the few.