Dajuan Wagner
GUARD | (6-3, 200) | MEMPHIS | COLLEGE STATS
Season Averages
YR
GMS
MIN
PTS
REB
AST
TO
A/T
STL
BLK
PF
FG%
FT%
3P%
PPS
2002
36
31.8
21.2
2.5
3.6
2.9
1.2/1
1.2
.6
2.8
.410
.722
.317
1.18
Season Totals
Rebounds
YR
GMS
MIN
FGM
FGA
FTM
FTA
3PM
3PA
PTS
OFF
DEF
TOT
AST
TO
STL
BLK
PF
2002
36
1146
265
647
166
230
66
208
762
18
71
89
128
105
43
20
101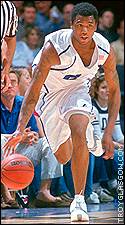 Notes: Among the most heralded high school players in the country this time a year ago, Dajuan Wager nearly entered the draft out of Camden High School in New Jersey. Could have been a lottery pick last year, and most certainly will this year after scoring 762 points to set a Memphis single-season scoring record in his rookie season.

Wagner became the first freshman since Keith Lee in 1982 to be mentioned for Associated Press All-America honors, being selected honorable mention All-America by the wire service. Wagner was named Conference USA Freshman of the Year as well as to the conferences first team after averaging 21.2 points per game, which was second-best in Conference USA behind Steve Logan.

Named the All-USA boys player of the year by USA Today in 2001 and was also the recipient of the Atlanta Tipoff Clubs Naismith Award for the male prep player of the year. Averaged 42.5 points and became New Jerseys all-time scoring leader with 3,462 points -- scoring 50 or more points in nine games, including 100 against Glouchester Tech.

Positives: What's not to like about Wagner's game? He can score, or for that matter, he can get shots anywhere he wants. He knows and loves the game and finds the basket through traffic and doesn't mind taking the contact. He's a finisher and he's tough.

Negatives: Wagner still tends to shoot too much and will have to reign in his game once in the NBA. He was given a free pass in high school and at Memphis. But that won't fly in his first season or two in the League, and it might take him time to adjust to not being the Big Man on Campus.

Summary: Wagner will continue to be compared to Allen Iverson. But, he's bigger, stronger and ultimately could be just as big a star. That's why Wagner won't last too long in this draft.