Jared Jeffries


Invalid request



Invalid request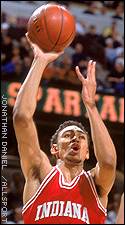 Notes: Jarad Jeffries led the Hoosiers to the brink of their sixth national championship in just his second season in Bloomington, as Indiana reached the 2002 national championship game where they lost to Maryland. Jeffries leaves Indiana as one of only six sophomores to score 1,000 career points (1,008) and despite his early departure ranks 36th on IU's all-time scoring list, 20th in rebounding (471) and ninth all-time in blocked shots (88).

The 2002 Big Ten MVP was also a second team AP All-American and finished eighth in the Wooden Award All-American voting. He was also named second team All-American by the USBWA and NABC, while The Sporting News put Jeffries on its third team All-American list.

Jeffries was a 2002 Top 20 Naismith Award finalist and finalist for the U.S. Basketball Writers Player of the Year. Dick Vitale named Jeffires the top sophomore in the country last season and also selected him on his All-Versatility team in 2002.

As a freshman in 2001, Jeffries was the Big Ten Freshman of the Year and Sporting News Freshman All-American. He was named to the 2001 All-Big Ten second team.

Positives: Jeffries is a freak of nature. He does everything well, but nothing great -- yet. He can score, rebound, block shots, run the floor, handle the rock and dish it to an open teammate. One of those rare players who has the ability to play comfortably on both the perimeter and down low. Very intelligent and disciplined. Think a more athletic Danny Manning.

Negatives: To make this jump after two college seasons, Jeffries needs to add another 20-30 pounds. Unselfish to a fault, he won't be able to use his low post skills until he adds muscle and toughness. Jeffries is neither overly athletic nor quick. May have difficulty guarding smaller forwards.

Summary: Jeffries is one of those kids that is so impressive because he does so many things well for a big man. The problem is that he doesn't do anything great. He's a good shooter, a good rebounder, a good shot blocker but not a great one. Until he proves he can do something really well, he'll likely be mired somewhere near the end of the lottery.