Roger Mason Jr.
GUARD | (6-5, 205) | null | COLLEGE STATS
Season Averages
YR
GMS
MIN
PTS
REB
AST
TO
A/T
STL
BLK
PF
FG%
FT%
3P%
PPS
2002
29
36.1
18.6
3.2
4.1
3.0
1.4/1
.9
.4
2.2
.409
.881
.367
1.36
Season Totals
Rebounds
YR
GMS
MIN
FGM
FGA
FTM
FTA
3PM
3PA
PTS
OFF
DEF
TOT
AST
TO
STL
BLK
PF
2002
29
1046
162
396
133
151
81
221
538
17
76
93
119
86
27
12
64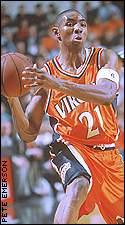 Notes: Roger Mason Jr. leaves Virginia a year early as the school's 25th all-time scoring leader with 1,231 points. He was a second team All-ACC selection and among 30 midseason candidates for the 2002 Wooden Award All-America Team.

Mason ranks sixth on Virgina's career three-point field goals made list (137). He scored in double figures in 28 of the team's 29 games during the season and in 39 of his last 40 games overall dating back to the 2000-01 season. Asked to play point guard as a junior, Mason was the team's leader in assists 17 times and scoring 15 times.

Positives: When Mason is on hes a deft scorer. He can make 3s and slash to the basket. Hes got the ball skills to play both positions if pressed. He can be a better than average defender. Hes leaving a year too early, but he has the offensive skills to make the transition.

Negatives: Size could be an issue for Mason, as he makes a transition to a straight NBA two guard. And scouts all insist that he should return to school. He might not be ready for the rigors of the NBA.

Summary: Mason should reconsider returning to school. He hasnt ruled it out, but going back to Virginia would make more sense since hes not a lock for the first round.