Lawrie solid at Cathedral City Classic
March, 1, 2010
03/01/10
1:41
PM ET
CATHEDRAL CITY, Calif. -- From a backdrop of snow-capped mountains rising out of the desert to outfield walls mimicking Yankee Stadium, Wrigley Field and Fenway Park to smoke wafting from the barbecue stand, the Cathedral City Classic does its best to leave a lasting impression on the senses. And that's before you even get to the softball, featuring 12 members of the Top 25.
[+] Enlarge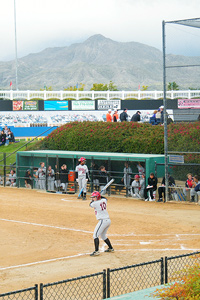 Graham Hays/ESPN.comEleven of the top 25 teams saw action at the Cathedral City Classic.
Some highlights, with the caveat that these are pulled only from what I witnessed (which, with more than 100 total games going on, was more of a sampler platter).
Most Outstanding Player: Danielle Lawrie, Washington
More on Washington and Lawrie later this week, but the reigning USA Softball Player of the Year continues to play above the level of the rest of the college game. Through three weeks, she has 102 strikeouts and just five walks in 56 innings in the circle. In Cathedral City, she started and beat BYU (with a one-hit shutout), Fresno State and Oklahoma and earned a win with five relief innings against Oklahoma State.
"She's just tough," Washington coach Heather Tarr said. "And the cool thing about her in her fifth year is she's learned to be able to compete for every pitch. And that's so hard to do over 200, 300 pitches in one ballgame on both sides."
The mind-bending thing about all of it is that Lawrie has been equally impressive at the plate this season, with eight home runs, 19 RBIs and a .400 average in 13 games.
Most Outstanding Player (Non-Lawrie Division): Jessica Shults, Oklahoma
The race for All-American honors among catchers is going to be a treat to watch and a nightmare to decide for the next four years, with Shults, Texas A&M's Meagan May and California's Lindsey Ziegenhirt already entrenched as program cornerstones behind the plate as freshmen.
"She just looks like a veteran," Oklahoma coach Patty Gasso said of her entrant. "I'm waiting to see her stumble. We've been in huge games these last three weeks and she seems to get better as the game is bigger."
Even against a class of current catchers that includes Mississippi State's Chelsea Bramlett, Ohio State's Sam Marder, Arizona's Stacie Chambers and Louisville's Melissa Roth, Shults might have a shot at earning national honors this year. More on Oklahoma later this week, but when you touch up Lawrie for four RBIs in one game, just half of the freshman's weekend total in four games for the Sooners, you earn special distinction.
Most intriguing win: Baylor 9, UCLA 5
The Bears went 3-2 on the weekend, highlighted by Saturday's win against No. 3 UCLA, a result coach Glenn Moore called "one of our top games in the history of the program."
The intrigue comes from the way Moore parceled out the pitching duties for both that game and Sunday's 3-2 loss against No. 2 Arizona. Sophomore Whitney Canion sat out the first two weeks of the season because of a stress reaction in her pitching arm, similar to the injury in a different part of the arm that forced Moore to shut her down in last year's super regional at Michigan. The plan for Cathedral City was to have her throw 20, 40 and 60 pitches on successive days (she threw 19 on Friday against San Diego State, 72 against UCLA and 81 Sunday against Arizona) as she eased back into action.
Moore said the next step is for Canion to throw twice next weekend and then undergo an MRI. Depending on the results of that test and any pain she feels, the team will make a decision on whether or not to redshirt her.
If she's healthy, Baylor can't be overlooked. Last year's success was built on Canion's dominance, but the offense is off to a stellar start in 2010. The team hit 31 home runs in 1,650 at-bats last season but already has 15 in only 392 at-bats this season, including four each from Jordan Vannatta and Dani Leal. And as always with the Bears, they'll steal and slap their way to the extra bases they don't slug. Coming off last season's knee injury, Kayce Walker has eight steals in 15 games, and some around the program suggested freshman Kathy Shelton might be the fastest player of them all in Waco.
"All throughout our lineup people are capable of making some noise," Moore said. "I don't think we have an area in it that I'm really thinking that, 'We've got to get through this area to get to the top again.' I mean, we're capable of scoring runs throughout our lineup. So it's a pretty solid lineup -- not a scary lineup, but we have a lot of pressure with our speed and a couple of kids that are capable of hitting the ball out of the park."
Graham Hays covers softball for ESPN.com. E-mail him at Graham.Hays@espn3.com.