Solid weekend for Arizona State
May, 2, 2010
05/02/10
10:01
PM ET
Five teams that moved the needle last week.
[+] Enlarge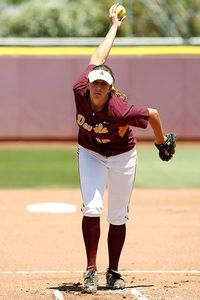 Jason WiseArizona State's Hillary Bach pitched a pair of complete games this weekend, including a one-hit shutout Friday.
Arizona State: As it turns out, Arizona State's road to a winning record in the Pac-10 may be just that -- the road. The Sun Devils typically leave home before conference play about as often as Howard Hughes did in his final years. They didn't play away from Farrington Stadium until March 18 this season, having played their first 26 games at home. They didn't play a true road game until April 9 at UCLA. Yet with six games remaining, they are 5-1 on the road in the Pac-10 and 3-6 at home. Go figure. 
Following a three-game sweep against the Bruins early in April, the Sun Devils again made the most of their travels by taking two of three games at Stanford over the weekend. Hillary Bach pitched a pair of complete games for the wins, including a one-hit shutout Friday, and Mandy Urfer -- slugging better than .700 in part-time duty induced by a stress fracture in her foot and strep throat -- drove in runs in both wins and hit her fifth home run of the season. 
Why does all of this matter? It looks more and more like Arizona State, which plays three at Oregon State next week and closes the regular season with three at home against Washington, may have trouble gaining one of the top eight seeds in the NCAA tournament. Barring a repeat of last season, when North Dakota State stunned Oklahoma and left Arizona State as the only seeded team in its super regional, that means hitting the road to earn a fifth consecutive trip to the Women's College World Series. In fact, with so few teams within driving range of Tempe, and nearby Arizona perhaps ahead in the pecking order, Arizona State may again find itself playing on the road as a seeded team in a regional. 
Alcorn State: It took waiting out a weather delay and then playing through rain. It required overcoming both back-to-back home runs against them to lead off the game and an injury to their ace, but no team had a better Sunday than the Braves. 
The first team officially in this year's NCAA tournament, Alcorn State outlasted Mississippi Valley State 6-3 in extra innings to win the SWAC tournament, denying their opponent a seventh consecutive title. Beyond their perseverance in the title tilt, the Braves entered the conference tournament having won just six of their last 17 games in the regular season and promptly lost their opener in the double-elimination tournament to Grambling State.
But after scoring four runs in the top of the eighth inning of the final, after having two outs with the bases empty, Alcorn State watched freshman pitcher Deanna Rancilio, the late-inning replacement for injured ace Jennie Hatch, close out the win. The play of the game might have been Hatch having the composure to lob the ball to first base for the out after being hit in her throwing hand by the line drive that forced her out of the game. 
Fordham: The Rams can't afford a lapse when they close the regular season next weekend at home against St. Bonaventure, but a weekend sweep at Charlotte may have been the final piece of the puzzle to earn an at-large bid to the NCAA tournament, should they fail to win an automatic bid in the upcoming Atlantic 10 tournament. 
Ace Jen Mineau pitched both ends of Sunday's doubleheader, struck out 20 and allowed just seven hits in a pair of shutouts. Third baseman Jocelyn Dearborn drove in the only run in a 1-0 win to open the doubleheader with a home run and capped the scoring in an 8-0 nightcap win with another home run. Beckah Wiggins, who entered the weekend ranked No. 19 nationally in RBIs per game, also homered and drove in four in Sunday's finale. 
Ranked No. 32 in the RPI released last week, Fordham has wins against RPI top-20 teams in Georgia Tech and Texas A&M, as well as wins against Florida International (No. 41), UNLV (No. 67), Oregon State (No. 69) and now Charlotte (No. 62). The Rams have lost just twice in their last 26 games, both times against Massachusetts. 
Creighton: In honor of the Kentucky Derby, Creighton is coming up strong on the outside as the Missouri Valley race comes down to the wire. 
Behind Tara Oltman, who equaled the conference record for career strikeouts in the process, Creighton beat Illinois State 3-1 Sunday on the road to take two of three games in the weekend series between teams in second and third in the MVC. The one game the Bluejays lost in the series, a 2-1 decision in the back end of Saturday's doubleheader, actually ended a 13-game conference winning streak. Seemingly on the ropes after a 2-5 start in the league, Creighton is now half a game behind Illinois State for second and two games behind league leader Southern Illinois. 
Renae Sinkler picked up four hits, including three home runs, and drove in five runs for the Bluejays, while Oltman struck out 20 batters in working all 19 innings of the series. 
Kent State: Beth Cinadr's walk-off home run in a 4-2 win against Central Michigan capped three straight wins for the Golden Flashes after a weekend-opening loss against Eastern Michigan. As a result, Kent State is tied with Ball State for the best record across the MAC's two divisions. 
Ace Kylie Reynolds, battling what coach Karen Linder called "finger problems" in an official release, threw a three-hitter in the first game of the doubleheader against Central Michigan,  but her weekend numbers weren't what we've grown accustomed to from the program's all-time strikeouts and wins leader. 
Which is why it's particularly noteworthy how the offense stepped up. 
Cinadr's walk-off was a two-run home run because Central Michigan opted to intentionally walk Lauren Grimes ahead of her -- the third consecutive intentional walk for Grimes after she had hit three home runs in her first five plate appearances of the doubleheader. Kent State is slugging .419 this season, not an earth-shattering number but a dramatic improvement on last season's anemic .341 slugging percentage.
Graham Hays covers women's college softball for ESPN.com. E-mail him at Graham.Hays@espn3.com. Follow him on Twitter: @grahamhays.