Top two seeds absent from WCWS
May, 30, 2010
05/30/10
10:13
PM ET
For the first time since the NCAA tournament reconfigured its format to include super regionals in 2005, the top two overall seeds will not be in the Women's College World Series. 
[+] Enlarge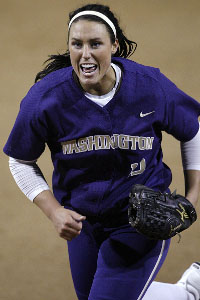 AP Photo/Elaine ThompsonDanielle Lawrie and Washington rebounded from a Game 1 loss to beat Oklahoma and advance to WCWS.
The defending champs needed an effort for the ages from the player expected to repeat as USA Softball Player of the Year to avoid making it the top three seeds. 
Yet there wasn't a heck of a lot of super regional drama to be found.
If that equation doesn't make much sense, well, welcome to a perplexing postseason. 
Even with the drama in the Tuscaloosa Super Regional, where No. 16 Hawaii recorded a pair of one-run wins to eliminate No. 1 Alabama in three games, there were only five super regional games decided by two or fewer runs. That's the fewest since the advent of the extra postseason round six seasons ago. Only two series went the full three games, matching last season for the fewest in the super regional era. 
All of that on top of a regional round in which all 16 teams advanced without a loss. 
Hawaii's win has been covered elsewhere, but here's a quick look at the other seven super regionals. 
Ann Arbor: No. 15 Tennessee defeats No. 2 Michigan (2-0)
Freshman pitcher Ivy Renfroe continued a hot second half of the season and emerged as a budding star for the Lady Vols. She came within two outs of a no-hitter while pitching a shutout in the opener and quelled a Michigan rally in relief in the clincher. Tennessee made its chances count, stranding just six runners on base in two games. 
Athens: No. 6 Georgia defeats No. 11 California (2-0)
Perhaps the most impressive performance by any team in the round, Georgia outscored Cal 17-1 in the sweep. We knew the Bulldogs could hit -- Megan Wiggins took the leading role in this instance with six RBIs -- but Sarah McCloud allowed just seven hits in 12 innings in the circle (although she did walk 10 batters and hit two more). 
Columbia: No. 9 Missouri defeats Oregon (2-0)
In the non-Canadian division, Kristin Nottelmann might have been the most valuable pitcher of the round. Missouri's ace (and she's earned that label) allowed just one earned run in a pair of complete game wins. She has all five wins for Missouri this postseason, including four in games decided by two runs or less -- best in the field. 
Gainesville: No. 4 Florida defeats No. 13 Arizona State (2-0)
For the third season in a row, Florida disposed of a Pac-10 team in minimum games. Kelsey Bruder bats in front of Francesca Enea and exists somewhat in her teammate's shadow, but she led the way with two home runs, two doubles and six RBIs. Ace Stephanie Brombacher is rolling, with five wins and just five walks this postseason. 
Los Angeles: No. 5 UCLA defeats Louisiana-Lafayette (2-0)
The Bruins got a lot hits (23) and a lot of runs (20) from a lot of people in blitzing Louisiana-Lafayette in a pair of run-rule wins, but there's no mistaking that they're back in the World Series with a healthy Samantha Camuso (2 HR, 7 RBIs vs. ULL) after missing the World Series last season without an injured Camuso. 
Seattle: No. 3 Washington defeats No. 14 Oklahoma (2-1)
If you watched Washington's back-to-back wins Friday to stave off the upset, you saw Danielle Lawrie pitch the way Mike Singletary used to play linebacker -- complete with the crazy eyes. 
Tucson: No. 10 Arizona defeats BYU (2-0)
On the eve of the NCAA tournament, it was all about freshman ace Kenzie Fowler's hurting right arm. On the eve of the Women's College World Series, well, it's still about Fowler's arm. She dominated BYU in the opener, striking out 10, but left the clincher without recording an out after taking a line drive to her right arm. 
Graham Hays covers women's college softball for ESPN.com. E-mail him at Graham.Hays@espn3.com. Follow him on Twitter: @grahamhays.