Illegal pitches define Day 1
June, 4, 2010
06/04/10
12:08
AM ET
OKLAHOMA CITY, Okla. -- Softball wasn't spared from a conversation about officiating supplanting what should have been a showcase.
Just don't expect any apologies from the umpires, coaches or pitchers in this debate.
[+] Enlarge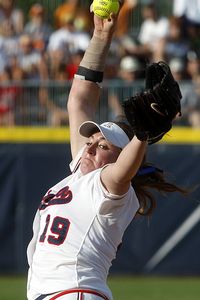 AP Photo/Sue OgrockiArizona's Kenzie Fowler was called for eight illegal pitches on Thursday.
From the 2010-11 rules, section 1.28 (definitions).
Crow hop: "An illegal act in which the pitcher's pivot foot leaves the pitcher's plate and re-contacts the ground before the release of the pitch."
And from section 10.4.5 (pitching rules).
"No crow hopping is allowed. The pitcher may not replant, gain a second starting point and push off her pivot foot. Once having lost contact with the pitcher's plate, the pivot foot may trail on the ground but may not bear weight again until the pitch is released."
Forget a scorecard; you needed a copy of the rule book to follow the action in the middle two games of Thursday's opening day at the Women's College World Series.
Florida pitcher Stephanie Brombacher was called for four illegal pitches in the first three innings of her team's game against UCLA and was eventually pulled after allowing five runs in what turned into a 16-3 rout.
Gators coach Tim Walton, who said he didn't want to incur any SEC penalties, instead offered an oblique reference to the previous night's big story in response to a question about the illegal pitches called on Brombacher and freshman replacement Ensley Gammel.
"I think that kid [Armando] Galarraga threw one heck of a game yesterday for Detroit," Walton said.
Read what you will between the lines on that one.
That only proved the opening act for Arizona freshman Kenzie Fowler, who was called for eight illegal pitches against Tennessee before exiting. Brombacher has had an on-again, off-again battle with illegal pitches this season, but while illegal pitch data isn't readily available, an Arizona spokesperson said Fowler had been called for only six with runners on base in more than 200 innings before Thursday's game.
"It kind of set the tone for the game," Mike Candrea said. "Illegal or not illegal, I think one of the big things that is confusing to us as coaches, and I'll try to be politically correct about this, but you play all year to get to here and what they were calling tonight has never been called, No. 1. So how does the kid fix it if she doesn't think she's doing anything wrong?"
In neither collective case did the illegal pitches decide the game, a point Walton especially made in crediting UCLA's strong performances. And in every individual case I could see watching the replays, the pitches were, in fact, illegal.
So were a lot of pitches that weren't called this season. To be clear, Thursday didn't come out of nowhere -- ask Creighton's Tara Oltman, Michigan's Jordan Taylor or dozens of other pitchers notably flagged at times this season as illegal pitches were made a point of emphasis for umpires.
But the sport's biggest stage isn't the place to make a point about a rule many umpires have shown only only a sporadic spine to enforce from February through May.
Either call them all or get out of the way of the game.
The shame is that instead of talking about Tennessee's Ivy Renfroe throwing the first World Series shutout by a freshman since UCLA's Anjelica Selden in 2005, Andrea Harrison hitting two three-run home runs for the Bruins or Traci Yoshikawa's big blast in Hawaii's comeback win, we're talking illegal pitches.
"I've been here for a few years," Candrea said. "I've never seen an umpire's judgement take over the complexion of a game. And tonight he did."
Graham Hays covers women's college softball for ESPN.com. E-mail him at Graham.Hays@espn3.com. Follow him on Twitter: @grahamhays.