Have to work to beat UCLA
June, 4, 2010
06/04/10
11:44
PM ET
OKLAHOMA CITY -- What did we learn Friday? Maybe you can beat Megan Langenfeld, but you're going to have to work for it.
Hawaii did all it could, from epic at-bats to spectacular defense, but none of it proved enough to avert a 5-2 win for the Bruins.
If you're in the mood for souvenirs -- or in the mood to be the target in target practice -- sit down the third-base line when Langenfeld pitches. Time and again against a Hawaii team that smashed the NCAA single-season record for home runs, the UCLA senior put her pitches so far in on the hands of hitters that the grandstand down the left-field line was the only landing spot physics allowed.
[+] Enlarge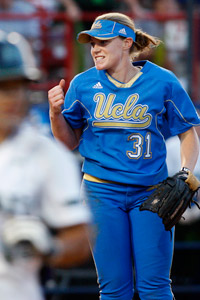 AP Photo/Sue OgrockiMegan Langenfeld was tough as nails on the mound Friday night.
By my admittedly unofficial count, Hawaii hitters fouled off 62 of Langenfeld's 132 pitches. When the balls did end up in fair territory, what the Rainbow Wahine didn't beat into the ground, they popped up to the infield, six in all, to go with seven groundouts and six strikeouts.
"She does bring the jam job a lot," UCLA catcher Kaila Shull said the day before. "I know I'm ready for a few more popups that may be closer to my range, and the left side of the field is always ready."
It took one of the more memorable at-bats in recent World Series history for Hawaii to get on the board. After falling behind 1-2 in the count in the bottom of the fourth, Hawaii's Alexandra Aguirre fouled off 13 consecutive pitches, almost all in on her hands and flirting with the strike zone. Finally, after Langenfeld left a pitch a few inches over the plate, Aguirre hit a two-run home run to cut UCLA's lead to 4-2.
"It was long," Aguirre said of the at-bat. "It's one of those things where I knew she was coming inside every single pitch, so I just had to focus on seeing the ball out in front and getting my hands around on it. And then she threw in a couple of changeups that kind of threw me off."
Hawaii followed with back-to-back hits, only to see the rally end on, what else, an infield popup.
Friday's game was the first postseason start for Langenfeld, who has been limited by her coach to playing the field and making occasional relief appearances. As UCLA looks for its first back-to-back wins to open a World Series since 2005, there wasn't much doubt in coach Kelly Inouye-Perez's mind about who would get the start.
"We wanted her to be at her best when we needed her to be at her best. ... And it's time," Inouye-Perez said. "So I literally met with her last night and asked how she was doing and she said, 'I want the ball coach.' So it was very simple."
Saturday Spotlight: Arizona vs. Washington (ESPN2, 2:30 p.m.)
Arizona's Mike Candrea went on the offensive against illegal pitches after his team's loss to Tennessee. But the coach also sounded almost defensive when it came to his team's bats going silent yet again in Oklahoma City. (Arizona was shut out by Florida and Alabama in last year's event.)
"I think one of the things you have to have here is short-term memory," Candrea said. "I think the big thing is you've got to keep doing what you're doing and things will turn around. We're a decent hitting team but we have had our struggles. But I think the more you talk about it the worse it gets. It's over with."
Facing Danielle Lawrie, particularly with the two-time reigning national player of the year coming off a rare hittable performance, doesn't shape up as much of an elixir.
Arizona didn't draw a single walk against Tennessee's Ivy Renfroe, a freshman pitcher making her first World Series start. But the 18 Wildcats who went to the plate saw 88 pitches -- 4.9 pitches per plate appearance. That's significantly better than in any of their four World Series losses in 2008 and 2009 and perhaps a more accurate reflection of a team that posted a better on-base percentage this season than in its record-breaking power display last season.
But Lawrie has gone from great to all-time great during her career in part by making opponents hit her to beat her. As much attention as Kenzie Fowler's feet will draw, whoever wins the battle of pitch selection Saturday holds the edge.
Graham Hays covers women's college softball for ESPN.com. E-mail him at Graham.Hays@espn3.com. Follow him on Twitter: @grahamhays.