Tension between wrestling, MMA
March, 1, 2011
03/01/11
3:58
PM ET
Iowa State coach Kevin Jackson acknowledges there is a somewhat strained relationship between mixed martial arts and wrestling.
[+] Enlarge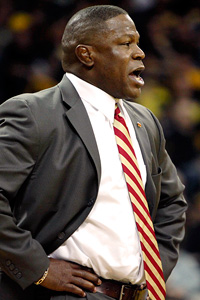 AP Photo/Charlie NeibergallKevin Jackson acknowledges the impact that MMA has had on the sport.
"Without a doubt, the two sports are going to have to work together," said Jackson, who spent eight years as USA Wrestling's freestyle coach before taking over as coach at Iowa State. "MMA is a force that isn't going away; it's gaining popularity. It is an opportunity for some wrestlers to use the skills they've gained to support themselves and their families.
"I do feel like MMA does hurt USA Wrestling's chances to win at the world and Olympic level. Because it takes away from our depth when we have very good wrestlers who choose to go directly from college to MMA."
Former Iowa coach Dan Gable agrees that USA Wrestling should help young wrestlers who are interested in MMA navigate the best path to other opportunities beyond wrestling.
"I love that they have another opportunity to compete and make money," Gable said. "But the key thing is that wrestling is in the educational system, and it needs to stay there. We don't want people to think you go into a wrestling program to come out an MMA fighter. I think that's for a select few. We do want MMA to be included in the diagram."
Jackson competed in mixed martial arts in 1997-98, but only after an international wrestling career during which he won an Olympic gold medal and two world championships.
Jackson said he believes that the culture of wrestling in the state of Iowa works to the benefit of USA Wrestling.
"When you come out of a program in this state, your goal has always been to be a world and Olympic champion," Jackson said. "And you will not forgo that dream no matter what amount of money there is in MMA. If that goal is in your heart and soul -- which it is for most athletes who go to Iowa and Iowa State -- that's what you'll pursue first."