Gable's intensity fuels legendary career
March, 2, 2011
03/02/11
8:59
AM ET
IOWA CITY, Iowa -- Dan Gable officially retired from the University of Iowa earlier this year. He had stepped away from coaching the Hawkeyes wrestling program in 1997, after 21 seasons of dominating in the Big Ten and nationally.
[+] Enlarge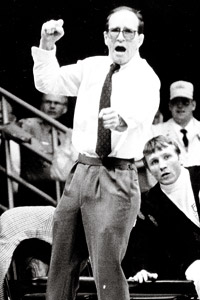 Iowa AthleticsDan Gable helped put wrestling on the map.
He'll never stop working to publicize the benefits of wrestling, though.
"I don't care what kind of job you have, you still have to pay attention to detail to be exceptional," said Gable, who since leaving coaching had served as an assistant to the Iowa athletic director. "And that usually takes a lot of discipline. Ours is one sport where you have to be disciplined in several ways, and you don't get to take any shortcuts."
Even in a sport populated by extremely intense people, Gable's focus as a competitor was uncanny. His ability to lose himself so completely to wrestling was in part his way of coping with some tough family times while growing up.
Gable was just 15 when his older sister was murdered while he and his parents were gone. He still speaks of the tragedy in a way that makes it seem painfully contemporary for him nearly a half-century later.
"There are certain things in your life that affect your whole life," he said. "That's going to affect me forever. And with my own daughters and my wife … you're always in this preventive, protective mode."
After going 64-0 at Waterloo West High, Gable headed to Iowa State. From 1966 to 1970, when so many of his college peers were experimenting daily with any and every stimulation, Gable lived mostly like a wrestling monk.
He dominated the three seasons he was collegiately eligible -- freshmen couldn't compete then -- for the Cyclones until his very last bout, a 13-11 loss to Washington's Larry Owings in the NCAA final that stunned the sports world.
Gable still reviews that match in his mind, like a mathematician going over the same equation for decades. He said the Patriots' loss to the Giants in the 2008 Super Bowl -- which kept New England from a perfect season -- actually brought him more clarity about the defeat that ended his college career.
"It took me to that event before I could start to close the door on studying my loss in 1970," said Gable, who went 118-1 at Iowa State. "I think I figured out the missing piece after analyzing it for all these years. It didn't take the sting away. But something clicked, and I understood why I lost.
"What it was came down to natural reaction. I always went for the pin. I did what was natural for me. I could have won the match without doing that. But I went for the fall, twice, the same way. I didn't adapt."
But he also knows it helped fuel him to a gold medal at the 1972 Olympics, where he didn't give up a single point. He realizes now that the loss had, in fact, taught him to recognize that the winning tactic sometimes was to be more conservative and that knowing that served him well in the Munich Games.
As a coach, Gable was just as driven as he was while competing. He led Iowa to a 355-21-5 record and 15 NCAA titles. Gable was succeeded first by Jim Zalesky, then by Tom Brands. Both of them had won three individual NCAA titles when they wrestled for him at Iowa.
"I think of it as I had one unbelievable opportunity as a competitor to be coached by Gable, and I bought into everything he said," Brands said. "Some kids want to know, 'Why are we doing this? It doesn't make sense to me.' Just do it, you know?
"Gable got you to do it his way. Here's how I describe it: We got better, and we didn't know it. You train with him, and, months later, you suddenly said, 'I'm pretty dang tough.'"