Florida overcomes injuries to defend title
March, 13, 2011
03/13/11
2:12
PM ET
This past weekend, Florida became just the fourth different men's program in NCAA history to claim back-to-back NCAA Indoor Track Championships. The Gators scored 52 team points to win the 2011 national title on Saturday at Gilliam Indoor Track Stadium at Texas A&M University.
[+] Enlarge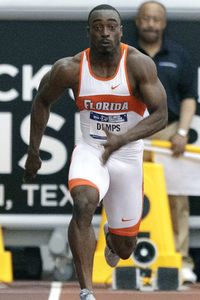 AP Photo/Bob LeveyJeff Demps won his second consecutive 60-meter dash title with a school-record time.
Arkansas, Kansas and UTEP are the only other men's programs in NCAA history to win NCAA indoor championships in consecutive years. Florida is the first team to accomplish the feat since Arkansas did so in 2005 and 2006.
Coach Mike Holloway spoke with ESPN.com about the event:
Heather Dinich: Because you guys have done this before, but not a lot of programs have done it to the extent you have, what does this mean to you and the program?
Mike Holloway: It's very special. Any time you win a national championship, it's a special thing. I think for us what it means is all of our hard work, all of our dedication, everything we did paid off for us.
Dinich: What was the biggest surprise for you during the meet?
Holloway: I don't think there was any big surprise. Looking back, it went the way we wanted to go in terms of Saturday. We had some bumps in the road on Friday with Tony McQuay getting hurt with the hamstring injury and Kemal Mesic not being able to perform the way he's capable of because he had a hand injury, but that's part of athletics. You have ups and downs during the competition. I'm obviously extremely proud of the guys because I challenged them to toughen up and be who we are on Saturday, and they did that.
Dinich: How did your team respond to those injuries?
Holloway: They responded well. We talk a lot about holding each other up, taking care of each other. We talked on Thursday about how the meet's not going to go perfect; it never does. We've got a very talented team, and whenever one of your teammates has a bad event, or something bad happens, we've got to find somebody to pick them up. You see what Jeff [Demps] did, what Gray [Horn] did, and the guys in the triple jump did. Everybody responded to the adversity.
Dinich: How did you as a coach help them handle the expectations and the spotlight because you were favorites?
Holloway: That's something we knew coming into the season, that we would be favorites. We've got a very talented group of young men. I don't think there's anybody out there surprised we won this title. We were the favorites coming in, but all we talk about is taking care of the Gators. We talk about just being who we are and performing up to our capabilities. We try not to worry about what the media and the dot-coms talk about.
Dinich: What about the individual performances? Were there any athletes who really overcame some adversity this season?
Holloway: You look at Jeff Demps overcoming an ankle injury from football, you look at Will Claye, a transfer from Oklahoma. A year ago he had a stress fracture in his back and couldn't compete at a high level. Overall, it's a total team effort, a total team focus by everyone involved. When we walked in that building yesterday, that's what we expected to do.
Dinich: What's your program looking like moving forward now into the outdoor season? How many people stick around and what are the expectations heading into the outdoor season?
Holloway: The expectation heading into outdoors, we've never won an outdoor title. That's our No. 1 goal, to win one of those, and as far as the future, I think we set ourselves up pretty well. We lose Kemal and Terrell [Wilks] and everybody else is back. We've got a pretty good recruiting class coming in, so we've set ourselves up pretty good for the future.
Heather Dinich covers college football for ESPN.com.