Beckah Wiggins powers Rams in regional
May, 20, 2011
05/20/11
10:57
PM ET
STATE COLLEGE, Pa. -- Fordham coach Bridget Orchard went with her gut. Rams senior Beckah Wiggins proceeded to leave Penn State feeling sick to its stomach.
Welcome to the postseason.
[+] Enlarge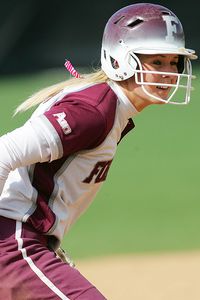 Fordham AthleticsBeckah Wiggins came up big for the Rams on Day 1 of the NCAA tournament.
As the seventh inning of a scoreless game began at Beard Field, Penn State and Fordham appeared poised to test the notion that any softball game has the potential to last as long as time itself. Living up to her All-American accolades, Rams ace Jen Mineau had silenced the home team -- her consecutive scoreless innings streak would stand at 77 by the end of the day. But Mineau's teammates were enjoying little more success against Nittany Lions ace Jackie Hill. Just three Fordham players reached base in the first six innings. And the fourth inning, in which the Rams not only went down in order but went down on successive pop outs to the pitcher, catcher and first baseman (quite literally, 1, 2, 3 for those scoring at home), seemed to sum up an exercise in offensive futility.
So when Fordham leadoff batter Jamie LaBovick reached on a throwing error in the top of the seventh, the next moved seemed obvious -- even to the player walking toward the batter's box. It seemed obvious after the first pitch came in high. It seemed logical after the second pitch missed and reasonable even after the third pitch was fouled off.
"I remember looking down [at Orchard in the third-base coaching box] through each and every pitch, thinking she was going to give me the bunt sign," Wiggins said. "We don't bunt too much as a team, but I thought for sure -- we haven't scored all game, I'm definitely going to get it. And I didn't, so I didn't think too much of it; I was like, 'All right, I'll just keep going with my regular approach,' And I guess it worked out."
It worked out because Wiggins deposited the 2-1 pitch over the wall in left-center to account for all the runs in Fordham's 2-0 win. It was the first home run for Wiggins since April 27. In all, the player who shared conference player-of-the-year honors last season in the Atlantic 10 had just one extra-base hit in 20 conference games this season. But after picking up a pair of doubles in the A-10 tournament last weekend, she had a hot enough bat to convince her coach to cast aside conventional wisdom.
"Oh yeah, [there was] a lot of thought about going with the bunt," Orchard said. "But a lot of times I just go with my gut, and she's been hitting the ball well -- she'd been seeing Jackie Hill well, she was just missing it a few times. In my opinion, I thought one run was going to win that game, and I really thought Beckah had a good shot. I didn't know if she'd hit a home run, but I thought she'd get a double or something and we'd get a big rally going."
Mineau is the star for Fordham and the reason it has super regional aspirations, labels she lived up to against Penn State by striking out 13 and allowing just two hits and one walks, in the process becoming her school's all-time leader in career wins. But Fordham's character, proven in holding its own with Mineau slowed by a foot injury early this season, is also the product of the rest of the roster. It's a collection of veteran, regional kids -- eight starters Friday were from New York, New Jersey or Pennsylvania, including Wiggins -- who play their own way.
It won't always work out quite as well as it did in the seventh inning, but don't expect them to play it safe.
"I always tell myself, 'Do what got you here.'" Orchard said. "In a game, this is what we do, this is what we go with. I think Beckah was thinking maybe bunt because of the situation, but normally, in a normal game, we're going to hit away in that spot. And we did, so I was happy we kind of stuck with what we do."
Fordham will face No. 13 Oregon on Saturday, the second year in a row it is in the winner's bracket in a regional.
In other regional action
Biggest statement: Conference USA
It was just an opening statement, but it came through loud and clear. Conference USA received five tournament bids, a notable accomplishment for a league that had on occasion in recent seasons earned just a single, automatic bid. And all five teams came through with wins on the first full day of the tournament. East Carolina beat Maryland 5-1 on the latter's home field, Houston beat Louisiana-Lafayette 7-2, Memphis beat Chattanooga 4-1, Tulsa beat Missouri State 9-7 and UAB shut out Florida State 2-0. The last game might have produced the best individual performance, with Blazers freshman Leigh Streetman allowing two hits and no walks in a complete game duel with Seminoles ace Sarah Hamilton (although Tulsa center fielder Caitlin Everett was in the running after collecting a double, triple and three RBIs in her team's win). But it doesn't get any easier; all five teams could face seeded opponents Saturday.
Biggest surprise: Kentucky's demolition job
Kentucky coach Rachel Lawson said she was "shocked" by Friday's result, so who are we to argue? The surprise isn't that Lawson's team beat Notre Dame; it's that the Wildcats needed just five innings to demolish the Fighting Irish 8-0. Offensive growth behind ace Chanda Bell and a deep pitching staff allowed Kentucky to flourish this season, and that was the case Friday behind home runs from Brittany Cervantes (15 this season) and Megan Yocke (11).
Best performance, Part I: Whitney Canion, Baylor
The last time Whitney Canion pitched in the NCAA tournament, she took Baylor to a super regional. And it's not even clear how healthy she was at that time -- she had to be shut down after the first game of that super regional against Michigan, part of a long fight to full health that eventually cost her much of the 2010 season. But with 15 strikeouts in Friday's 4-0 win against Lehigh in College Park, Md., Canion is now Baylor's all-time leader with 774 strikeouts. Also of note for a pitcher the Bears need fresh, she needed just 100 pitches to get her fifth shutout of the season.
Best performance, Part II: Jenna Caira, Syracuse
Go ahead and give a nomination to both pitchers in Syracuse's 3-0, 11-inning win against LSU. In defeat, Tigers sophomore Rachele Fico turned in one of her most dominant lines, striking out 18 against two walks in going the distance. But one mistake that Lacey Kohl hit for a three-run home run in the top of the 11th inning proved costly because Caira matched her counterpart inning for inning. Master of the changeup, Caira allowed just five hits, struck out 13 and walked one in a complete-game effort for the first NCAA tournament win in Syracuse history.
Caira vs. Fico barely earned top honors for marathon duel. Michele Moses went the distance for Fresno State in a 1-0, 10-inning win against Nebraska, while Ashley Hagemann was the day's most tough-lucjk loser. Nebraska's ace allowed just two hits and struck out 17 before an unearned run left her with the extra-inning loss.
Honorable mention: Annie Lockwood, Arizona State; Brianna Hesson, Georgia; Amber Garza, Texas A&M; Jackie Traina, Alabama; Ivy Renfroe, Tennessee
Lockwood hit two home runs for the tournament's top seed in a 10-0 win against North Dakota State. Hesson drove in five runs with two hits for Georgia in an 8-0 win against Georgia State, as did Garza for Texas A&M in its 10-2 win against Sacred Heart. Traina threw a five-inning no-hitter in Alabama's 8-0 win against Jackson State, while Renfroe did the same in Tennessee's 8-0 win against Liberty..
Editor's note: This wraps up the NCAA regional action as of 11 p.m. ET.