From the archives:

February 2010
February, 22, 2010
02/22/10
12:50
PM ET
COLLEGE STATION, Texas -- As part of the festivities during home games at Texas A&M, fans are showered (all right, sprinkled) with free T-shirts every time Aggies pitchers strike someone out.
[+] Enlarge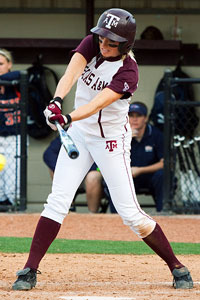 Glen JohnsonSenior shortstop Macie Morrow has found her place as Texas A&M's leadoff hitter.
The way junior Rhiannon Kliesing is pitching in the early going, that's going to be a pricey proposition. But a sponsorship opportunity is waiting -- patiently, of course -- for some local entrepreneur to fill a similar void when the Aggies come to the plate.
It's time to make the walk exciting, and College Station is the place to make it happen.
Texas A&M improved to 10-1 by sweeping all five games at home against Mississippi State (twice), Oregon State and Louisiana-Monroe (twice) in the Aggie Classic. Continuing a prolific offensive showing that began the previous weekend at the Kajikawa Classic, the Aggies scored at least six runs in every game and put up 13 in a run-rule win against Mississippi State, the second time this season they've scored more runs in a game than they did at any point last season.
"We've never had hitting like this in my four years of being here," senior shortstop Macie Morrow said.
One player can't shoulder as much of that load in the batter's box as one pitcher can affect a team's performance in the circle, but freshman catcher Meagan May could end up having almost as significant an impact as pitching peers such as Kenzie Fowler, Rachele Fico and others. Even after suffering through her first 0-for-4 day as a collegian in Sunday's finale, May is slugging 1.000 with a .484 on-base percentage and 18 RBIs. (Anecdotally, she's also a blast to watch wear a mask, given her penchant for making pickoff throws from her knees to all bases.)
But a recruit who could have gone just about anywhere but chose Texas A&M -- over Princeton, of all places -- because of family ties and the school's petroleum engineering program merits more space than is available here. What's noteworthy for now is how her presence changes the lineup around her. Nobody better illustrates that than Morrow.
A productive offensive player her first three seasons, Morrow didn't max out at 18 walks and a .344 on-base percentage as a sophomore (her junior season was interrupted by a frightening injury after she fouled a pitch off her face and missed 16 games). Now a full-time leadoff hitter for the first time, she's already drawn 11 walks and has a team-best .533 OBP ahead of May.
"It's just nice to see how mature she's become as a senior and the patience that she's shown at the plate," Texas A&M coach Jo Evans said. "And I think it makes her job easier right now because she has Meagan May hitting behind her. So Macie knows, 'I don't need to get a hit; I just have to figure out how to get on base.' And I think it's really relaxed her, let her take some pitches and I think she's seeing the ball well."
As a whole, the team is drawing better than five walks per game with a collective .434 on-base percentage (No. 2 hitter Kelsey Spittler is second on the team with eight walks). Correspondingly, the Aggies aren't bunting much at all and are running only selectively, particularly at the top of the order, where giving away outs to move Morrow over would only open up first base for teams to pitch around May.
It's an approach Billy Beane would love, and it's piling up runs in bunches.
As the cleanup hitter protecting May, Kliesing is a big part of the offense. And while her 3.28 ERA in the circle may not show it, she's part of the reason this team has legitimate potential to go a long way. Like Megan Gibson before her, Kliesing's strikeout rate and strikeout-to-walk ratio (51 strikeouts, seven walks in 32 IP this season) show steady progression over her career.

"I hate to use those two in the same sentence because it kind of snakebit Rhi [in the past]," Evans said of the Gibson comparison. "But I will say this: She's a completely different pitcher this year than she was the last two years. And she worked harder than she ever worked to get there. So her timing is on, and you can see that, and she's moving the ball well and she's throwing all her pitches."

With Rebecca Arbino and Arizona transfer Lindsey Sisk, once she returns in perhaps four weeks from an injury in which she damaged tendons in her non-throwing hand while trying to extricate the pit from an avocado, the Aggies have depth in the circle.

Graham Hays covers softball for ESPN.com. E-mail him at Graham.Hays@espn3.com.
February, 18, 2010
02/18/10
3:03
PM ET
TEMPE, Ariz. -- Those who settled in what's now North Dakota, be they indigenous Native Americans or those of European descent who followed centuries later, must have been a little resourceful and a lot stubborn to make life work in a place where minus 30 degrees isn't cold enough to beat the record low on any January day.
[+] Enlarge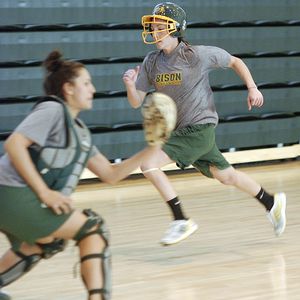 Eric Miller NDSU's Taylor Lynn sprints while Maryssa McKenzie awaits the tag during the team's recent indoor practice.
The kind of people who would nod approvingly as North Dakota State assistant coach Jamie Trachsel builds one of the nation's best defenses in seemingly inhospitable softball territory. With tennis balls, a bit of racquetball and the squeak of the gym floor filling in for the thrill of the grass, the Bison don't just get by. They get ahead.
North Dakota State was the Cinderella story of last season's NCAA tournament. A team that played its first 45 games on the road while waiting for things to thaw out back home in Fargo -- and that was a typical schedule -- came within two games of the Women's College World Series after knocking off national power and former national champion Oklahoma en route to a regional title.
And with every position player save the catcher returning this season, the Bison hope to stick around the scene. Arizona eventually pulled away for a 6-0 win when the two teams met last week during the season-opening Kajikawa Classic, but Wildcats coach Mike Candrea, who played the Bison last season as well, entered and departed impressed by a team that went 3-2 on the weekend under coach Darren Mueller's watch.
[+] Enlarge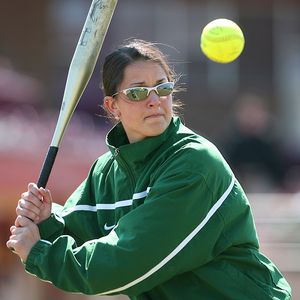 Courtesy of Eric Miller PhotoNDSU assistant coach Jamie Trachsel runs warm-up drills before the Kajikawa Classic.
"He has done a heck of a job with that program and I think they're very competitive," Candrea said. "I think they're one of those teams that if you don't know them and you start playing the name game, you're going to get your butt beat because they can play."
The pitching circle is frequently the first place to look for answers when an unfamiliar name cracks softball's upper echelon. A dominant ace who perhaps slipped through the recruiting cracks or wanted to stay close to home can transform an average program into a contender overnight. But as clutch as pitcher Andi Padilla was as a senior last season, she wasn't an overpowering presence.
To see where the Bison excelled, you had to look behind the circle, where North Dakota State ranked eighth in the nation in fielding percentage. A team that spent its entire preseason inside and played almost exclusively on unfamiliar fields trailed only seven warm-weather schools. Among its Summit League peers, only one other team ranked in the top 150 in fielding percentage, Centenary at No. 66. "We get a few practices in our dome, and outside that, we practice in a gym," Trachsel said of the challenges. "But we don't know any different; that's the thing. We don't know any different, and we can't make excuses about it, so we just do what we can."
And what they can do defensively is the domain of the 31-year-old assistant who Mueller entrusts with that part of the game. A native of Duluth, Minn. -- where the average annual snowfall makes Fargo look almost temperate by comparison -- Trachsel played college softball at St. Cloud State and earned all-region distinction at the Div. II school. But the roots of her defensive wizardry are in a different sport, one far more befitting the long winter months of the Upper Midwest.
For while her softball coaching career has forced her into competitive retirement, she's a nine-time national champion in racquetball, winning her first junior title before she turned 10. When other kids were gravitating to swimming, gymnastics or other more familiar athletic endeavors, she was camped out at the local racquetball courts, playing or just watching adults to pick up the nuances of a game that still prove useful in a completely different sport.
"It's good for your hand-eye coordination and your footwork and your speed and stuff like that," Trachsel said. "And the biggest thing is you start to read angles -- you see the angle of the bat, you see when someone starts to open up their hips and where the hands are going to come through. I think that's the biggest thing."
The Bison will sometimes forgo their gloves entirely for indoor practices, instead facing Trachsel barehanded as she hits tennis balls at them -- and you get the sense the competitor in her enjoys making sure it's "at" and not "to" them. The goal is to make 21 outs without an error, the equivalent of an actual game, and there is no grading on a curve. Bobble a ball for even a moment and it's an error. Make back-to-back errors or misplay a ball in the first or last "inning" -- when momentum is most precarious -- and you might stand around watching your teammates run extra sprints for your mistake.
"If you can do that, and even mentally if you can do that, you feel like you can catch anything," Trachsel said. "We focus a lot on the fundamentals and obviously the application. And we do a lot of mental stuff; I put together a lot of challenges just to keep things fresh. You can always prepare for game situations in that sense, and championships and games are mostly won and lost in your mind. So I think we don't beat ourselves very often. We'll generally make someone beat [us], and if they do that, you give them credit."
The challenges don't end when the Bison finally do get a look at actual grass and dirt, as in the trip to Arizona. Indoor practices may stretch deep into the season back home, but the team does what it can to maximize every minute available on the road.
"Let's say we go to Kansas; we'll leave Wednesday night," Trachsel said. "We'll sleep overnight on the bus, we'll get in and eat breakfast in the morning and we'll practice from 11 to 1 on their field and then just kind of take the rest of the day instead of using Thursday all day as a travel day anyway. You don't sleep great, but at least you get a chance to practice. And we use our warm-ups as practice. It's not just about the games. We have to utilize the time, if it's 10, 15 minutes or if it's five reps or 30 reps we can get in. Especially in the first month, we have to utilize that."
North Dakota State's players and fans were easy to spot in Tempe, both for the bright greens and yellows of their jerseys and t-shirts and the pale gleam of skin unaccustomed to hours in the sun. Yet time and again, the Bison came up with the defensive gems of a team very much at home in the field. Third baseman Brea Konz snared multiple line drives seemingly headed for the corner. Leftfielder Elisa Victa raced into foul territory, sized up the approaching bullpen wall and made a catch as she reached over the fence. They also made the routine plays and finished the weekend with just four errors.
The demands of her coaching career have curtailed Trachsel's competitive racquetball career (although a few of her softball players have taken up the sport recently). She played in her last national tournament four years ago. And there are time she misses trading one passion for another.
"I miss being really good at something; that's what I miss," Trachsel said. "Like you walk in somewhere feeling like you're one of the best -- that's a good feeling. That's what I miss about it, just being great at something."
Why bother pointing out that perhaps she still is? After all, it takes a certain stubbornness to succeed in a North Dakota winter.
Graham Hays covers softball for ESPN.com. E-mail him at Graham.Hays@espn3.com.
February, 17, 2010
02/17/10
11:58
AM ET
TEMPE, Ariz. -- The Kajikawa Classic is one of the tournaments where the softball season begins each year, which means in turn that it's also where softball careers begin to end.
[+] Enlarge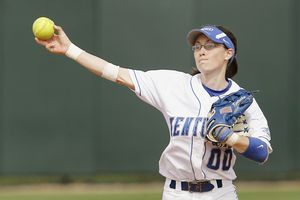 KU Media Relations for ESPN.comKentucky's Natalie Smith is a .318 career hitter with just 38 strikeouts in 509 career at-bats.
Welcome to Kentucky senior Natalie Smith's world.
For Kentucky, the weekend brought a signature win against Arizona State and a successful start to a potentially special season. For Smith, an Arizona native, it offered a chance to pass 'Go' one more time, and if not collect $200, then perhaps at least some laundry money.
"The first game I had not only direct family here but I had a lot of extended family, friends," Smith said of a 5-2 win against the Sun Devils, only the Pac-10 power's third nonconference loss at Farrington Stadium since the start of the 2006 season "It was really nice to just win in front of a home crowd. It felt really good to beat ASU; I'm not going to lie. I grew up watching them, so coming here, that was who we were gunning for and it was really exciting."
The coffehouse-chic glasses she wears on softball diamonds more familiar with brightly colored ribbons or glittered headbands help, but Smith seems the sort capable of wrapping her mind around the competing strands of optimism and introspection at play for seniors across the country. For instance, not everyone would come up with something like this in reflecting on the best parts of moving to SEC country to play softball at a high level.
"I really enjoy getting to see the South," Smith said. "Getting just to travel in that area as part of the package has really been a cool experience."
Smith is a four-year starter for the Wildcats, a .318 career hitter with just 38 strikeouts in 509 career at-bats and a steady, vocal presence with the glove at second base. She nevertheless plays in the shadow of keystone partner Molly Johnson, Kentucky's All-American senior shortstop. In short, she's both very good and very like so many players around the country who go about their playing days largely anonymous outside their own fan bases. They just have to hope the pieces fall in place for a senior season to remember.
The Wildcats stumbled in their finale, dropping a decisive 6-1 decision to California Saturday evening, but they still emerged from the desert with three wins in five starts. In earning SEC Player of the Week honors after hitting three home runs, sophomore Brittany Cervantes showed potential to follow up a good freshman season by becoming an anchor in the heart of the batting order. And while sophomore Chanda Bell took the loss against Cal, she looked like an ace with 14 strikeouts against the Sun Devils and 13 more in a two-hit shutout against Cal State Fullerton.
"The first two seasons were just, they were really tough to get through," Smith said of the time before Bell's arrival. "It's a long year in the SEC conference and we just didn't have the pitching, we didn't have the experience. And it is just an amazing feeling being behind someone that you know is going to hit their spots, that you know is in the game -- head in the game all the time, just a great athlete. I can't say enough about Chanda Bell. She has helped turn this program into the program it is and to what it's going to be. It's top notch. And I absolutely love playing with her. she's a great girl on and off the field, and I just can't say enough about her."
And so Kentucky and hundreds of other teams are off and running. And Smith and hundreds of other seniors are aware of the finish line at the end.
"I'm just trying to go with it one day at a time, but it's always in the back of my mind," Smith said. "It makes you want to give it all on the field even more because you know it's your last year and this is the last chance that you really have to compete. I'm going to miss it, but so far it's been a pretty great start."
Graham Hays covers softball for ESPN.com. E-mail him at Graham.Hays@espn3.com.
February, 15, 2010
02/15/10
8:39
PM ET
TEMPE, Ariz. -- Arizona freshman pitching sensation Kenzie Fowler's official collegiate debut came Friday in a one-hit, eight-strikeout, five-inning shutout against Purdue. But that was only a soft launch compared with Saturday morning's starting assignment against Northwestern.
Arizona and Northwestern, the two programs that played for the national championship in 2006, have played in February in each of the past six seasons, the past five times at the Kajikawa Classic. The games usually live up to the high-profile billing (the past four have been decided by a total of seven runs, with each team winning twice), and this season's encounter proved no exception when Arizona All-American Brittany Lastrapes delivered a walk-off, two-out, full-count, game-winning hit in a 4-3 win.
[+] Enlarge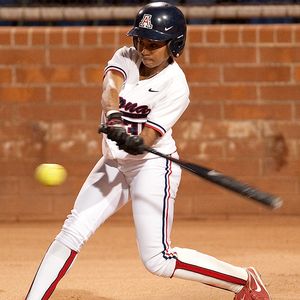 Luke Adams/Arizona AthleticsBrittany Lastrapes delivered the game-winning hit in Arizona's 4-3 win over Northwestern at the Kajikawa Classic.
The results also seem to indicate Arizona won't be duplicating last season's mediocre 2.98 team ERA again anytime in, say, the next four years. Like her counterpart Saturday, Northwestern's Lauren Delaney, Fowler struggled some with control and some more with a strike zone that stayed still about as long as a 6-year-old on a Halloween sugar rush. But by the end of the game, she had 18 strikeouts and watched two of the three earned runs with which she was charged bounce off Lastrapes' back and over the wall for a fluky home run by Michelle Batts in the fourth inning (then again, Batts hit a total of five home runs in five games this weekend, so perhaps she earned softball's version of a shooter's roll in basketball).
"That was a great game to be able to go through early in the year for her," Arizona coach Mike Candrea said of Fowler. "Those are the type of games you have to win, and I told her, 'That's what Pac-10 games are all about, so you've got to get used to it.' But she understands there are good walks and there are walks and then there's walks that aren't good."
Candrea and Fowler talked for several minutes in the outfield after the game, walking a few steps, stopping and talking some more. He said later that she remains a work in progress, but as much as he ever betrays any emotion, you get the feeling it's work he's going to enjoy.
"I think the thing I like about her is she's very level-headed, doesn't overthink and just enjoys playing the game," Candrea said. "I think she's got very, very good composure on the mound, where our kids like playing behind her. So that demeanor, I think, is a huge thing. Sometimes that takes forever to get out of young kids, but she's got it. She's used to having the ball and having the ball in big games, and she embraces that. She doesn't sit around and worry about it."
Fowler was impressive, but she nonetheless appeared headed for her first loss until her teammates rallied to score three runs in the seventh against Delaney. After opening the season with a no-hitter against Cal State Fullerton, Northwestern's ace surrendered only a Lastrapes double through the first six innings of her second start. But two walks and a hit by pitch, as well as a strikeout and a force at the plate, set the stage for the walk-off drama.

As good as Northwestern's lineup is, the team's fate in terms of championship contention realistically rests with Delaney. That's a lot of pressure for one player, but that's the lot of a senior who, when she's on, can be as untouchable as any pitcher this side of Danielle Lawrie.

"Lauren pitched [against Fullerton] like she's been pitching the last four months, and that's with great focus, really great work ethic," Wildcats coach Kate Drohan said after the no-hitter. "And I just see some really great things with her in practice and what she's doing away from the games that really showed nicely [Friday]."

To that end, the finish against Arizona deserves to be placed within the context of the weekend. In addition to the no-hitter, Delaney bounced back from Saturday's disappointment to post a remarkably effective line in the finale (albeit in a 2-1 loss against Creighton). She needed just 89 pitches, 63 of them strikes, to get through seven innings of one-hit ball against the Bluejays.

Drohan said the coaching staff, specifically pitching coach Tori Nyberg, worked with Delaney in the offseason to simplify her mechanics and simplify "everything." She's not going to have pinpoint control, but if she can get back in range of the 2.6 batters per seven innings she walked as a sophomore, it's going to be difficult for opponents to finish the job with their bats.

Graham Hays covers softball for ESPN.com. E-mail him at Graham.Hays@espn3.com.
February, 15, 2010
02/15/10
8:19
AM ET
TEMPE, Ariz. -- As San Diego State coach Kathy Van Wyk strolled into the night after her team's season-opening win against Creighton, a fan stopped her to offer that, at least in his mind, she looked a decade younger this February.
Agassi-esque as backhanded compliments go, it still had a ring of truth to it as the weekend progressed.
San Diego State won its first five games at the Kajikawa Classic, missing out on a perfect start only after dropping Sunday's finale to Texas Tech in what was the team's sixth game in less than 72 hours. The Aztecs scored 29 runs in their five wins, including at least four runs in each game. That might not be cause for comment for a lineup like Arizona, but it's news for the Aztecs, who didn't score four or more runs in five consecutive games at any point last season.
Pitching and defense aren't at issue for a team that overcame that anemic offense to win the Mountain West and advance to the NCAA tournament last spring. Returnee Samantha Beasley looked particularly sharp over the weekend, striking out 32 and walking five in 22 1/3 innings.
But the Kajikawa also showcased a lineup that looked at least competitive at the plate.
In 53 games last season, the Aztecs hit a total of 12 home runs, nine by players who aren't on the roster this season. But when freshman Kristin May drove the first pitch from Creighton ace Tara Oltman over the fence for a walk-off two-run homer Thursday, the first walk-off home run Van Wyk could remember by a freshman in her first game, optimism reigned.
"She swings the bat aggressively," Van Wyk said of May. "She's not afraid to just go in there and get her hacks. And that's one of the things we're really trying to work on with the whole team. We can play defense and pitch with anybody in the country, but we've got to improve our hitting. And she's one of the main reasons that we feel like we've done that this year."
May's home run was one of three for the Aztecs in Tempe, all hit by newcomers, including Kristin's twin sister Kamerin. Both sisters were recruited by programs with World Series pedigrees, a place San Diego State has yet to venture despite four conference titles under Van Wyk's guidance. And infusing a lineup with a lot of returning talent, albeit not a lot of returning run production, with new talent creates the potential for a trickle-up effect on the returnees.
"That's definitely the hope," Van Wyk said. "That's one of the reasons we love having [Kristin May] there because I hope that they learn from her that first pitch is going to be one of the best pitches you see 90 percent of the time. So just be aggressive and go after it, just swing aggressively all the time."
• Arizona State's offense ran roughshod over the weekend, fueled by four home runs from Katelyn Boyd, and proved there is life after Katie Cochran. Pitching remains the biggest question for the Sun Devils, and as much as sophomore Hillary Bach still seems like the ace, it didn't go without notice that senior Megan Elliott started the team's games against Kentucky and Texas A&M over the weekend, the two best opponents on the schedule.
Elliott took the loss against Kentucky to open the season Thursday but overcame a rough first inning against Texas A&M Saturday night to earn the win. Coach Clint Myers denied there was a message intended for Elliott in giving her those particular assignments
"She's been here four years; she knows what she has to do," Myers said. "If you can't give the ball to a senior, then we're not doing our job. She did an outstanding job tonight. Look at the poise -- she gives up the home run in the first inning and she lets one run score on another home run later on, but I thought she pitched pretty darn well."
Given Elliott's struggles to maintain a consistent presence the past three seasons, said poise might be construed as progress. But Myers preferred to borrow Mark McGwire's former line of deflection when it came to whether the early trouble might have undone Elliott in seasons gone by.
"I don't really like talking about the past," Myers said. "It's a situation where you've got to learn from history and move forward and I think she's done an outstanding job doing that."
• Junior third baseman Krista Donnenwirth was not in the lineup for any of Arizona State's games and remains suspended indefinitely after an offseason arrest for suspicion of driving under the influence. Charges have yet to be filed. She remains a member of the team and is eligible to practice under terms of the suspension.
Myers said he will be the one to determine the next step.
"Right now it's in my hands and we've got to wait for a few things to happen and get worked out but once that happens Krista and I will sit down and discuss what's going on," Myers said.
Graham Hays covers softball for ESPN.com. E-mail him at Graham.Hays@espn3.com.
February, 12, 2010
02/12/10
11:31
AM ET
No. 1 Washington
For more on what makes the defending champion the favorite to become the first team to defend its title with the same No. 1 pitcher since UCLA with Keira Goerl in 2003 and 2004 -- and the first program other than UCLA and Arizona to win back-to-back titles of any kind -- check out the second of five burning questions for the 2010 season.
No. 2 Michigan
[+] Enlarge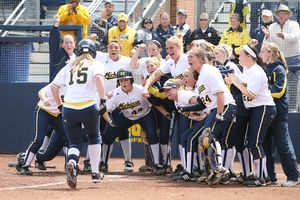 Courtesy Jon LeFaive/Wolverine Photo Michigan looks to be a contender again this season.
"All things being equal" is not a phrase many teams at this level of national contention have much use for when it comes to pitching. Depth in the circle is nice from February through about Memorial Day -- although as Washington, Arizona State and Arizona proved the last three seasons, it's far from a necessity for teams intent on winning a championship. But by the time the season culminates with the World Series, there haven't been a lot of examples in recent seasons of teams still splitting innings on a one-for-one basis.
Then there's Michigan, which alternated starts between Nikki Nemitz and Jordan Taylor all season, including regionals, super regionals and all three games in Oklahoma City. By the end of the season, Nemitz had made 40 appearances with 30 starts and Taylor had made 38 appearances with 29 starts. The two were separated by just 25 innings (215.1 to 190.1), 21 strikeouts (306 to 285) and roughly 3/10ths of a point in ERA (1.07 to 1.40).
They also came on in relief of each other on 20 occasions, giving coach Carol Hutchins both the blessing of the most balanced elite pitching staff in the country and the curse of easy second-guessing.
"I'm the only one that makes the decision without knowing how the outcome's going to be," Hutchins said during last season's super regional. "And everybody watching it gets to judge it. But you go with -- I don't ever make that decision in a vacuum. I sit right next to [pitching coach Jen Brundage], and she calls the pitches, so I know when those pitches are working and when they're a little flat. Jen calls a pitch, and I watch my pitchers react to everything, whether it's what's called or what happens on the mound. The first thing I watch is their reaction. So I look to see if I feel they're confident or they're getting uptight -- the things that occur in the game that really only you know because you work with those kids every day. And then ultimately, just go with your gut. And I've learned over the years, better to make it too early than too late."
It doesn't hurt that in addition to being easy to distinguish in any number of superficial ways -- Nemitz is the 5-foot-7 local product from Michigan who hits, while Taylor is the 6-foot-1 California import who doesn't need a bat -- the two offer Hutchins two completely different looks. Despite her size, Nemitz is a power pitcher who thrives up in the zone, while Taylor is the one who fools hitters, her long release point giving them even fewer fractions of a second to pick up spin and location.
There are other teams, like Alabama, that spread the innings around throughout the season and postseason. There are even others, like Florida State, that do it on essentially equal footing. But nobody has done it quite as well over the past two years as Hutchins. Because while equal footing seems like it ought to be the most natural of states, it's not the easiest thing to pull off with a pair of pitchers.
"We get on each other's nerves sometimes," Nemitz said last spring. "We're always together -- pitchers are always together. If you were with someone all the time, you'd get on their nerves. But it's great, because she's a great person, a great girl, hilarious. We mesh well. And if people butted heads, I don't know if it would work out as well."
Graham Hays covers softball for ESPN.com. E-mail him at Graham.Hays@espn3.com.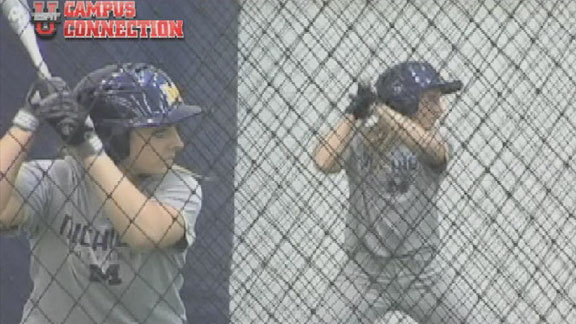 February, 11, 2010
02/11/10
12:49
PM ET
1. Is the Pac-10 stronger than ever?
When Florida and Alabama opened last season atop the polls, the question of the moment was whether the SEC had caught the Pac-10 as the sport's pre-eminent power base.
By the time Washington finished celebrating its first national championship on the field at ASA Hall of Fame Stadium, it was clear the softball arms race -- ironically in one of the kindest seasons to batters in recent memory -- was nowhere near such a neat and tidy resolution.
The SEC and others are moving ahead full steam, but they're chasing a moving target.
Washington opens this season poised to defend its title and ranked No. 1. The first Pac-10 team other than Arizona or UCLA to win a national championship when it did so in 2002, Cal appears back in position to challenge for a spot in the World Series and possibly even a second title. Stanford keeps adding talent and can make a strong case as the best team not to reach the World Series in the past five years. A season after making do without Katie Burkhart well enough to reach Oklahoma City, Arizona State must repeat the process without Katie Cochran. But the Sun Devils have more than enough talent to avoid falling off the pace set by their 2008 title team.
And those are just the contenders that didn't win 19 of the first 24 NCAA championships, loot divvied up between UCLA (10 titles and one vacated title) and Arizona (eight titles).
[+] Enlarge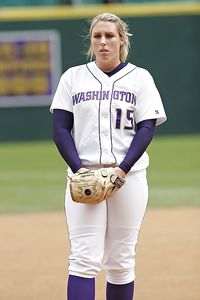 University of Washington Athletic Department If Washington makes it back to the WCWS, Danielle Lawrie will be a threat.
Is the rest of the country catching up to Arizona and UCLA? With as much talent as there is this season in Tucson and Westwood, it's undoubtedly so. It's just that to a greater degree than ever before, despite the Pac-10's long history of large World Series contingents, the rest of the country includes places like Tempe, Ariz.; Berkeley and Palo Alto, Calif.; and Seattle.
2. Is Washington the team to beat?
Even if you don't subscribe to the theory that the champions deserve that label until it's taken from them, the Huskies qualify strictly on the merits of the here and now.
That isn't to say coach Heather Tarr's team is unquestionably better than last season's version. It lost a huge tangible piece in All-American second baseman Ashley Charters and perhaps an equally noteworthy intangible piece in catcher Alicia Blake, Danielle Lawrie's catcher for three seasons. But the pieces the Huskies return -- and there are a lot -- should be better. Sophomores Kimi Pohlman and Niki Williams have a year of success to build on, while junior third baseman Morgan Stuart has a year of work at the hot corner to build on after shifting from shortstop. And senior Jennifer Salling, whose midseason arrival necessitated Stuart's shift, won't have to jump in midstream.
And there is, of course, Lawrie. After pitching through a stress fracture in her pitching arm for much of last season, she's healthy and without peer in the college ranks now that former Florida ace Stacey Nelson has moved on. Last year, Lawrie pitched through two road trips in regionals and super regionals, plus a long elimination day against Georgia in the World Series; in so doing, she proved she can overwhelm opponents when she's at her best and blink past when she's not.
3. Which player could alter the college softball landscape?
[+] Enlarge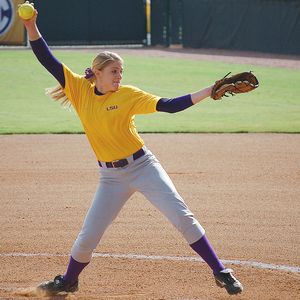 Matt Dunaway/LSU Athletics LSU's Rachele Fico has the potential to set herself apart from the crowd.
How's that for a buildup? But when you threw perfect games by the dozens in high school in Connecticut, helped a Florida travel ball team upset the softball establishment in knocking off the California powers to win the prestigious ASA Gold title, pitched against Team USA after your junior year in high school and earned space on "SportsCenter" and in The New York Times, lofty expectations get packed for school right along with the notebooks and clothes.
LSU freshman Rachele Fico is just one of several highly touted freshman pitchers dotting big-time rosters around the country, but she has the potential to set herself apart from the crowd.
All the accomplishments and experiences predating her arrival in Baton Rouge help, as does her place in a program with perhaps the richest softball tradition in the SEC but that, like the rest of the conference, is still looking for its first national championship. It also doesn't hurt that Fico has both the ability to blow pitches past batters and a sense of spin and control beyond her 18 years.
She even sounds like a seasoned vet in passing credit to her defense -- a defense that isn't likely to get a lot of work on days when she's on top of her game.
"I'm extremely comfortable with my team; I know I have a great defense behind me," Fico said a few days before her debut. "So I'm not scared to throw pitches and I know if they do get put into play my teammates are going to make the plays behind me."
The sport is also evolving to give freshman pitchers a greater shot at success. While Connecticut high schoolers still throw from 40 feet, Fico's experience in travel ball and pitching for the elite Stratford Brakettes amateur team (alongside players like former LSU catcher Killian Roessner) means pitching from a consistent 43 feet in college is actually something of a relief, rather than a challenge to overcome.
"My biggest adjustment to 43 feet with pitching was probably my changeup," Fico said. "When I switched to 43 feet, I had to work on getting the ball to get there a little bit more. But it's really nice to have those extra three feet because it gives us so much time to make the ball spin and get a little bit more break on it."
4. Which team could make a surprise trip to Oklahoma City?
There is almost always at least one team that sneaks up on fans and pundits. Two seasons ago, Louisiana-Lafayette went from No. 20 in the preseason Top 25 to the World Series. Last season Missouri and Georgia rose from Nos. 23 and 19, respectively, to Oklahoma City.
Now it's about time No. 19 Florida State ends its World Series hiatus.
The Seminoles will need more consistent run production this season, no small task considering they lost their best hitter, Kaleigh Rafter. A team that slugged an anemic .366 in 2009 has some work to do, but senior outfielder Carly Wynn (.530 slugging, .409 on-base percentage) is a good place to begin building a lineup. The Seminoles should once again get a boost from the transfer market -- like they did with Rafter -- with the arrivals of Jen Lapicki from Tennessee and Tory Haddad from Ohio State, patient hitters with the ability to add to the team's extra-base hit totals.
The good news is Florida State doesn't need to set scoring records as long as Sarah Hamilton and Terese Gober are splitting innings in the circle. The two combined to go 44-16 with 519 strikeouts and just 87 walks in 421 1/3 innings, reminiscent in some ways of Northwestern's duo of Eileen Canney and Courtnay Foster in that program's breakout 2006 campaign.
5. Who are three players who deserve a brighter spotlight?
Carly Normandin, OF, Massachusetts The Minutewomen might have been one of the best teams in the country last season. They just had the misfortune to play 22 innings against Danielle Lawrie on the final day of regionals. Ace Brandice Balschmiter is gone, which will make a repeat performance difficult, but Normandin was one of the toughest omissions from this season's ESPN.com All-America team. Her bat is streaky, but the end product (.727 slugging, .457 on-base percentage) is indisputably great. And what never wavers is her defense. It's tough to make declarative defensive statements without more widely available video and statistics, but I know this: I've never seen a better outfielder.
Kylie Reynolds, P, Kent State All she's done for the past three years is strike out batter and win games. A season ago, she finished sixth nationally in strikeouts per seven innings -- and it was the first season in which she didn't win MAC Pitcher of the Year honors (Ball State's Elizabeth Milian ended her run). In 236 innings, Reynolds struck out 345 batters and limited opponents to a .190 batting average. And Reynolds isn't just a MAC phenomenon. Last season alone, she struck out 11 in a loss at Arizona State, didn't allow an earned run in 7 2/3 innings in a loss against Iowa and shut out a good Texas State team for an upset win.
Melissa Roth, C, Louisville The Big East may not be the Pac-10 or SEC -- it may not even be the Big Ten or ACC -- but if you hit .444 with an .870 slugging percentage and .566 on-base percentage, you can get it done in any uniform. That includes the Team USA uniform Roth wore in the Pan American Games. Her only problem is she's caught, pun intended, at what's surprisingly one of the deepest positions when it comes to elite hitters, joining the likes of Sam Marder, Chelsea Bramlett and Stacie Chambers in fighting for recognition behind the plate.
Graham Hays covers softball for ESPN.com. E-mail him at Graham.Hays@espn3.com.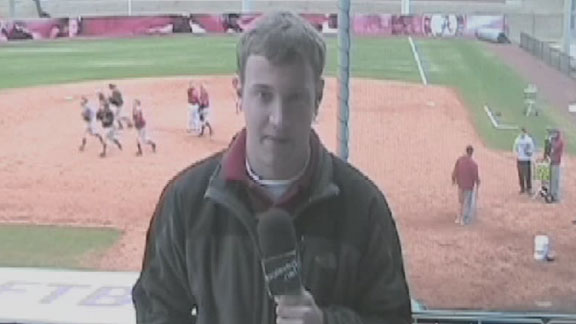 February, 11, 2010
02/11/10
11:06
AM ET
It's time to take a quick tour -- two by two this year -- through some of the best teams out there.
No. 3 Arizona
There may not be words to describe just how good Arizona's offense was last season. But there are numbers -- lots and lots of numbers.
[+] Enlarge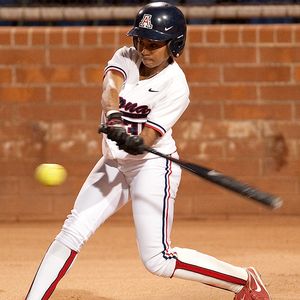 Luke Adams/Arizona AthleticsBrittany Lastrapes keys Arizona's offense.
If you want to take the scenic route, consider the Wildcats reached the World Series despite finishing ranked No. 125 in team ERA, behind Quinnipiac, Saint Mary's, Texas A&M-Corpus Christi and Robert Morris, for the school of Nancy Evans, Jennie Finch, Alicia Hollowell and so many more aces of distinction.
As for the more direct approach, coach Mike Candrea's team averaged better than one run per game more than UCLA or Arizona State in conference play -- UCLA ranked third nationally in slugging percentage and ninth in runs per game; Arizona State ranked eighth and second, respectively.
Arizona operated in a different hitting stratosphere than the rest of the country for much of 2009.
Good thing the team from Tucson graduated the players who ranked third and seventh in OPS from that lineup (Jenae Leles and Sam Banister, respectively) or it might be unfair.
In truth, both players are significant subtractions from the lineup, particularly Leles, but the wealth of hitting talent that remains is remarkable. Stacie Chambers hit more home runs (31) and drove in more runs (96) than just about anybody in Arizona not named Mark Reynolds … and Chambers is almost without a doubt not the most valuable hitter on the team as long as Brittany Lastrapes is around.
So what happened in Oklahoma City, where the Wildcats went two-and-barbeque at the World Series and managed just seven hits in two shutout losses? Bad luck and good pitching are generally underrated explanations with that small a sample size, but it's easy to wonder if a team that spent all season feeling like no amount of runs were enough just hit a wall after falling behind in the first inning of each game.
If freshman pitcher Kenzie Fowler eliminates that, allowing Sarah Akamine to fill a No. 2 role that she's quietly grown entirely capable of filling, watch out. I can't help wondering if Fowler might be Candrea's version of Maya Moore, who joined a Connecticut team ready to make a leap with Tina Charles and Renee Montgomery.
No. 4 Florida
Florida would not be the first team to graduate an ace and still manage a trip to the World Series. Granted, the list is a lot longer on the other side, but reaching the WCWS isn't unprecedented.
After winning a national championship in 2006, Arizona turned things over to Taryne Mowatt and repeated. Arizona State couldn't defend its championship last season, but it did make a return trip to Oklahoma City, albeit with a bit of an assist from North Dakota State when the Bison stunned Oklahoma in regionals only to run out of gas against the Sun Devils the next week. Even within the SEC, Alabama bounced back from losing Stephanie VanBrakle after the 2006 season to push Washington to the limit in a thrilling super regional on the road in Seattle.
The point is there is life after Stacey Nelson, particularly if you return the core of a lineup that ranked fourth in the NCAA in slugging percentage, four regulars who got on base more than 40 percent of the time and a defense that was more than steady, if not always spectacular.
And if you believe Stephanie Brombacher is the real deal. Put me in that category.
Brombacher is the biggest reason the 2007 Arizona team may be the most apt comparison for the Gators. Like Arizona's Taryne Mowatt, Brombacher put up outstanding numbers as the team's No. 2 pitcher the season before she took over (in Mowatt's case, behind Alicia Hollowell). And like Mowatt, Brombacher was an afterthought in Oklahoma City, although she at least got the benefit of throwing four innings of relief for the Gators. The junior's undefeated record through her first two seasons shouldn't be dismissed, but the numbers that matter more are how she pitched through those wins -- she's not going to get herself in trouble with a lot of walks.
Graham Hays covers softball for ESPN.com. E-mail him at Graham.Hays@espn3.com.
February, 10, 2010
02/10/10
10:15
AM ET
A child shall lead many of them. The question is how far?
A season ago, offenses threatened a coup in college softball. The nation's two best pitchers, Danielle Lawrie and Stacey Nelson, eventually quieted the unrest in leading Washington and Florida, respectively, to the final series in the Women's College World Series, but they were largely exceptions to the rule.
Georgia, Arizona and Arizona State reached Oklahoma City on the strength of potent lineups and passable pitching. North Dakota State and Jacksonville State made surprising runs to super regionals by slugging their way past traditional powers with too many pitching questions in Oklahoma and Tennessee, respectively. And on and on it went.
If 1816 has come down through history as the year without summer, 2009 was softball's year without aces.
Enter a freshman class that brings with it not just way too much to fit in an average dorm room, as most freshmen do, but the potential to restore pitching primacy.
Half of the top 10 teams in the ESPN.com/USA Softball preseason poll will likely feature a freshman pitching significant innings, if not serving outright as a de facto ace.
[+] Enlarge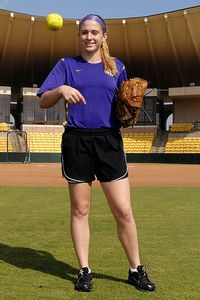 Steve Franz, LSU SIRachele Fico is no stranger to national attention, but the collegiate stage is something entirely new for the pitcher.
Among the most prominent new faces are Arizona's Kenzie Fowler, Oklahoma's Keiliani Ricketts, California's Jolene Henderson, LSU's Rachele Fico, Stanford's Teagan Gerhart and UCLA's Destiny Rodino. But they aren't alone. Programs just outside the rankings should get lifts from freshmen pitchers, such as Brittany O'Donnell at Notre Dame, and even programs well set at the top of the rotation, Alabama and Florida among them, should get lifts from talented newcomers.
All of which means either history is about to change or Oklahoma City is going to be without a lot of familiar teams come the last week of May.
Not since UCLA's Amanda Freed earned a save against Washington in 1999 has a freshman been the last pitcher in the circle for a championship team when it clinched the title. Even getting to the Women's College World Series is a challenge. Cat Osterman and Monica Abbott did it in each of their final three seasons with Texas and Tennessee, respectively, but not as freshmen. Jennie Finch made the trip with Arizona but lost her only start in Oklahoma City.
It seems pitching in the environment that top programs inhabit in college softball is a whole new game, even for the most gifted of prodigies.
"It's a lot different because I really have to hit my spots more, because when I make one mistake it can be a huge difference," Ricketts said, summing up of the on-field challenge.
Ricketts, the EA Sports/ESPN RISE National Player of the Year last season at Archbishop Mitty High School in California, has an edge some of her peers might not when it comes to knowing what's ahead. Her older sister, Stephanie, is currently a pitcher at Hawaii and another, Samantha, is beginning her first season as a graduate assistant at Oklahoma after wrapping up one of the most prolific offensive careers in Big 12 history for the Sooners.
The siblings have talked to her about what she needs to to do to stay on top of her academic work while missing classes for travel and games. And they've talked to her about the difference between top-level travel ball and its college equivalent, something she got a taste of in fall practice and the exhibition games teams play before the onset of winter. But even with the forewarning, there is really no substitute for living through it, especially in the circle.
"I think the mental part of it is the biggest jump for most kids," Alabama coach Pat Murphy said. "They can mow over a high school team pretty easy, I think. They've got to worry about the first three hitters, and then after that, they can basically take a break and just throw stuff by people. And that's not going to happen in college."
Murphy has a talented freshman of his own in Lauren Sewell. With a returning ace in junior Kelsi Dunne, as well as a proven winner in Charlotte Morgan and a promising sophomore in Amanda Locke, he also has the luxury of bringing Sewell along at a gradual pace.
He'll generally throw a freshman into the fire in the fall, stacking a lineup against her in scrimmages to let her get a taste of how deep a college batting order can be, but he prefers to pick and choose advantageous matchups in the spring to establish a sense of success and build up confidence.
The flip side of that, as Murphy acknowledged, is seeing how a pitcher deals with the adversity, a test likely to come sooner rather than later for any freshman asked to fill a significant role.
Now one of the best pitchers in the world and one of the newest members of Team USA, Eileen Canney helped lead Northwestern to the final series in Oklahoma City as a junior in 2006. A two-time winner of Big Ten Pitcher of the Year, she was immediately successful in college, winning freshman-of-the-year honors in the league and striking out 194 in 174.2 innings. But the second game of her college career, a start against Kansas, stands out for less pleasant reasons.
"I got completely rocked," Canney said. "I gave up, I think, like three our four home runs. It was absolutely terrible; I couldn't even make it out of the inning. So from that point on, I had experienced a really bad situation. But it was like that was my turning point. From that point on, I knew that I had to kind of turn the switch, take it up a notch and be better. Make sure I didn't have any misses because against these college teams, you can't really afford as many misses as you can get away with sometimes in high school, especially being a power pitcher.
"But I personally believe as hard as failure is, that is one of the best ways to learn what you are capable of doing and to be better in the end."
Canney gave up five runs in the first inning of that game, but she didn't come out. She kept throwing, giving up four more runs in the fourth inning and two more in the fifth before the mercy rule finally kicked in. In her next start, she allowed just two earned runs in 6.2 innings and struck out seven in an upset win against No. 8 Stanford.
At some point, something similar will happen to all of this season's wunderkinds. How they deal with it in the moment and how they put it behind them once the moment is over will go a long way toward determining what they'll be able to offer their team in a setting like the postseason.
"I think the important thing is that [a freshman] has got to learn how to finish a game," Kentucky coach Rachel Lawson said. "I think too quickly coaches bring in a freshman and when they get in a little bit of trouble they pull them out, they bail them out. And I think learning how to close a game is just as important as learning how to throw a great curveball or something.
"So I think to bring them along, they're going to have to get some confidence. And the only way that they can do that is, one, to be able to pitch in big-game situations and, two, to be successful in learning how to finish. And that's a fine line. You don't want them to stay out there and just get beat up and lose confidence that way. So you have to have an intuition for what they can handle and what they can do."
These are, after all, mostly 18-year-old kids. As Canney pointed out, by the time softball season arrives, they've had a long time to work on mechanics with the best pitching coaches out there and sweat through the demands of strength and conditioning coaches. So as much as adjusting in the circle is a challenge, it is in some ways perhaps the easier part of the equation. Away from home, overwhelmed by classwork or tempted by newfound freedoms, freshmen are, well, freshmen.
"I was kind of nervous about coming in here and making friends and stuff, but everyone here has been really great," Ricketts said.
Let the journey begin.
Graham Hays covers softball for ESPN.com. E-mail him at Graham.Hays@espn3.com.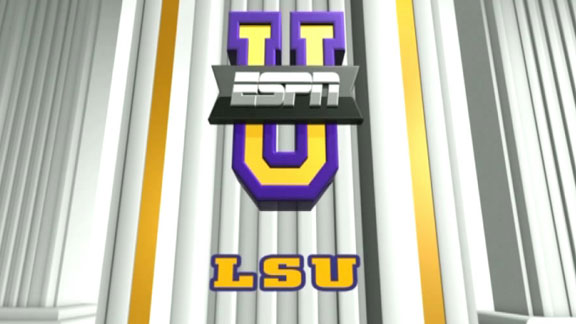 February, 8, 2010
02/08/10
6:16
PM ET
It's time to take a quick tour -- two by two this year -- through some of the best teams out there.
No. 5 Alabama
[+] Enlarge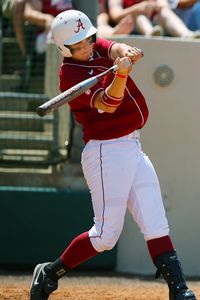 Alabama Athletics for ESPN.comPlayer of the Year candidate Charlotte Morgan could see action at first base, pitcher or designated player.
Crimson Tide fans won't soon forget last year's seniors. Kellie Eubanks, Ashley Holcombe, Kelley Montalvo, Lauren Parker and Brittany Rogers might have fallen short of bringing Alabama -- and the SEC -- its first national championship. But following in the footsetps of legends like Kelly Kretschman and Stephanie VanBrakle, the quintet cemented the program's place as a giant in the sport and one of the toughest tickets in Tuscaloosa.
But forgive Alabama fans if they push those names at least temporarily to the back of their minds; it's going to take some frontal-lobe space to follow the new team.
Alabama coach Pat Murphy can commiserate.
"We're really not even close for a cemented lineup because we lost so many kids," Murphy said in late January. "And [the graduated players] have been there -- like Brittany was the leadoff for four years -- so we've just got to pick and choose. We could have a different lineup 50 games probably. Whoever is hot or whoever is doing what they need to do, that's probably who is going to be in there."
What the five seniors meant to the team can't really be completely quantified. But we can give it a shot: 241 hits, 62 extra-base hits, 153 RBIs, 197 runs, 97 steals.
The extra-base hit mark represented 39.7 percent of the team's total -- and that was the smallest percentage of the team's totals among those five stats.
So why is Alabama still championship material and the No. 5 team here, a ranking actually lower than both official preseason polls? Because Murphy didn't stop recruiting when last year's seniors signed on, and all those lineup options he talks about are as much a sign of abundance as apprehension.
The Crimson Tide still have returning ace Kelsi Dunne in the circle and Player of the Year candidate Charlotte Morgan to pencil in at first base, pitcher or designated player. They also have Cassie Reilly-Boccia, who tied Morgan and Montalvo for the team lead in on-base percentage and led the team with 16 doubles. They still have Jazlyn Lunceford, whose grand-slam heroics in the World Series didn't come of nowhere, but instead out of a 1.075 OPS in part-time duty. And they still have Jennifer Fenton, who trailed only Morgan in batting average and Rogers in steals.
And with freshman Courtney Conley, one of a number of expected contributors in the incoming class, they have someone who sounds a heck of a lot like those who just left.
"I think mentally she is very, very good, very mature," Murphy said of Conley. "Her confidence is very good. She's one of those freshmen that, when people come to watch us, they don't believe she's a freshman. And that's what you love to hear as a coach. So she's ahead of the game in that respect. She carries herself very well. She treats it like it's her profession and she does a really good job. She works really hard. She knows she's got things to work on but she's just very prepared.
"You'll see the lights on [in the batting cages] and she's out there by herself. That's pretty good as a freshman."
No. 6 UCLA
After exiting the NCAA tournament before the World Series, formerly a place that seemed the program's birthright, in two of the last three seasons, UCLA may benefit from entering a season with at least a passable opportunity to play the "doubt" card.
On talent alone, it's difficult to argue against the Bruins. They ranked ninth in the NCAA in runs per game last season, third in slugging percentage and backed up that lineup with their best fielding numbers of the decade (the latter an especially noticeable improvement on recent seasons). They return all but one player from that mix, and as good as Amanda Kamekona was, getting Samantha Camuso back after a shoulder injury kept her out all of last season effectively negates even that loss.
And while the Bruins barely cracked the top 50 in team ERA last season and have just two shutouts in their last 17 NCAA tournament games, pitching looks like a potential strength with the additions of Washington transfer Aleah Macon and freshman Destiny Rodino. But now the Bruins need to prove the sum is equal to the parts.
Graham Hays covers softball for ESPN.com. E-mail him at Graham.Hays@espn3.com.