Tide ride Morgan, long ball to victory
June, 6, 2010
06/06/10
8:56
PM ET
ATLANTA -- Alabama baseball coach Mitch Gaspard calls sophomore pitcher Adam Morgan one of his team's fiercest competitors.
So with the Crimson Tide's season on the line against Georgia Tech in an elimination game of the Atlanta Regional on Sunday night, Gaspard had no problem handing the baseball to Morgan.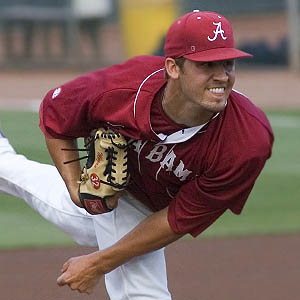 AP Photo/John AmisAdam Morgan went the distance for Alabama in its 8-1 win.
Never mind that Morgan, a left-hander, had a 6.04 ERA in 16 starts this season. And never mind that Morgan hadn't lasted more than five innings in six of his past eight starts.
"He's one of the best competitors we have on the mound," Gaspard said.
Gaspard's faith in Morgan paid big dividends, as he fired the first nine-inning complete game of his career, leading the Crimson Tide to an 8-1 victory over the Yellow Jackets at Russ Chandler Stadium.
Alabama and Georgia Tech will play again at 7 p.m. ET Monday, with the winner advancing to next week's super regional.
"Adam was just tremendous," Gaspard said. "We felt like if we could get to this game, he'd give us a chance to win."
The Crimson Tide had to beat Mercer 5-3 in an elimination game earlier Sunday to earn a rematch with the Yellow Jackets, who beat Bama 5-2 on Saturday night.
When the Tide returned to the field less than two hours after eliminating the Bears on Sunday, they didn't wait very long to jump on the Yellow Jackets. In the bottom of the first inning, the Tide hit three homers for a 5-0 lead.
Alabama hit only 53 homers during the regular season, the second-lowest total in the SEC.
"I fed off of it a lot," Morgan said of his team's early lead. "It was great to go out into the second inning with a five-run lead. I knew I'd have a lot of left-handers and thought I'd have a chance."
Georgia Tech starter Brandon Crumpton, who was tied for the ACC lead with nine victories, lasted only one inning, allowing five runs and four hits. He gave up a leadoff homer to center fielder Taylor Dugas and then a three-run blast to third baseman Jake Smith. Left fielder Jon Kelton added a solo homer.
"His location was just a little bit off," Tech catcher Cole Leonida said of Crumpton. "He really wasn't missing by a whole lot. The problem was when he was missing, he was missing high and they made him pay. He has an overpowering fastball when it's down, but location was just the problem."
Conversely, Morgan's stuff was dominant for most of the night. He allowed third baseman Matt Skole's solo homer to lead off the second, but only two more Yellow Jackets reached second base from there.
Morgan allowed five hits with nine strikeouts and one walk.
"We kept chasing his breaking ball, which was out of the zone, and we just kept chasing it all night and didn't have many answers for it," Georgia Tech coach Danny Hall said.
Morgan grew up in Marietta, Ga., a suburb of Atlanta. His father, Wiley, was a pitcher on the Tide's 1983 SEC championship team, which lost to Texas -- and pitcher Roger Clemens -- in the championship game of the '83 College World Series.
"We've seen him throw like that before," Gaspard said. "We weren't totally taken aback. To be honest, that's what we expected him to do."
The Yellow Jackets, the No. 8 national seed, probably should have expected this kind of result, too. Georgia Tech will play in a Monday elimination game of an NCAA regional for the third season in a row.
Last season, Georgia Tech was upset by Southern Mississippi 12-8 in the final game of the Atlanta Regional. In 2008, the Yellow Jackets lost to rival Georgia 18-6 in the winner-take-all game of the Athens Regional.
"The good news is we have a chance to play tomorrow," Hall said. "The advantage of winning the second game [on Saturday night] was you get two cracks to win one game. Now it's down to one shot to win the regional."
The Yellow Jackets seem to be in better shape than Alabama in terms of pitching, although Morgan helped the Tide save much of their bullpen.
Hall said sophomore Jed Bradley (9-4, 4.17 ERA) would start Monday night. With Farmer pitching the final seven innings Sunday night, Tech has used only five pitchers in three games.