Vandy bunts its way into supers
June, 7, 2010
06/07/10
10:21
PM ET
LOUISVILLE, Ky. -- Vanderbilt didn't exactly muscle its way to victory in the Louisville Regional of the NCAA tournament. But the Commodores proved that sometimes all that power stuff can be overrated.
[+] Enlarge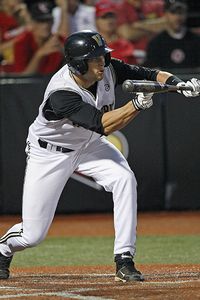 AP Photo/Ed ReinkeConnor Harrell's bunt in the bottom of the 10th inning brought home the winning run in Vanderbilt's 3-2 win over Louisville.
The Commodores shut down host Louisville's sluggers for the better part of two days behind a pair of soft-tossing middle relievers. And then they eliminated the No. 7 national seed Monday night on a 10th-inning bunt.
Connor Harrell's perfectly-executed safety squeeze gave Vanderbilt a 3-2 victory and its second-ever appearance in the super regionals. The Commodores (45-18) will take on Florida State this weekend.
"What you saw out there was just a gut check," Vandy coach Tim Corbin said. "We pitched very well, played great defense and just hung in there."
The Cardinals (50-14) came into the weekend with the reputation as a power team. But after a 7-1 victory over the Commodores on Saturday, Louisville was held scoreless for 15.1 straight innings.
Normal set-up man Richie Goodenow threw a two-hit shutout in a must-win game on Sunday. Corbin decided to stick with that formula, running out another control-oriented southpaw reliever, Grayson Garvin, on Monday. Garvin -- who had made only one start all season -- allowed only three hits and left in the seventh inning with a 1-0 lead.
"We had a couple hits here and there, but for most part they made it very difficult to score," Louisville's Jeff Arnold said.
Harrell helped Garvin out by robbing Arnold of a two-run home run in the third inning, leaping over the center field fence to rescue his pitcher's hanging slider. Vanderbilt's offense didn't threaten the fences much, but small ball led to the win.
With one out in the 10th, Louisville closer Neil Holland brushed Curt Casali with a pitch. Mike Yastrzemski then moved Casali to third with an infield single under the glove of a diving Ryan Wright. On the very next pitch, Harrell pushed a bunt toward first. It was so perfectly placed that no Louisville player even bothered to touch the ball before Casali slid home with the winning run.
"I was kind of freaked out because I think I had bunted once all season," said Harrell, the team's No. 9 hitter. "Once the ball got past the pitcher, I was already celebrating." These two teams played a 17-inning marathon in their only regular season meeting and remained separated by very little this weekend. Louisville tied the score in the top of the ninth inning on Arnold's two-out RBI single. But shortstop Brian Harris made a leaping stab on Andrew Clark's bases-loaded line drive to end the rally.
Vanderbilt had been eliminated in the regionals on Monday night in two of the past three seasons. This Commodores team may lack the elite players it had with David Price and Pedro Alvarez in the recent past. But its power comes from elsewhere.
"We're plenty talented mentally and we're plenty talented right in the chest," Corbin said. "That overcomes anything we do physically."