Texas forces Game 3 with TCU
June, 12, 2010
06/12/10
5:24
PM ET
AUSTIN, Texas -- Texas coach Augie Garrido knows the importance of seizing opportunities. In a three-game series with two superstar pitching staffs and a season on the line, it's even more vital.
In Game 2 of the Austin Super Regional against TCU, his team left the second inning scoreless after stranding a pair of baserunners who reached with one out.
[+] Enlarge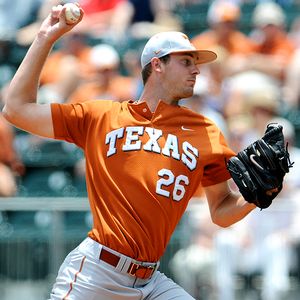 Icon SMITaylor Jungmann struck out nine and allowed only six hits and one run in 8 1/3 innings in Texas' win over TCU.
But the Longhorns used the next opportunity to pull ahead. And the next. And the next. And the one after that. Then a couple more to beat TCU 14-1 in front of 7,315 fans at UFCU Disch-Falk Field and force Game 3.
A seven-run fifth inning put the Longhorns up 12-0 and smoothed the Longhorn fans' frayed nerves until Sunday's decisive meeting for a trip to the College World Series.
"If you told me going in, 'You gotta lose,' and you get a choice between getting blown out or losing on some sort of walk-off hit -- really emotional -- most coaches would take this," TCU coach Jim Schlossnagle said. "Even though it's embarrassing, we had to sit there and wear it for two or three hours. I'd much rather have it this way. I think it's much easier to flush and move on."
The Horned Frogs were a foot away from escaping the third inning in a scoreless tie. Texas catcher Cameron Rupp lined out to TCU second baseman Jerome Pena, but Texas first baseman Tant Shepherd dove back to second before Pena arrived to keep the inning alive.
"I knew I'd get back; I just didn't know if it was going to be in time," Shepherd said.
Then with two outs, a full count and the bases loaded, Texas right fielder Kevin Keyes slapped a dribbler down the third base line, and third baseman Jantzen Witte committed the first of three errors for the Horned Frogs. His off-balance, hurried rocket to first was high and bounced into the stands, putting the Horns up 2-0. Texas third baseman Kevin Lusson followed Keyes with a two-RBI double to make it 4-0.
In the fifth inning and up 6-0, the top of the Longhorns order effectively ended the game in succession. Leadoff hitter Cohl Walla scored three on a triple. Shortstop Brandon Loy scored Walla with a single, and Shepherd sent the game's only home run screaming out of the stadium down the left field line.
"It's gonna happen," Schlossnagle said of the Horned Frogs' collapse. "It just can't happen again. You've got two teams with identical records trying to win one game tomorrow."
Texas' parade of productive pings overshadowed another dominating performance by staff ace Taylor Jungmann. The Longhorn sophomore allowed six hits in 8 1/3 innings, making sure his team's 14 runs were plenty more than it needed. Through seven innings, he struck out nine, allowed just three hits and maintained a shutout.
"Outstanding," Garrido said. "Good pitching -- or great pitching -- dominates hitting."
TCU scored its only run in the eighth inning after shortstop Taylor Featherston scored Kyle Von Tungeln.
Jungmann fell two outs short of his second complete game, but he still provided the Longhorns fan with a short curtain call before reliever Kendal Carrillo provided the two final outs.
"There's one game standing between these two teams and a trip to Omaha and a chance to win the national championship," Garrido said. "It's pretty exciting."