Gators punch the first ticket to Omaha
June, 13, 2010
06/13/10
12:10
AM ET
GAINESVILLE, Fla. -- Florida coach Kevin O'Sullivan believes his young team will have a chance to win the College World Series because the Gators pitch well and play solid defense.
[+] Enlarge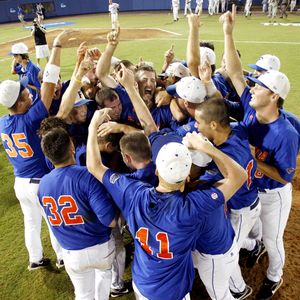 AP Photo/Reinhold MatayFlorida advanced to its first College World Series since 2005 after beating Miami in the Gainesville Super Regional.
Miami coach Jim Morris knows his team isn't going back to Omaha because it seemingly forgot how to play defense in an NCAA super regional Saturday night at Florida.
After committing two costly errors in Friday night's 7-2 loss to the Gators, Miami made seven more in a 4-3 defeat in 10 innings at McKethan Stadium.
Florida became the first team to punch its ticket to Omaha and advanced to its first College World Series since 2005.
"It comes down to pitching and defense at the end," O'Sullivan said. "When you don't walk people and don't make errors, you're going to have a chance to win."
The Gators will have a chance to win the whole shebang in the last College World Series at Rosenblatt Stadium because they pitch and play defense as well as any team left in the NCAA tournament.
One day after sophomore Alex Panteliodis threw a three-hitter against the Hurricanes, Florida freshman Hudson Randall was equally impressive.
Randall, from Dunwoody, Ga., didn't allow a Miami hitter to reach second base through the first six innings. After Randall allowed two singles in the seventh, O'Sullivan replaced him with closer Kevin Chapman. Miami center fielder Nathan Melendres hit Chapman's third pitch over the right-field wall for a 3-2 lead.
The Gators loaded the bases with one out in the top of the ninth. After designated hitter Brian Johnson struck out looking, second baseman Josh Adams hit a grounder to short. But shortstop Stephen Perez threw low to first, allowing Preston Tucker to score from third to tie the score at 3-3.
Miami's defense collapsed again in the top of the 10th, when right fielder Chris Pelaez misplayed Nolan Fontana's fly ball. Fontana scored on Austin Maddox's two-out double for a 4-3 lead.
The Hurricanes' seven errors tied a school record for postseason play.
"Obviously, we didn't play very good," Morris said. "When you make seven errors, you're not going to beat a great team. It was frustrating the whole game to watch the defense."
Two Miami errors Friday night led to two three-run innings for the Gators, too.
"They're a great club," said Miami pitcher Chris Hernandez, who allowed three runs and three hits in 8 1/3 innings. "We made errors and handed them the game."
The Hurricanes were shorthanded from the start and didn't help themselves with their sloppy play. Third baseman Harold Martinez, who led Miami with 21 homers and 69 RBIs, was hospitalized at Shands Medical Center here Friday night. Morris said Martinez developed a blood infection after fouling three pitches off his shin. He underwent emergency surgery to relieve pressure in his leg.
Morris said Martinez would be transferred to a Miami hospital Sunday.
"No question, it hurts us," Morris said. "He was leading our team in home runs and RBI. To lose a guy like that really hurts."
Miami's defense hurt it even more.
"Our main goal was to get to Omaha," Hernandez said. "We didn't, and the team looks at it as a failure. You can see it in our faces."
Instead, Florida's fresh faces are going to Rosenblatt Stadium.
"I think they have the best pitching staff we've seen this year," Morris said. "They've got a lot of power pitchers."