Hit parade powers Bruins past Gators
June, 19, 2010
06/19/10
11:58
PM ET
OMAHA, Neb. -- Florida coach Kevin O'Sullivan doesn't expect to win many games when his team gives up runs in seven consecutive innings. On Saturday, his Gators didn't come close to a W, losing 11-3 to UCLA in the nightcap of Day 1 of the College World Series at Rosenblatt Stadium, watched by 23,271 fans.
[+] Enlarge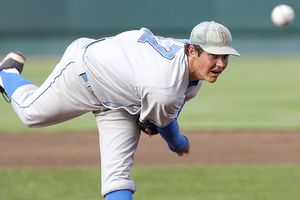 AP Photo/Nati HarnikTrevor Bauer struck out 11 Florida batters and set the UCLA single-season strikeout record in the Bruins' 11-3 win over the Gators.
Starter Alex Panteliodis left the mound after 3 1/3 innings, giving up five runs on five hits. The four pitchers who followed him all gave up at least one run, and none lasted longer than two innings.
"The one thing we've been doing all year long is throw first-pitch strikes, work ahead in the count," O'Sullivan said. "For whatever reason tonight, we just weren't able to do it."
Panteliodis dropped to 11-3 on the season a week after beating Miami in Gainesville, Fla., with a three-hit complete game that featured 12 strikeouts.
Florida took a 2-1 lead in the bottom of the first inning, but only the second inning didn't see a Bruins run.
"We just saw the ball well," said UCLA shortstop Niko Gallego, who went 4-for-5 with a double and scored two runs.
Fifteen of the Bruins' 18 hits were singles, and nine UCLA batters recorded a hit. None of the team's 11 runs came on a home run.
"We kind of pecked away at 'em," Bruins coach John Savage said. "It was a typical game offensively for us, in terms of, we used the middle of the field. We had a bunch of singles; we had some stolen bases. We kept on coming after them. I think we wore their starting pitcher down a little bit and then we got to their bullpen."
Panteliodis threw 61 pitches and faced 19 batters in his 3 1/3 innings, and the Bruins stole three bases.
UCLA starter Trevor Bauer was steady in his faded, tattered cap. ("I don't like hats that stick up in the corners; they make you look like a conductor," he said. "So when I find a hat that fits and the corners stay down, I tend to stick with it.") He struggled early, giving up two runs in the first inning, but dominated once the Bruins took the lead, finishing with 11 strikeouts in seven innings of work. His performance also gave him the school's single-season strikeout record, with 152.
"He's had some rough starts," Savage said. "So it wasn't unusual, really. His stuff always shows up. He's a tremendous young pitcher. We knew he'd settle in, he'd find his release point, he'd find his mechanics. He's done that all season."
The only Bruin with more than one RBI was third baseman Dean Espy, who had two. He went 3-for-6 with a chopper over third base to score the first run of the game and hit a single through the right side of the infield to score the game's final run.
UCLA moved to 49-14 with the win and will face TCU at 9 p.m. ET Monday. Florida dropped to 47-16 and will face rival Florida State for the fifth time this season at 4:30 Monday afternoon.