OU prevails over Gamecocks, Mother Nature
June, 21, 2010
06/21/10
12:18
AM ET
OMAHA, Neb. -- It took longer than nine hours, but Oklahoma kept itself in the winner's bracket with a 4-3 win over South Carolina on Sunday night at Rosenblatt Stadium.
[+] Enlarge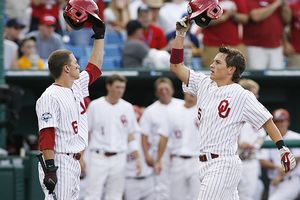 Crystal LoGiudice/US PresswireCaleb Bushyhead's home run in the second inning gave Oklahoma a lead it would not squander.
Inclement weather kept the teams off the field for six hours and 16 minutes, but plenty of fans took shelter underneath the overhanging press box to see the finale, which came just after 10 p.m. local time, nine hours after the first pitch.
"When would you, as an amateur, try to stay and finish a game?" asked Oklahoma coach Sunny Golloway, whose team improved to 50-16 with the win. "The only place you would is Rosenblatt … I kept thinking, it's Father's Day, we're in a great, long rain delay, but there's nowhere we'd rather be. It wasn't bad from that standpoint, and I think that was something all the student-athletes could draw on, is how great it is to be here and how hard it is to get here. Surely, you're not going to let a little rain dampen your day."
The start of the game was delayed four hours and 15 minutes. Oklahoma held a 3-2 lead in the sixth inning when rain and lightning returned, forcing a further 2-hour, 1-minute delay. That lead remained until the bottom of the eighth inning, with the Sooners three outs from their first series win since winning the national championship in 1994.
Flights in and out of Omaha might have been canceled, but Sooners third baseman Garrett Buechele sent a long, tall home run careering toward the scoreboard in left field. It landed near the top of the outfield bleachers, sparing the scoreboard's pixels.
"I honestly was just trying to hit a ball to right field and get on base," said Buechele, whose home run was his 17th of the season. "He left the pitch up; I put a good swing on it and hit it out of the ballpark."
That provided what eventually became the winning run. Reliever Jeremy Erben replaced starter Michael Rocha after that second, two-hour rain delay and pitched two innings, escaping a bases-loaded jam in the top of the eighth with a lineout to right field and the bases loaded. Throughout the final three innings, sheets of rain fell onto the field and lightning and thunder were constant.
The teams told stories and kept spirits high in the clubhouse while planning to finish on Sunday night. Fans were ushered in and out of the concourse, and one Vermont couple, Brian Chandler and Toni Weaver, used the rain delay to elope in the Stadium View Sportscards memorabilia shop outside the stadium.
Closer Ryan Duke earned his 12th save of the season with a little maneuvering, as well, walking in a run with the bases loaded before clinching the game by forcing Adrian Morales to fly out to center field.
"I thought we did a great job there in the last inning. We had some pretty good swings in there, we took some pitches, we got on base," said South Carolina coach Ray Tanner. "We just failed to come up with the big RBI single or double to put us in a good position."
South Carolina drops to 48-16 and into the loser's bracket, where on Tuesday the Gamecocks will face the loser of the game between Clemson and Arizona State, which was postponed until Monday and is slated for an 11 a.m. ET start. Oklahoma will face the winner of that game.
"Our guys, I'm pretty sure they're not ready to depart," Tanner said. "They may be a little bit weary tomorrow morning, but these guys are young, they'll bounce back."