Pitching leads Tigers over Sun Devils
June, 21, 2010
06/21/10
4:02
PM ET
OMAHA, Neb. -- Only three of the national seeds made it to Omaha for the College World Series. Now the series' top two seeds are in the loser's bracket.
Clemson upset top-ranked Arizona State in the first of three games Monday, never trailing in the 6-3 victory in front of an early crowd of 14,198 at Rosenblatt Stadium, who saw the first pitch at 10:22 a.m. local time.
[+] Enlarge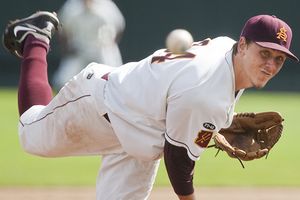 AP Photo/Nati HarnikClemson got to ASU starter Seth Blair early to give him his first loss of the season.
"It proves we can play with anybody," said Clemson second baseman Mike Freeman, who went 2-for-5. "We're just filled with that confidence that we can compete with anybody and let everyone know that we might be the last seed here, but we're not to be overlooked. We've got guys on this team who are as good as anyone in the nation."
Among them is pitcher Casey Harman (8-3), who helped give Sun Devils starter Seth Blair (12-1) his first loss in his 18th start.
"Clemson did a good job of being very patient," Arizona State coach Tim Esmay said. "His pitch count was over 100 through four innings … and when they got a pitch, they hit it."
Fourteen times, in fact. Half of those came against Blair, who left his bullpen trying to rebound from a 5-1 deficit. All 14 Tigers hits were singles, no player had more than one RBI, and each player in the starting lineup recorded a hit.
"Everybody contributed," Clemson coach Jack Leggett said.
The Tigers did the most damage in the fifth inning, when they stretched their lead to 5-1 and sent Blair off the mound.
A pair of singles by third baseman John Hinson and Wilson Boyd added runs. Clemson got an easy run when first baseman Richie Shaffer hit a pop fly to left field, but Drew Maggi lost the ball in the sun, letting it drop a few feet in front of him and adding to Clemson's edge.
"They won the battle of the freebies today," Esmay said. "We just gave away a lot of freebies."
Arizona State (52-9) must climb out of the loser's bracket. Monday was the Sun Devils' first loss of the postseason, but they haven't lost two consecutive games all season.
"It's a double-elimination tournament. They just used their get-out-of-jail-free card," Esmay said. "Last I checked, we get to put the uniform on tomorrow. We still get an opportunity to play, and that's how we're going to approach this thing."
Said third baseman Raoul Torrez: "We're going to come tomorrow and play how we've been playing all year long, that's for sure. There's a reason why we haven't lost consecutive games."