Noles can exhale after holding off Gators
June, 21, 2010
06/21/10
9:47
PM ET
OMAHA, Neb. -- After seeing its six-run lead cut in half at the price of just one out in the ninth inning, Florida State's dugout turned tense with the bases loaded and the go-ahead run at the plate.
[+] Enlarge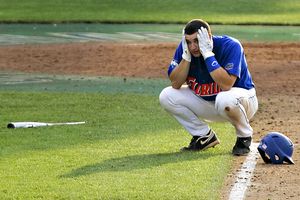 AP Photo/Nati HarnikMike Zunino's game-ending double play ended Florida's stay at the College World Series.
"Do I really have to tell you?" said Seminoles coach Mike Martin, when asked after the game how anxious he was.
The next pitch -- a mistake, pitcher Mike McGee admitted later -- rocketed off Florida catcher Mike Zunino's bat, not unlike the five earlier that inning that resulted in hits.
"I didn't turn around at first, I was just like, 'No!' but then I heard a pop," McGee said. The ball sped into shortstop Stephen Cardullo's glove, who then tossed the ball to second baseman Devon Travis for an inning-ending, game-ending and season-ending double play, giving the Seminoles an 8-5 win over Florida in the first elimination game of the College World Series on Monday evening in front of 19,841 fans.
"It was supposed to be a slider down, off the plate and in the dirt -- completely unhittable," McGee said. "It slipped out of my hand a little bit. As soon as I let go of it, I felt it come up out of my hand. He hit it well."
Six innings earlier, McGee faced a mistake pitch of his own at the plate. He crushed it to left field for a three-run home run that put Florida State up 4-1.
"He just left that 1-2 slider hanging -- a mistake pitch," McGee said. "He made a mistake and I was able to take advantage of it."
Had Zunino done the same, it might have instead been McGee crouched along the first-base line with his head buried in his hands, crushed by a season's end.
"That's baseball," said Florida coach Kevin O'Sullivan.
One of just three national seeds to advance to Omaha, Florida is the first to head home. Helping send it on its way was Florida State's starter, Brian Busch, who recovered from a poor first inning to allow just two hits in 5 1/3 innings, and left with a three-run lead.
"In the first inning, I could not control anything, basically," Busch said. "Anytime you walk four guys in a game and only give up two runs, you're pretty fortunate."
McGee's third-inning home run gave him three of his four RBIs for the game, and leadoff hitter Tyler Holt was 3-for-4 from the plate, adding two RBIs and scoring three runs. Cardullo hit the longest home run to date of this year's College World Series, with a towering shot to center field that cleared the second wall and looked to leave the entire stadium.
"Their go-to guys helped them today," O'Sullivan said. "They kind of distanced themselves."