Sun Devils fizzle against Gamecocks
June, 22, 2010
06/22/10
9:27
PM ET
OMAHA, Neb -- Arizona State coach Tim Esmay lauded his team's effort, pointing to a pair of spectacular ninth-inning put-outs from the infield that proved the Sun Devils were still playing. But the effort didn't come with enough runs to erase an eight-run second inning that erased the Sun Devils' 52 wins and made them the first No. 1 national seed to go 0-2 in the College World Series.
[+] Enlarge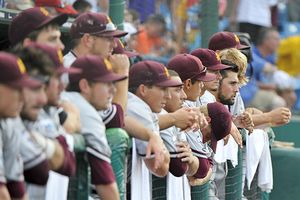 AP Photo/Ted KirkArizona State could only watch as South Carolina blew the game open with an eight-run second inning.
"The expectation at Arizona State is to play deep in this tournament, and they know that," Esmay said.
That won't happen after an 11-4 loss to South Carolina on Tuesday afternoon in front of a crowd of 19,936 at Rosenblatt Stadium.
A second consecutive loss, the first of the season for the Sun Devils, sent them back to Tempe.
"I thought they did a heck of a job of putting us on our heels, and I think you have to do that in a game like this," Esmay said. "You lose and you go home, and the team that kind of takes control of that and is the aggressor and puts you on your heels makes it tough for you to battle and climb."
Starter Merrill Kelly (10-3, 4.23 ERA) gave up two home runs and eight runs -- all earned in the second inning. The 10 hits against his 15 batters faced made his day short and the Arizona State road back to victory difficult.
"It was definitely stunning," said Arizona State right fielder Kole Calhoun, whose college career ended with the loss. "For the most part, we've gotten great, quality starts by our starters all year long. But on our heels, down eight runs, it's tough, it'll get to you. It makes you think."
Kelly did not speak to reporters after the loss and wasn't made available by team officials when asked.
South Carolina center fielder Jackie Bradley Jr. hit one of the two home runs in the inning, a high shot to right-center field that just barely cleared the fence and sent a pair of relievers jogging to the bullpen down 6-0.
"I was just actually looking to drive him in, get a sac fly somewhere, and he made a great pitch. It was low and outside," Bradley said. "I just happened to stay back on it, put a good swing on it and it was wind-assisted a little bit. So it happened to work out."
Esmay praised the efforts of reliever Mitchell Lambson, who threw 72 pitches and allowed just two more runs to keep Arizona State alive.
"After the second inning, it just seemed like the game was going pretty fast," Esmay said. "We kept fighting, we got guys on base."
But they didn't get enough to home plate, and could do little more than sadly stare from the dugout while the Gamecocks celebrated on the field with side-bumps and high- and low-fives.