Roth provides more than just relief
June, 26, 2010
06/26/10
12:38
AM ET
OMAHA, Neb. -- Before leaving the team hotel Friday, South Carolina emergency starting pitcher Michael Roth told coach Ray Tanner that he would throw until his arm fell off.
[+] Enlarge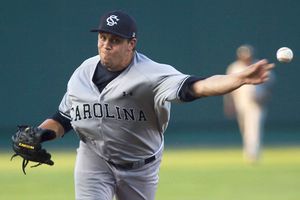 AP Photo/Nati HarnikMichael Roth's three-hit complete game helped South Carolina stave off elimination against Clemson.
"Is that one inning?" Tanner asked.
That was a reasonable question. Nearly all season, Roth had been used as a situational left-hander. He'd thrown just 24 innings this season coming into Omaha, lasting more than three outs only three times.
But Tanner needed somebody to start after Thursday's 12-inning win over Oklahoma taxed the Gamecocks' pitching staff. He figured Roth could give him three or four innings at best, and then he'd come up with a Plan B from there.
Instead, Roth turned in what has to rank as one of the most unlikely pitching gems in College World Series history. With his team on the brink of elimination, Roth tossed a complete game three-hitter to beat Clemson 5-1 and force a rematch Saturday.
"That was one of most impressive performances I've ever had a young man pitch for me," Tanner said. "It's certainly one for the record books."
Before Friday night, Roth's longest career outing was 4 1/3 innings, and that didn't go so well. He surrendered five earned runs in a start against College of Charleston last year, solidifying his role as a career reliever.
But his sidearm delivery and filthy slider proved fatal to a Tigers lineup that featured six left-handers. Those six batters finished 1-for-20 on the night, the lone hit coming from Brad Miller with two outs in the ninth. If not for a third-inning passed ball, Roth might have thrown a shutout.
"They tried to make adjustments, but I kept coming in on them," Roth said of the lefties he faced. "They just kept jamming themselves. I was throwing almost all fastballs in and sliders away."
South Carolina staked Roth to an early lead, scoring runs in each of the first four innings. And the Gamecocks' always-reliable defense picked all the ground balls that Roth induced. Tanner said his team "played a near-perfect game for us."
Tanner only had to get relievers up in the bullpen a couple of times as Roth provided an invaluable service to the staff's Saturday fortunes. The sophomore needed 109 pitches to complete the game, and afterward he received several hugs in the postgame handshake line.
Roth clearly wasn't used to this kind of spotlight. In the postgame news conference, he admitted he didn't know what "BF" meant in the box score (it's batters faced). And he talked about how he was tough on his left-handers during "intramural" games, before quickly correcting himself by saying "intrasquad." Tanner and his teammates on the podium giggled at the gaffe.
Three large bags of ice covered Roth's left arm after the game. He nearly did pitch until his arm fell off.
"My arm is sore," he said. "Hopefully, I can bounce back quickly. Not tomorrow."