'Bauer ball' works wonders for Bruins
June, 26, 2010
06/26/10
7:35
PM ET
OMAHA, Neb. -- Quirky barely begins to describe the way UCLA's Trevor Bauer approaches pitching.
[+] Enlarge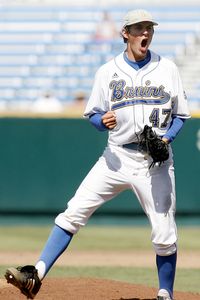 Crystal LoGiudice/US PresswireUCLA's Trevor Bauer has struck out 24 batters in his two starts at the College World Series.
Bauer performs a long toss in the outfield shortly before his starts, can be seen stretching with a javelin-like device in the bullpen and likes to fire his final warm-up pitch to the backstop on purpose.
"He's a different dude," third baseman Dean Espy said. "He has all these different exercises -- everything you could imagine. But he really, really works hard, and we trust that he's going to be prepared every time he pitches. And he always is."
The Bruins sure wouldn't change a thing about Bauer. The sophomore right-hander threw eight dominant innings against TCU on Saturday, and his offense gave him plenty of cushion in a 10-3 win that clinched a spot in the College World Series championship round.
Bauer scattered four hits and struck out 13 batters, giving him a Division I-best 165 punchouts for the season. He lasted 135 pitches despite temperatures that approached 100 degrees on the field, and he did so while wearing his customary long sleeves and leggings.
"I have a running joke that if I make it to 100 pitches, I'm good to go," he said. "Once I'm loosened up and I kind of get in the groove I was in I can go forever. I can go 150, 200 [pitches]."
Bauer certainly didn't seem tired at the end of his outing; he struck out the final four batters he faced.
He says the long sleeves help him work up a sweat that cools him down as the game goes along. That's not his only unique uniform trait. Bauer's hat is about three shades of blue lighter than any of his teammates. That's because he doesn't like the way the corners stick up on new caps. So he's been wearing a frayed lid that he picked up on his official visit to UCLA in September 2008.
As for the unusual warm-up routines and his Lincecum-lite delivery, Bauer said he learned those as a kid while studying under pitching instructors Alan Jaeger and Jim Wagner. The long toss, he said, gets his arm loose and ready.
He might want to write his own instruction manual someday. Bauer has struck out 24 batters in 15 innings in Omaha. Saturday's stellar outing allowed coach John Savage to keep Gerrit Cole in the bullpen and line up his No. 1 starter for Monday night. And if UCLA keeps hitting like it did Saturday, there's no doubt who is the favorite here.
The Bruins managed just two hits that left the infield in Friday's loss to TCU. On Saturday, though, they returned to the form that's made them the top-hitting team so far in the World Series. Blair Dunlap's three-run home run chased Horned Frogs starter Kyle Winkler after only nine pitches, part of a five-run first inning. The leadoff man reached base in all but one inning for UCLA.
"We've had a plan, and [Friday] night we kind of got away from it," Espy said. "We let the heat get to us and other factors get to us. But I think it was really important for that to happen, because that slapped us right in the face and said, 'Hey, guys, you've got to play your game.'"
That game has been good enough to get UCLA into the championship round for the first time in school history. If the quirks work, go with them.