Few changes at the top of latest projections
May, 4, 2011
05/04/11
11:35
AM ET
You could almost copy and paste last week's intro into this space again.
The contenders for the regional hosts and national seeds are the same as they have been for the past two weeks. The counts by conference seem fairly fixed at this point, though there could be some shuffling of teams over the final four weeks of the season.
[+] Enlarge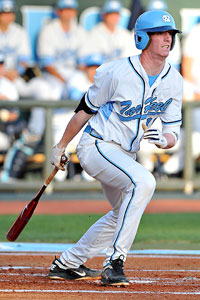 UNC Athletics Colin Moran and the Tar Heels would like to get back to national seed territory in the next four weeks.
ACC (Four hosts, two national seeds): Virginia is one of the safest bets for a national seed in the country. Georgia Tech, North Carolina and Florida State are in contention for the conference's second national seed, while Miami and Clemson are in contention to host a regional. The Seminoles move into the national-seed spot after winning their series at Miami; Georgia Tech (lost series at Clemson) is still a host along with North Carolina.
SEC (Three hosts, three national seeds): The strength atop the SEC East hurts the hosting chances for rest of the conference. Florida, South Carolina and Vanderbilt should all be national seeds. The winner of the SEC West will be under consideration for a fourth hosting spot, especially if Arkansas gets hot down the stretch.
Pac-10 (Two hosts, two national seeds): If Arizona State loses the appeal of its NCAA postseason ban, only Oregon State is likely to remain in this group. Stanford has the résumé, but its weak conference standing hurts the Cardinal's chances of hosting.
Big 12 (Two hosts, one national seed): Texas (series win over Oklahoma) passes Texas A&M (series loss at last-place Missouri) for the conference's national seed, but the Aggies still have an inside track to host a regional. Oklahoma and Oklahoma State are both in contention to host a regional, with OU the last team left out in the cold this time.
That leaves five more hosting spots. At this point, they all go to conference leaders, though one or two could easily slide to the bigger-conference teams left out above over the last four weeks. Cal State Fullerton, Southern Miss, TCU, Fresno State and Stetson get to spend opening weekend at home as long as they keep winning in conference play. Rice could move into consideration if it overtakes Southern Miss for the C-USA title or other midmajors struggle down the stretch. The only first-time host on the list is Stetson -- given the NCAA's desire to reward teams outside the traditional powers for strong season, the Hatters could even host as a No. 2 seed (most likely with an ACC or SEC team as the top seed).
Charlottesville Regional
No. 1 Virginia
Elon
Troy
James Madison
College Station Regional
Texas A&M
LSU
Texas State
Manhattan
Austin Regional
No. 8 Texas
Rice
Southeastern Louisiana
Dartmouth
Fort Worth Regional
TCU
Oklahoma
Arizona
Michigan State
Tempe Regional
No. 5 Arizona State
UC Irvine
Baylor
Hawaii
Fullerton Regional
Cal State Fullerton
UCLA
Kansas State
Navy
Corvallis Regional
No. 4 Oregon State
Arkansas
Creighton
Gonzaga
Fresno Regional
Fresno State
Stanford
Connecticut
South Dakota State
Nashville Regional
No. 3 Vanderbilt
Oklahoma State
UAB
Wright State
Chapel Hill Regional
North Carolina
East Carolina
Florida Atlantic
Charlotte
Gainesville Regional
No. 6 Florida
California
UCF
Bethune-Cookman
DeLand Regional
Stetson
Miami
Mississippi State
Kent State
Tallahassee Regional
No. 7 Florida State
Auburn
Florida International
Jacksonville State
Hattiesburg Regional
Southern Miss
Alabama
NC State
Alcorn State
Columbia Regional
No. 2 South Carolina
Clemson
Coastal Carolina
Monmouth
Atlanta Regional
Georgia Tech
Georgia
Jacksonville
Stony Brook
Last five in: Southeastern Louisiana, Florida Atlantic, Kansas State, Mississippi State, UAB
First nine out: Ole Miss, Louisiana-Lafayette, Texas Tech, College of Charleston, Cal State Bakersfield, Louisville, East Tennessee State, St. John's, Tulane
Washington State and Houston would each be in bubble consideration but were not considered this week since each are currently under .500 on the season and ineligible for at-large berths. Houston, which is tied for second in C-USA with Rice, is closer to the bubble with eight top-50 wins and a strong conference standing. The Cougars can play their way into the field, but need to navigate a closing schedule of Rice, Southern Miss and Memphis. Washington State has more work to do despite a top-40 RPI, especially after dropping its first five Pac-10 series. The finishing schedule is less daunting (Arizona, Oregon, USC), but it's a steep climb from the basement.
The SEC continues to look like a nine-bid league this year, but it's harder to determine which team will be excluded. Despite currently sitting in position to make it to Hoover for the conference tournament, Ole Miss is the odd team out this week. The combination of upcoming schedules (LSU and Mississippi State each have easier finishing stretches) and top-50 wins (Mississippi State has 10, LSU nine and Ole Miss four) leave the Rebels with the weakest résumé at this point. On Memorial Day, I expect the eight teams that qualified for the SEC tournament, plus one team that failed to advance to Hoover, to make a regional.
At this point, 20 of 31 conferences earn a single bid to the NCAA tournament -- and a couple more are close to that territory. Hawaii makes the tournament as the current WAC leader after splitting a series at regional host Fresno State, but if the Bulldogs win the conference tournament they'll be the only WAC team to advance. The Southland has two teams in the field, but with the unpredictable nature of their conference tournament, the league risks sending just the champion. Bubble teams need to cheer for the conference leaders in three or four conferences -- the Big South (Coastal Carolina), Mountain West (TCU), Southern (Elon) and Big East (Connecticut) -- as an upset in the conference tournament would mean one less bubble spot on Selection Monday.
The first invitation to the NCAA tournament will be extended this weekend, as Princeton (21-21, 15-5) hosts Dartmouth (29-10, 14-6) in the Ivy League Championship Series. The Tigers struggled to a 3-13 start, but closed the regular season on an 18-8 run and went 8-3 at home. Dartmouth won both games when the teams met in Hanover, N.H., in early April and has won its last 11 games.
Jeremy Mills is a researcher for ESPN and is a contributor to ESPN.com's college baseball coverage.
Follow ESPN.com's college sports coverage on Twitter: @ESPN_College and on Facebook.