The rationale behind the decisions
May, 24, 2011
05/24/11
8:47
AM ET
With less than a week until the official NCAA baseball bracket is announced, this season's field seems much more wide open than in past years.
The dominance of the SEC and ACC at the top of the rankings masks a far weaker bubble than normal. This weakness will be further exposed if two SEC teams that should easily be in the field with their résumés (Georgia and Auburn) fail to finish above .500 after the SEC tournament.
[+] Enlarge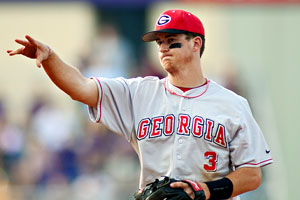 Icon SMILevi Hyams and Georgia could add to a weaker than normal bubble if they struggle in the SEC tourney.
The clock is still ticking on Arizona State, whose postseason sanctions are stayed until its appeal is ruled on. The appeal was heard May 16, and until the ruling, the Sun Devils are eligible for the NCAA tournament. Although it's possible that the decision will be made this week, it's not likely -- USC football's appeal was made in January and is still not decided.
As we head into a week that mostly features conference tournament play, let's do a little blind résumé analysis to highlight the rationale behind some of the most perplexing decisions in this projection. In each case, we'll look at one team from the past four years and compare it with a team from this year where the résumé doesn't easily slot the team. Past returns aren't a guarantee of future success, but precedents are not lost on the NCAA.
All RPI numbers mentioned in the comparisons come from Boyd's World, and the information for past teams is entering the final week of the regular season (conference tournament play for most teams).
The NCAA is always looking to expand the game outside the traditional strongholds in the South and West.
In 2008, the right opportunity presented itself; 12 months after knocking top national seed Vanderbilt out of the NCAA tournament, Michigan won the Big Ten regular-season title by five games. However, it was a down year for the Big Ten and the Wolverines' RPI languished near 40. That's well outside the normal range for hosting consideration, but a perfect run through the Big Ten tournament and geography landed a regional in Ann Arbor.
Connecticut entered this season with high expectations after a 48-win season, with top prospects Matt Barnes and George Springer returning to Storrs. After starting the season 8-9-1, the Huskies got hot and won the Big East by 3½ games. Their RPI has gradually climbed from near 100 toward the 40 range. Connecticut hosted a successful regional in Norwich in 2010 as a No. 2 seed (with an RPI in the mid-20s).
Team B is 2008 Michigan -- the Wolverines finished 1-2 in the Ann Arbor Regional. Team A is this year's Connecticut squad. For most teams and most years, the Huskies definitely would be going on the road for regional play. But with geography on its side (and the team from Scenario 2), UConn could be playing at home in early June.
The NCAA has emphasized the importance of playing (and beating) quality opponents outside of conference play when selecting at-large teams. Both teams in this example played well in nonconference play before struggling to finish in the middle of their conferences. The RPIs say No. 1 seed and regional host, but what about the five teams that finished higher in conference play?
Team A is 2009 Virginia -- the Cavaliers swept through the ACC tournament but were sent on the road as a No. 2 seed; they survived trips to Irvine, Calif., and Oxford, Miss., and reached their first College World Series. Team B is Clemson: The Tigers lost three of their first four conference series on the way to a 14-12 start before winning their final six conference series on a 25-5 run. Four of the ACC teams that finished above Clemson definitely will host, but did the Tigers do enough to secure a home regional?
Both teams in this scenario missed out on qualifying for the conference tournament by a single game. They dominated in nonconference play, with a strong enough schedule to end up in the top-30 in RPI. Both easy calls as No. 2 seeds … except for the poor performance in conference games.
Team A is 2009 Oklahoma State: The Cowboys finished ninth in the Big 12 and didn't make the conference tournament, but seventh-place Texas Tech finished below .500 overall and didn't make a regional. The Cowboys were a surprise 3-seed in the NCAA tournament, where they won their first two games before being eliminated by Clemson. Team B is LSU, which lost five of its first six conference series before making a late run at Hoover by winning nine of its past 12 SEC games. The hot finish and some key nonconference wins (most notably sweeping Cal State Fullerton) should be enough for the Tigers despite their missing out on the SEC tournament.
The way RPI is calculated, it's harder for Western teams to build up gaudy numbers, and any slip-up is magnified. With the record for teams west of the Rockies converging to .500, the only way to build up your RPI is to keep winning. How does the NCAA balance this when determining national seeds and other regional hosts when a team wins a top-six conference with an RPI in the 20 range?
Team B is UC Irvine in 2009: The Anteaters ended up winning the Big West by five games over eventual CWS participant Cal State Fullerton. They earned a national seed, but were eliminated from the Irvine Regional by red-hot Virginia. Team A is Oregon State: The Beavers lead the Pac-10 and swept second-place Arizona State earlier in the season. But a recent series loss (its first of the year) to USC knocked Oregon State down 10 spots in RPI. Before this weekend, the Beavers were a national seed; now, they have some work to do in the season finale against Oregon to overcome their RPI.
Without the standardization of a conference schedule, it's harder to measure the merits of the independents. Other than the Miami Hurricanes, there isn't much recent history of nonaffiliated teams in the NCAA tournament.
Dallas Baptist made a splash when it was selected to the 2008 tournament as a 2-seed. The Patriots lost both games in the College Station Regional, but found the recipe for building up their record and RPI. Most of their midweek games were against the power teams from Texas and Oklahoma -- with no weekend conference series to focus on, the Patriots were able to throw their best pitchers against these teams. Then they rolled against lesser competition in the weekend series.
The 2008 version of Dallas Baptist is Team B above, and this year's version is Team C. Same recipe for success for the Patriots this year, and, with an even weaker bubble, they should be pretty secure in the field. Cal State Bakersfield (Team A) took a different approach to scheduling because its remote location made scheduling midweek opponents harder. All the Roadrunners' big wins were in weekend games: single wins against Arizona State, South Carolina, UCLA and UC Irvine, plus a sweep of Fresno State this past weekend. That's a better overall résumé but a less stellar RPI, putting Bakersfield in a far more tenuous position heading into Selection Monday.
A look at the field of 64:
Columbia Regional
No. 1 South Carolina
Stetson
NC State
Coastal Carolina
Norwich Regional
Clemson
Connecticut
Arizona
Sacred Heart
Fullerton Regional
Cal State Fullerton
UCLA
Cal State Bakersfield
Navy
Tempe Regional
No. 8 Arizona State
UC Irvine
Kansas State
Kent State
Austin Regional
No. 5 Texas
Stanford
Texas State
Wright State
Fort Worth Regional
TCU
Oklahoma
Mississippi State
Oral Roberts
Nashville Regional
No. 4 Vanderbilt
California
East Tennessee State
Austin Peay
Houston Regional
Rice
Baylor
LSU
Princeton
Charlottesville Regional
No. 3 Virginia
Elon
Creighton
James Madison
College Station Regional
Texas A&M
Arkansas
Dallas Baptist
Michigan State
Chapel Hill Regional
No. 6 North Carolina
East Carolina
Troy
Charlotte
Corvallis Regional
Oregon State
Fresno State
Oklahoma State
Gonzaga
Tallahassee Regional
No. 7 Florida State
Florida International
Jacksonville
Manhattan
Hattiesburg Regional
Southern Miss
Alabama
Louisiana
Alcorn State
Gainesville Regional
No. 2 Florida
Miami
Florida Atlantic
Bethune-Cookman
Atlanta Regional
Georgia Tech
UCF
Auburn
Stony Brook
Last five in: Auburn, Kansas State, Dallas Baptist, LSU, Cal State Bakersfield
First nine out: Ole Miss, Southeastern Louisiana, Mercer, Texas Tech, Illinois State, St. John's, UNC Greensboro, St. John's, Rhode Island
Jeremy Mills is a researcher for ESPN and is a contributor to ESPN.com's college baseball coverage.
Follow ESPN.com's college sports coverage on Twitter: @ESPN_College and on Facebook.