Error costs Texas in loss to ASU
June, 10, 2011
06/10/11
11:01
PM ET
AUSTIN, Texas --Two pitchers took the mound at Disch-Falk Field with bad memories to eliminate. Both did it. Only one left as a winner after Arizona State beat Texas 3-1 to take a 1-0 lead in the Austin Super Regional of the NCAA tournament.
Texas' Taylor Jungmann had won 15 consecutive games and never lost at home before giving up seven runs in a shocking loss to Kent State in last week's regional.
[+] Enlarge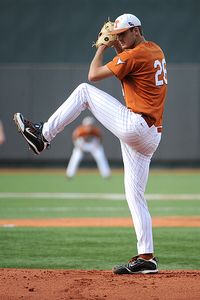 Brendan Maloney/US PresswireDespite a strong outing from Taylor Jungmann, Texas fell to Arizona State in Game 1 of the Austin Super Regional.
Arizona State's Mitchell Lambson gave up a pair of solo home runs in a 4-3 loss to Texas that eliminated the Sun Devils from the 2009 College World Series the last time these two teams met.
Jungmann gave up just three hits and one earned run in 7 1/3 innings, but a communication error in the third inning helped the Sun Devils add a pair of unearned runs, enough for the win.
"Taylor pitched a good game, maybe a great game, but it gets lost in the loss itself," said Texas manager Augie Garrido. "That's the way baseball goes sometimes."
Texas fell behind 2-0 in the top of the third when second baseman Jordan Etier dropped an easy throw from Jungmann on what should have been a simple 1-4-3 double-play ball. A runner scored on that play, and Arizona State's Joey DeMichele blooped a base hit down the left field line to make it 2-0 before Texas could escape the inning.
Both Etier and shortstop Brandon Loy attempted to cover second base on the play, and Jungmann's throw was a bit low, which kept the decisive inning alive.
"As a result of us not recovering offensively, that stood up offensively and separated the two teams. Just one little thing. Those are the nuances of baseball," Garrido said. "Those are things that a lot of people wouldn't even realize, as to why they happened. It just looked like it was kind of clumsy and lacked good timing, but in reality, it was about communication."
The reason those two runs stood up offensively? The efforts of Lambson and starter Brady Rodgers. Rodgers allowed just one run in 6 2/3 innings, but left the mound in the seventh inning with two outs and two runners on for Lambson.
Lambson got a pop up from the first runner he faced, and Texas never seriously threatened again. It certainly lacked the Longhorn heroics of the last meeting.
"I think about it every once in awhile, not so much anymore," Lambson said of his 2009 outing. "Definitely, anytime you lose a baseball game it drives you to work harder to try and get better."
Rodgers, a native of nearby Richmond, Texas, reserved tickets for 70-72 of his friends and family, who had to be pleased with what they came to see. Rodgers (9-4) handed Jungmann his second consecutive loss on his home field, the first and second ever. Lambson, whose versatility prompts Arizona State manager Tim Esmay to call him his "silver bullet," picked up his ninth save.
"That was a heck of a college baseball game," Esmay said. "Nothing was easy out there, I just think we were fortunate enough to have opportunities, and we seized a couple of those opportunities. That was pretty much the story of the ballgame."