Texas staves off elimination behind Etier HR
June, 11, 2011
06/11/11
10:40
PM ET
AUSTIN, Texas -- Pitcher Cole Green chalks it up to a "strong survival instinct." Manager Augie Garrido points to Texas' team leadership fostering a sense of accountability.
Whatever it is, it's helped the Longhorns have big success in elimination games this postseason.
Texas forced a decisive Game 3 in the Austin Super Regional of the NCAA tournament with a 5-1 win over Arizona State on Saturday night at Disch-Falk Field.
[+] Enlarge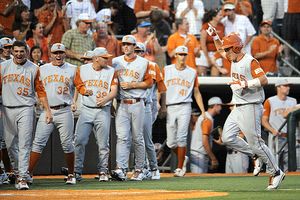 Brendan Maloney/US PresswireJordan Etier's three-run home run in the top of the ninth inning sent Texas to a 5-1 win over Arizona State.
Counting the Big 12 tournament and last weekend's Austin Regional, the Longhorns (48-17) improved to 7-1 when facing elimination.
"It's there, it's obvious," Green said of the instinct. "When we get our backs against the wall, a lot comes out in this team. A lot of adrenaline, a lot of focus. … We knew what was on the line today, we knew all the pressure involved, and basically, did a really good job of ignoring it."
No player embodied that adrenaline and focus more than second baseman Jordan Etier. An Etier error on a play at second base thanks to miscommunication proved decisive in Friday night's Game 1. With a night to stew over the mistake, Etier said he had to "restart."
That restart helped him deliver the play of the night, a three-run home run just inside the left-field foul pole in the top of the ninth inning that ignited the 7,278 in attendance.
"He had a rough night last night. He knows it. The team knows it. Everybody's thrilled with the way he handled adversity," Garrido said. "Those things in the life of a player? They're crises when they think they've let their team down. To come back and handle it the way he did is what baseball challenges you with. This is a perfect example of why baseball is important in the educational system."
Etier, a .233 hitter with 23 RBIs entering the night, batted in the ninth spot and couldn't remember his last home run. Sometime last year, he guessed with a shrug.
"Either that or in Little League," Garrido said.
March 8 against Texas-San Antonio marked the last time he cleared the fences, but the timing of his second released the pressure of holding a one-run lead in the ninth inning.
Tim Esmay, Arizona State's manager, remarked after his team's 3-1 win on Friday night that there wasn't much out there against Texas ace Taylor Jungmann.
On Saturday, there was even less -- for both teams, until Etier's home run. Two of the game's other three runs came on sacrifice flies. Unlike the series opener, Texas' defensive performance was devoid of the defensive mistakes that doomed them, landing the Longhorns in line for elimination.
Instead, it was baserunning mistakes by Arizona State (43-17) that defined the evening.
Sun Devils third baseman Riccio Torrez ended the top of the sixth inning by being thrown out at third on an attempt to tag up.
"We're pretty aggressive. That's part of what we do. We like to get things going, and when you do that stuff, sometimes you get thrown out. Sometimes you make the other team play defense," Esmay said. "I don't look at them like baserunning mistakes."
Arizona State nearly tied the game in the bottom of the seventh inning. After a close play at first base kept the inning alive, Arizona State pinch runner Michael Benjamin tried to sneak home on a play Arizona State says it practices often. Longhorns first baseman Tant Shepherd spied him, however, and whipped the ball to catcher Jacob Felts, who absorbed a collision to end the inning and send Benjamin back to the dugout with a limp.
"There's a senior at first base who didn't panic," Esmay said, adding it was "worth the gamble."
Texas' defensive performance ensured a decisive game on Sunday for one of college baseball's historic powers to book another trip to Omaha for the College World Series, which will celebrate the opening of TD Ameritrade Park, a new stadium in downtown Omaha that will replace legendary Rosenblatt Stadium.
"Tomorrow will be a biggie. That's an understatement," Esmay said.