Cal's season of survival continues
June, 12, 2011
06/12/11
12:53
AM ET
SANTA CLARA, Calif. -- Carrying a one-hitter into the seventh inning, Cal's Justin Jones suddenly discovered his night was done.
With his first warm-up pitch before the inning, he felt tightness in his biceps. With his final toss, it cramped up on him. He left the mound holding his arm, but ultimately a winner anyway.
[+] Enlarge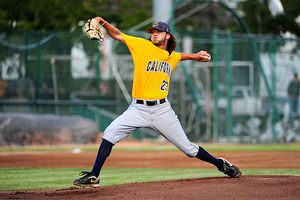 Kyle Terada/US PresswireCal pitcher Justin Jones cruised through six shutout innings before leaving the game with soreness in his left arm; the Bears won 7-0.
Cal is only one win from Omaha after a 7-0 victory against Dallas Baptist in Game 1 of the Santa Clara Super Regional on Saturday, receiving a combined pitching performance that seemed to fit perfectly in the grand scheme of the Bears' season of survival.
Jones sailed along until the arm trouble, and then Logan Scott picked him up with no problems to earn a three-inning save. Before the ninth inning, Cal pitching combined to face one over the minimum against a dangerous Dallas Baptist lineup that ranked among the nation's best.
"Our club during this run as far as being resilient and dealing with adversity, we're good at that," Cal coach David Esquer said. "A bump in the road, we have character in that dugout. We didn't make a crisis out of some adversity."
Of course, overcoming the unexpected for Cal was made easier by getting some quick offense. Chad Bunting launched a three-run home run in the second off Dallas Baptist right-hander Brandon Williamson.
The deep drive over the left-field wall was yet another signature postseason blast for Bunting, who made the Houston Regional All-Tournament team after homering twice in last Sunday's win against Baylor.
Williamson, who allowed 10 hits in 7 2/3 innings, eventually surrendered a second three-run homer to Marcus Semien in the eighth.
"I just keep my hands back," said Semien, who also tripled and scored in the sixth. "We've made an effort to be more patient up there."
Semien's shot sufficiently put the game out of reach for the Patriots, who had little hope while Jones dominated them through six innings. At one point, the left-hander had retired 15 straight hitters. Even after that streak ended with a walk, catcher Chadd Krist picked off Tyler Robbins at first base.
"The best thing he did was using his changeup," Dallas Baptist coach Dan Heefner said of Jones. "The mistake we made was it affected our timing on the next pitch. He was really dictating our timing up there. He did make a few mistakes, and we didn't take advantage of them."
Everything was going right for Jones as he was headed toward his team-best ninth win until just before the seventh, when the discomfort in his biceps wouldn't let him continue. Esquer said initial tests showed there was no structural damage, but further testing will determine the 6-foot-2 sophomore's postseason future.
Scott still went through three innings unscathed.
"The people I had backing me, I knew no matter what happened, we would still be in the same shape," Jones said.
The Patriots had only two baserunners reach as far as second base, but Heefner said the team wouldn't change the approach that had gotten it this far. Cal attempted to downplay being a game away from the College World Series as well.
"We can't even think about that," Esquer said. "We feel pretty good, but we have an opponent on the other side playing for their lives, and we know what that's like."