Gators earn return trip to Omaha
June, 12, 2011
06/12/11
5:54
PM ET
GAINESVILLE, Fla. -- If Kevin O'Sullivan was as mentally exhausted as he says he was Sunday, it'd be amazing to see him well rested.
Florida's coach endured 24 hours of an emotional roller coaster before he went into a Gator-chomping frenzy as his team partook in the ritualistic dog pile just behind the pitchers' mound after cementing the Gators' 8-6 win over Mississippi State to advance to back-to-back College World Series for the first time in school history.
[+] Enlarge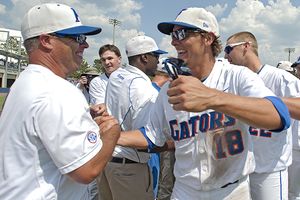 AP Photo/Phil SandlinFlorida coach Kevin O'Sullivan, left, congratulates Tyler Thompson (18) after the Gators defeated Mississippi State to win the Gainesville Super Regional in June 2011.
The mild-mannered, business-as-usual coach unleashed his inner child as he chomped down the third base line, then behind home plate and finally down the first base line -- only stopping for fist pumps.
Even before pitcher Tommy Toledo got Saturday's walk-off hero Nick Vickerson to fly out to deep left for the final out, O'Sullivan was banging his fists against the dugout fence to fire his squad up.
This was a coach that had been through everything with a team picked to contend for a national title out of the starting gate this season. And while he showed some newfound excitement Sunday, O'Sullivan entered the day drained and running on fumes.
He leaned on Florida basketball coach Billy Donovan, who gave the team a pregame speech Saturday, and asked Florida's new offensive coordinator Charlie Weis for advice. Donovan had the most profound influence and talked him into calling an unprecedented team meeting after Florida's heartbreaking loss Saturday.
O'Sullivan was hesitant, but he did it -- and it worked.
"Coming back from last night I probably learned more about coaching in the last 24 hours than I have in the last four years," O'Sullivan said.
"It was a hard, long night last night. We wanted the players to come out focused and have some intensity, but we didn't want them to be tight and that's such a fine line. How do you do that? I don't know if anybody's got the magic formula.
"Everything was lined up for this team to lose today."
And it almost did.
The Gators' early four-run lead proved unsafe when Vickerson delivered a nasty helping of déjà vu with his three-run homer in the fourth.
Three innings later, Mississippi State sucked all the life out of McKethan Stadium when left fielder Brent Brownlee put the Bulldogs ahead 6-4 with a two-out single.
It was a single that Brownlee thought changed the game and put all the momentum in the Bulldogs' corner.
"You can't help but think that way," Brownlee said.
"When that happens, you're just so pumped up and ready to go. I just wish it had been in the ninth and had three outs left."
Falling behind was something O'Sullivan admitted he expected. He knew his team would have to battle adversity to pull out a victory against such a scrappy team.
Florida did just that when junior Preston Tucker's three-run blast to the deepest part of the field to put Florida up for good at 7-6; Daniel Pigott sealed it in the eighth with Florida's fifth homer of the day.
Three outs later, Florida made history.
"It's unbelievable to see my teammates run out there like that," Toledo said. "There's no better feeling to go back to Omaha."
After looking at O'Sullivan's charismatic victory celebration, who could disagree?
O'Sullivan entered the postgame news conference a new man. He was loose, smiling and had his jersey uncharacteristically untucked. He drifted here and there, probably reliving every play from Sunday.
As he walked away from more than 20 minutes with the media -- baby daughter in hand and his wife to his side -- O'Sullivan kept that boyish smile going. His ear-to-ear grin showed the signs of a man at peace.
O'Sullivan knows the job isn't done and the anxiety will return in Omaha, but for just a moment, he was at ease and can finally rest.