'Thrilling' win for Virginia
June, 13, 2011
06/13/11
10:07
PM ET
CHARLOTTESVILLE, Va. -- "Absolutely the most thrilling win in UVa baseball history."
That's how Virginia coach Brian O'Connor, his white uniform stained with orange Gatorade in a shade reminiscent of the Wahoos' color, described his team's improbable come-from-behind super regional win Monday evening as the Cavaliers defeated the UC Irvine Anteaters 3-2 to book their ticket to Omaha.
[+] Enlarge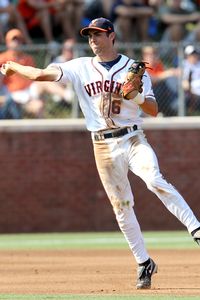 AP Photo/Andrew ShurtleffChris Taylor became the latest Cavalier to come up big when his team needed it.
Down 2-1 with two outs in the bottom of the ninth, it looked as though the Cavaliers might suffer a fate similar to last season, when they were ousted by Oklahoma in the third game of the super regionals series on their home field.
On Monday, the Wahoos relied on the consistent, productive resiliency that has been a benchmark of their team all year. Senior outfielder David Coleman stepped to the plate against UCI's Matt Summers, the starter Saturday in the Anteaters' defeat who reappeared this evening in the bottom of the eighth inning and, on the first batter he faced, forced the Cavs to hit into a double play.
"I've talked about it all year long -- the fight in this team," O'Connor said afterward. "So many guys have risen up to the occasion. I love this team for so many reasons -- not only are they very talented, but in every case, someone has emerged to do the job."
Monday night, that title belonged first to senior Kenny Swab, who blasted a solo home run -- his first of the season -- to tie the game at 1-all in the sixth inning. Then it fell to junior pitcher Will Roberts, who pitched through the eighth inning, allowing only five hits and one run while walking only one batter.
And finally, in a display of true team talent-share with two outs in the ninth, Coleman singled to center; then Jared King singled when the ball bounced off Summer's leg; then pinch hitter Reed Gragnani drew a walk; and then sophomore Chris Taylor, the team leader in at-bats, who said afterward that he felt he'd been "seeing the ball as well as I have ever been" this weekend, stepped to the plate.
Summers threw a fastball, and Taylor grounded it up the middle, sprinting toward first. He admitted afterward that he wasn't entirely sure when the fielder would reach the ball, so he ran "as fast as I could." As pinch runner Corey Hunt, a fifth-year senior, approached home plate to represent the winning run after pinch runner Mitchell Shifflett had already scored, the entire Virginia bench sprinted to the plate to greet them.
"We will fight until the last strike," Roberts said afterward, when asked how he felt watching the bottom of the ninth play out from the bench.
As UVa celebrated, the players dog-piling on top of each other near second base as Oklahoma had done last year, Irvine watched in a muted disbelief. The Anteaters gathered in right field, arms around each other, as the Cavaliers jumped up and down in left field, holding aloft a banner that read, "We're Going to Omaha!"
"For us, this is difficult to swallow," UCI coach Mike Gillespie said in a quiet voice after the game, appearing both wearied and a bit stunned. After beginning one thought: "When you get this close, it's hard to find the good …" he paused and took a sip of water, momentarily overcome with emotion. "But this has been a fabulous experience," he finished, going on to thank UVa and the town of Charlottesville for their "fabulous job hosting."
The No. 1 overall seed, Virginia will depart its hometown for a return trip to Omaha, following up on its inaugural visit in 2009. The Cavaliers notched their 54th win of the season Monday, a school record, and arrive at the CWS with the best record in college baseball.
Perhaps most intimidating to their Omaha opponents will be the Cavaliers' collective confidence that one of them -- if not several -- will step up and be the game-changer. Just an hour before Monday's pivotal matchup, the Virginia squad looked at ease. O'Connor has remarked all season on the "looseness" of his squad, which belies its intense determination and perhaps tricks opponents into thinking UVa might let up, even for just a moment.
As for who will claim the potential heroics in Omaha, the Cavaliers wouldn't speculate yet. For now, they'll relish a victory that had barely registered as they stood on the field a half-hour after the celebrations had ended.
"Players can only dream of a moment like this," Taylor, who moved from a reserve role to starter this season, said afterward.