Irvine, Florida State feel the pain
June, 14, 2011
06/14/11
7:46
AM ET
In "Rocky III," Clubber Lang is asked his prediction on the fight with Rocky Balboa.
[+] Enlarge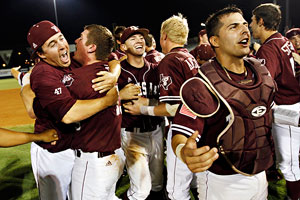 Matt Stamey/US PresswireTexas A&M rewarded its fans for traveling to Florida by steamrolling Florida State in Game 3.
"Prediction? … Pain."
I almost wish someone could give a similar warning to college baseball teams at this time of year, because Monday we saw yet another example of daggers piercing the hearts of another large group of 18-to-22-year-olds in crushing fashion.
For the second time in five years, UC Irvine was an out or two from advancing to Omaha, only to see one of those "game of inches"-type of situations rear its head and send Virginia to the College World Series instead of the Anteaters. Texas A&M will join the Cavaliers, as the Aggies sent the Florida State fans home with an old familiar pain of losing on their home field.
In general, this was a very painful NCAA tournament in 2011. UCI's collapse was just another example of this continued theme. With that in mind, here's a list of the top 10 most painful endings to games in this year's Big Dance.
10. Gainesville Regional: Jacksonville 5, Manhattan 4
The Jaspers get eliminated after stranding seven baserunners in the last three innings, including a bases-loaded situation to end the game.
9. Los Angeles Regional: UC Irvine 4, UCLA 3
After eight solid innings, Bruins freshman Zack Weiss left the mound one batter into the ninth. Fourteen pitches later, UCI had rallied for two runs to eliminate the hosts.
8. Columbia Regional: Stetson 8, NC State 7
The Wolfpack kicked themselves for allowing the winning run to cross in the ninth with the help of a wild pitch followed by an outfield flub.
7. Austin Regional: Texas 4, Texas State 3
The Bobcats scored the tying run in the top of the ninth, but ace Carson Smith came in to walk a batter and give up a bases-loaded single to save the Horns' season.
6. Clemson Regional: UConn 7, Clemson 6
The Tigers rallied for two runs in the top of the ninth, but couldn't hold off the Huskies in the end. UConn would go on to end Clemson's season one game later.
5. Gainesville Regional: Florida 5, Miami 4
In the bottom of the ninth, the Canes had a consecutive run of an error, a balk, a wild pitch, a walk and a Nolan Fontana RBI single to lose this winner's bracket game.
4. Gainesville Super Regional: Florida 8, Mississippi State 6
In a great near-upset, the Dogs lost their cool, allowing three runs in the seventh inning on just one hit -- a Preston Tucker homer -- to put the Gators up for good.
3. Tempe Regional: Arizona State 4, New Mexico 2
Almost the biggest opening-round upset since Texas Southern topped No. 1 Rice in 2004, but a Joey DeMichele three-run home run saved the Devils in the ninth inning.
[+] Enlarge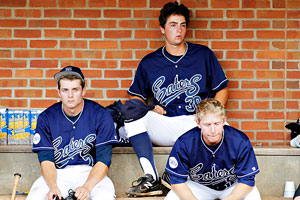 AP Photo/Andrew ShurtleffUC Irvine dropped a heartbreaker to Virginia on Monday.
2. Waco Regional: Cal 9, Baylor 8
How can this epic rally be No. 2? Well, either way, Baylor lost its poise and its hold on the strike zone at the wrong time. Cal rallied for four runs in the bottom of the ninth to pull off what coach Dave Esquer called a "miracle win" and move on to the super regionals.
1. Charlottesville Super Regional: Virginia 3, UC Irvine 2
Painful shades of the LSU debacle of 2008 for UCI. The Anteaters might not get over this one in five years' time. In case you missed it, UCI took a 2-1 lead into the bottom of the ninth and quickly retired the dangerous duo of Danny Hultzen and Kenny Swab. With just one out to go, Friday ace Matt Summers gave up a single and then took a line shot off the ankle to put men at first and second. Showing some effects from that shot, Summers then walked the bases loaded. Ultimately, a sharp liner from Chris Taylor that barely escaped Summers' glove went into center field, scoring the two game-winning runs. Virginia advanced to Omaha.
Say goodbye to
• UC Irvine: The heavy-hearted Eaters were probably in the super regionals about a year ahead of schedule, especially for a team that came into the season losing its entire weekend starting rotation. Young arms like Matt Summers, Andrew Thurman and Matt Whitehouse will look to make it one step farther in 2012.
• Florida State: It appears that the Seminoles were again a tad on the overrated side when it came to RPI and national seed. They will say goodbye to some wildly talented players like mainstay Mike McGee and staff ace Sean Gilmartin. But FSU never goes too far away, so look for it to challenge for the ACC title again in 2012.
Quick hits
• Still has the ol' Skip's number: Virginia coach Brian O'Connor was able to beat UCI's Mike Gillespie for the second time in the last three years, with the other coming in 2009 at the Irvine Regional. But these aren't the only times O'Connor has helped eliminate a Gillespie-coached team. In 1991, O'Connor was the relief ace for the Creighton team that went to Los Angeles and helped eliminate Gillespie's top-ranked Trojans for the Bluejays' only appearance in the College World Series.
• Oh no, not again: The postseason has not been kind to Florida State. People who complain that the Noles get overly favorable treatment in their yearly seedings have lots of ammunition. Monday's 11-2 loss to Texas A&M marked the sixth super regional loss (four at home) in the past 10 years. This is also the sixth time FSU has been a national seed and lost before getting to Omaha. The two times the Noles have won supers as national seeds came in 2008 and 2010; they combined to go 1-4 at the CWS.
• Best fans: Seminoles fans gave A&M starter Michael Wacha a standing ovation when he was pulled in the eighth inning. It never shocks me to see Florida State fans do something like that, even when getting pummeled late in the game. I discovered when I was there in 2008 for the Miami series that they are the best fan base in the country. They are also the most creative fans.
• Better than the Say Hey Kid? In case you missed it, Connecticut center fielder George Springer's full-blast, all-out diving catch on the warning track in Sunday's game at South Carolina checked in at No. 3 on ESPN's "Plays of the Weekend." Even though my father will deny it until the cows come home, I think it may have rivaled the Willie Mays catch at the Polo Grounds in the '54 World Series.
• Six of eight: Unlike last season, when only three of the eight national seeds advanced to the field of eight in Omaha, this year's national seeds performed very well in the postseason, as six of them move on to Omaha. Only No. 8 Rice (eliminated in the regional round) and No. 5 Florida State (eliminated Monday) didn't survive the cut.
Eric Sorenson, who runs College Baseball Today, and Walter Villa are regular contributors to ESPN's college baseball coverage. Follow Eric on Twitter: @stitch_head
Follow ESPN.com's college sports coverage on Twitter @ESPN_College and on Facebook.