Vandy first in line at College World Series
June, 18, 2011
06/18/11
7:33
PM ET
OMAHA, Neb. -- It was all about firsts for Vanderbilt on Day 1 of the College World Series.
Not only were the Commodores playing in the opening game but it was the first game at the tournament's new home -- TD Ameritrade Park -- and it was the first appearance for Vanderbilt in Omaha.
Leadoff batter Tony Kemp christened the park with its first hit -- a bunt down the third base line. He was even a part of the first error, when his slow roller forced North Carolina pitcher Patrick Johnson to badly overthrow Jesse Wierzbicki at first, advancing Kemp to second.
[+] Enlarge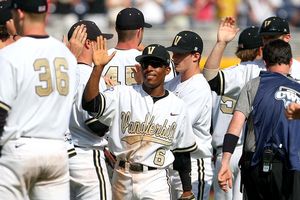 Brace Hemmelgarn/US PresswireVanderbilt's Tony Kemp scored the first run of the College World Series at its new home at TD Ameritrade Park as the Commodores beat North Carolina.
Two batters later, Kemp made history again when he scored the first run on Aaron Westlake's sacrifice fly to give the Commodores the first lead at 1-0.
Kemp later became the first player to walk twice in an at-bat at the new venue when plate umpire Mike Conlin got the count wrong during his at-bat.
More importantly, he was a part of the first win in college baseball's new postseason home after the Commodores slipped by North Carolina with a 7-3 win. And with firsts being so prevalent Saturday, it made sense that the win was made possible by the park's first College World Series home run -- a two-run blast to left from sophomore center fielder Connor Harrell to put Vandy up 5-3 in the sixth inning.
"Sometimes you never know how you're going to react out here for the first time, but I think the kids were very comfortable during [batting practice] today and when we started the game," Vanderbilt coach Tim Corbin said.
The Commodores were supposed to come out shaky. Their first appearance in Omaha was supposed to frighten them and leave them wide-eyed during their short stay. Playing a North Carolina program that has made five College World Series appearances in six years, no one would have been shocked by a nerve-wracking debut.
But Vandy overcame some early, yet minute, jitters and guaranteed an extended stay with Saturday's victory.
"Coach Corbin told us to prepare like it was just another game, just another SEC home opener," said Kemp, who was 3-for-4 at the plate.
"Everyone was loose, making jokes, laughing; just like they do every game. Luckily, we were able to get the 'W' today, so it was a good job by the team."
Vanderbilt had every reason to cave in Saturday's opener. The Commodores struck in the first inning, only to see a quick turnaround by the Tar Heels, who tied the game in the bottom half of the inning when Chaz Frank came around to score after a leadoff triple.
Both teams traded runs until North Carolina took a 3-2 lead in the fourth when a Colin Moran hit-by-pitch brought in a run with the bases loaded.
Kemp, labeled as a catalyst for Vanderbilt's success by his coach and an "absolute pest" [in a good way] by UNC coach Mike Fox, said the team momentarily tightened up but felt the ultimate wave of momentum when Harrell belted his eighth homer of the season.
"I felt like I helped the team, which I hadn't in my first two at-bats," Harrell said. "It's exciting for me to come in and bring those runs in, but more importantly the fact that we had a lead, we had some momentum going into those last three innings."
In those innings, the Commodores kept their composure, while the Tar Heels continued to struggle manufacturing runs. North Carolina left 16 runners on with nine coming after its final run in the fourth.
Saturday was an electrifying experience for the Commodores and a humbling moment for the playoff veteran Tar Heels.