Kent Emanuel keeps UNC alive in Omaha
June, 20, 2011
06/20/11
7:14
PM ET
OMAHA, Neb. -- The nerves never seemed to get to Kent Emanuel.
The 6-foot-4, 205-pound string bean of a freshman just stood on the mound, with an announced crowd of 19,630 at TD Ameritrade Park peering down on him, and calmly pitched his way into the North Carolina record books.
Facing elimination and a traditional big dog of the College World Series, the frosh pitched his way to nine stellar innings of four-hit, shutout baseball Monday to keep the Tar Heels alive for another day after the 3-0 win over Texas. The Longhorns became the first team eliminated from this year's tournament.
[+] Enlarge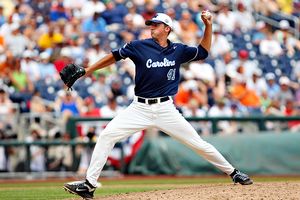 Brace Hemmelgarn/US PresswireKent Emanuel pitched a complete game shutout against Texas to keep North Carolina alive in the College World Series.
Emanuel's complete game shutout was the first thrown in the College World Series since 2006 -- when former Tar Heel and current assistant Robert Woodard completed the feat -- and the first thrown by a freshman since 1993.
Emanuel might be a rookie, but he looked like a poised veteran. He wasn't shaken by anything, really, because he didn't give the Longhorns many opportunities to attack.
He just stood there, loose and focused on throwing strikes with UNC's season on the line.
"Other than his left arm, that is his best trait, is his demeanor," North Carolina coach Mike Fox said. "Very first time I met him, just exactly the way he's always been. I've never seen Kent any different. Just don't see a lot to of emotion out of him. That's what you want when you get on the mound, especially at this stage.
"He's under control. I said it before many, many times that he's very mature for his age and he's been able to handle the rigors of college baseball."
Did I mention he's a freshman?
Emanuel started by ringing up four of the first five Texas batters, and after giving up his second hit in the third, the Tar Heels forced 10 outs in the next 11 at-bats.
Emanuel has command of his fastball, but spent Monday working his curve and leading with his changeup. He used his breaking balls and off-speed pitches to keep batters off balance.
"It's definitely from my changeup today," said Emanuel, who also had five strikeouts. "I threw less inside today than I ever have all year."
Added catcher Jacob Stallings: "I thought his curveball and changeup command were what set this performance apart from maybe the rest of them. Usually, he just absolutely commands his fastball and throws it where he wants to."
Texas helped with some questionable base running. The Longhorns were doubled up twice from the outfield.
While the Longhorns couldn't buy clutch hitting, the Tar Heels manufactured all three runs off it. Things started with a two-run, two-out single by catcher Jacob Stallings in the third and ended with a two-out RBI double by Ben Bunting (4-for-5) in the top of the ninth.
On one side of Monday's first game was a dominant performance by a kid a year removed from senior prom. On the other, there was a beaten, battered giant sent limping home.
"It is not good to be the first interview the first two times of the tournament," Texas coach Augie Garrido said. "That's what we are."
And that's what they should have been. The Longhorns were outplayed in their 8-4 loss to Florida Saturday and left their bats at the hotel against UNC.
Monday marked the first time since 2000 Texas went 0-2 in Omaha and the third time since 1965 the program with a nation-high CWS 82 wins ducked out without a single victory.
"Obviously, we're disappointed," Texas shortstop Brandon Loy said. "We didn't come here to be the first team to leave. You're never going to be satisfied, I don't think, unless you come out here with a national championship.
"It's definitely tough that we didn't walk out of here with a national championship."