Home runs keep Vandy alive in Omaha
June, 22, 2011
06/22/11
11:25
PM ET
OMAHA, Neb. -- North Carolina's Mike Fox, the coach with more experience than anyone at the College World Series over the past six years, gazed over the downtown panorama during batting practice on Wednesday and wondered if this night might buck the trend.
Through eight games at TD Ameritrade Park since Saturday, just four home runs were hit. That's one every 130 at-bats.
But on this day, the winds had changed. A cold front after the storms of earlier this week brought a northwest winds of more than 20 mph, and the flags beyond center field had turned directly away from home plate at the new stadium.
"You're seeing some balls go out of the park that previously weren't," Fox said. "So you have that in the back of your mind, just to get a couple guys on and maybe somebody will get one up in the air."
[+] Enlarge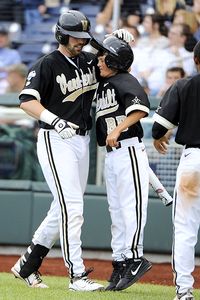 AP Photo/Eric FrancisCurt Casali's solo shot was one of two Vanderbilt homers that helped eliminate North Carolina.
He was right about that. Wrong in his plan that it might benefit North Carolina, though.
Vanderbilt hammered a pair of homers in the first three innings to power a 5-1 elimination-game win over the Tar Heels.
Sophomore center fielder Connor Harrell unloaded a three-run shot to left field with one out in the second inning off UNC starter Greg Holt. Senior catcher Curt Casali followed with a two-out solo homer to left in the third to end Holt's outing.
The four-run lead was more than enough for starter Taylor Hill, who allowed one run on four hits in seven innings.
"The wind was a factor tonight," said Harrell, who also homered in Vandy's CWS-opening victory over the Tar Heels on Saturday. "I just tried to get my hands extended, get that ball in the jet stream and get it into the seats. Obviously, having that wind helps, but the ball park's big, so getting the ball in the air was important for us tonight."
Vanderbilt's second win in its first CWS appearance earns it a rematch with Southeastern Conference rival Florida on Friday night. The Commodores must beat the Gators on Friday and Saturday to advance to the best-of-three finals next week.
The other bracket matches Virginia and California on Thursday, with the winner to get South Carolina on Friday. The Gamecocks, like Florida, are unbeaten in Omaha.
Never before have three teams from one conference fit among the final four at this event. The SEC East trio, in fact, is 7-1 at the CWS this year -- the only loss coming Tuesday, when the Gators beat Vanderbilt.
While Harrell and Casali provided the power, Hill coaxed eight ground-ball outs from the Tar Heels and survived a couple sticky situations. He got Jesse Wierzbicki to fly out with Jacob Stallings aboard in the fourth inning.
Then in the fifth, Stallings, who doubled in his first two at-bats against former Cape Cod League teammate Hill, fanned on three pitches with the bases loaded and two outs.
Hill unleashed a roar on the mound after the whiff of Stallings. The moment matched the home runs for excitement, even at this CWS, in which dominant pitching and defense has consistently prevailed.
"We just got beat by a better club," North Carolina's Fox said.
The Commodores said they, too, noticed the wind and different conditions before the game but that it did not change their offensive approach.
"If you put those good swings on the ball," Casali said, "the ball's going to fly regardless if the wind's blowing or not."
Vanderbilt coach Tim Corbin won't let his players get caught up in aiming for the fences.
"I don't think you can," Corbin said. "Because once you start lifting your barrel, more times than not, you're not going to have that type of success."
The Commodores will need some kind of a new recipe against Florida, which beat Vandy 3-1 here and has won four of five meetings this year. Vanderbilt has scored one run in its past 26 innings against the Gators.
Ace pitcher Sonny Gray will start for Vanderbilt against Florida. The Gators have yet to announce pitching plans, though Alex Panteliodis or Brian Johnson appear in line to get the call.
"We're going to focus on our strengths," Harrell said.
For one night at this pitcher-friendly ballpark, that strength was the long ball.
Mitch Sherman is a senior writer for ESPN.com. He can be reached at mshermanespn@gmail.com.
Follow Mitch Sherman on Twitter: @mitchsherman