Saturday, October 21 2017
Remember The Titans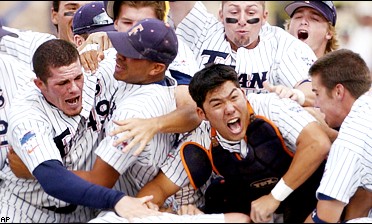 The Titans are all smiles after their title-clinching win.


Cal State Fullerton had all the answers in Omaha. The Titans, who started 15-16,
capped a memorable run
to the 2004 national championship with a 3-2 win over Texas. Kurt Suzuki provided
the final answer
in his final at bat, writes Wayne Drehs, but the Titans
had a great tutor
.
Draft Features

Drehs: All in the family
Cal State Fullerton's Scott Sarver knew he could perform well against South Carolina. He wasn't the only one.

Drehs: Easy Street
Huston Street and Texas came out on top in a showdown between college baseball's best relievers.

Drehs: Common bond
Augie Garrido and George Horton are very different, but the coaches share a friendship and a desire to win the 2004 CWS title.

Drehs: Secret formulas
South Carolina's found one heartfelt -- and one unusual -- recipe for turning it around in Omaha. Both are working.
Caple: For the love of the game
It doesn't get all that much attention, but there's something special about the College World Series in Omaha.

Caple: Eye of the Tiger
Even with their business-like approach, LSU might find themselves at the CWS "barbecue" sooner than planned.