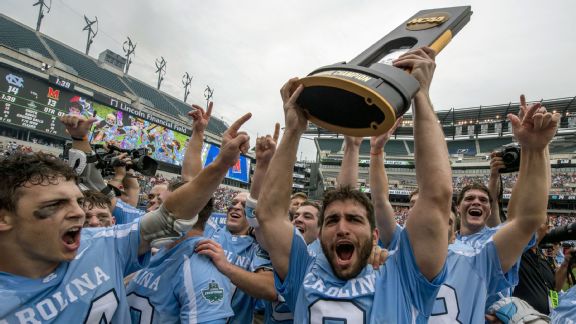 Clem Murray/The Philadelphia Inquirer via AP
Men's Lacrosse
PHILADELPHIA -- His entire offense sputtering, if not entirely stuffed by the Hofstra defense, Dave Metzbower finally reached his boiling point after sophomore attackman Chris Cloutier failed to beat his shortstick defender for about the zillionth time.
"I yanked him," said Metzbower, the North Carolina assistant coach. "He was terrible."
That Cloutier became the record-holder for goals in an NCAA tournament game and then the Tar Heels' hero, scoring the overtime game-winner in a 14-13 national championship nail-biter over Maryland, really says everything about this North Carolina team.
-- Dana O'Neil | Full story
2017 NCAA championship information
WHEN: May 27-29
WHERE: Gillette Stadium (Foxboro, Mass.)