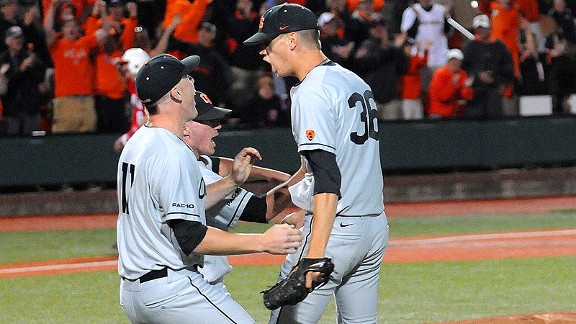 AP Photo/Mark Ylen
Tony Bryant
Right-handed pitcher | Oregon State
Given his imposing figure, Bryant represents the college version of facing former Houston Astros pitcher J.R. Richard, as the 6-8 flame-thrower made a quantum leap onto the national scene last season. After pitching sparingly as a freshman, Bryant made 28 appearances last year, logging 47-plus innings on the mound and giving up just eight earned runs all year. Though he's still growing into his frame, look for even better numbers from the All-Pac-10 performer this season.
2011 stats: 3-2 W-L, 1.52 ERA, 12 saves, .224 OBA
Coach Pat Casey: "Not only has Tony been great for us on the field, but he has emerged as a strong leader for this club too. We expect great things from him this season."