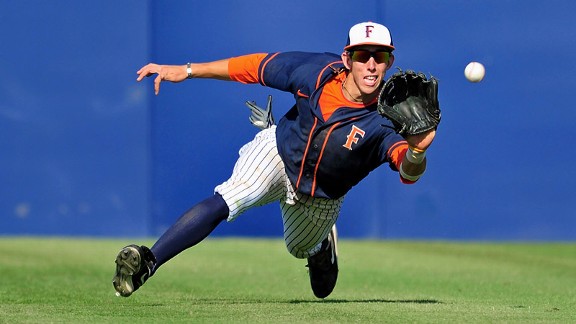 Matt A. Brown/Icon SMI
Michael Lorenzen
Outfield | Cal State Fullerton
Baserunners beware: cannon in right field. From the first seeing-eye single that was hit into his part of the meadow, the crowds at Goodwin Field have gasped with delight over Lorenzen's quick feet and powerful right arm on throws to the plate. With plans to use him in relief this season, we could be looking at another Mark Kotsay type in Titantown.
2011 stats: .342 avg., 2 HRs, 31 RBIs, 19 stolen bases
Coach Rick Vanderhook: "We like to think of him as a 'six-tool' player. Everyone saw the five tools he has out there last season. This year he'll add a sixth tool as our closer. He has the ability and mentality to help us wherever we're playing him."