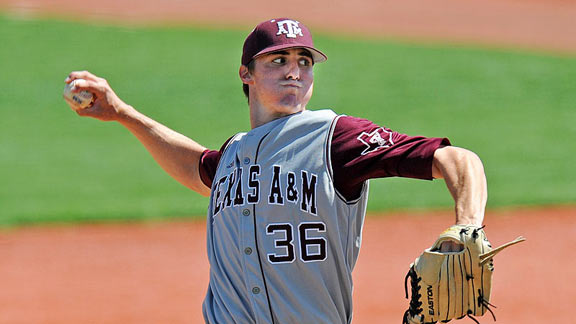 Peter G. Aiken/Kansas State/Getty Images
Ross Stripling
Right-handed pitcher | Texas A&M
Stripling is part of the most intimidating one-two weekend punches in the country with RHP Michael Wacha. Stripling started out last season as the A&M closer, pulling in four saves, before joining the rotation, where he ended up leading the nation with 14 wins. He passed up pro ball and returned to College Station for his senior season, despite being selected in the ninth round by the Colorado Rockies last June.
2011 stats: 14-2 W-L, 2.29 ERA, 113 strikeouts, .202 OBA
Coach Rob Childress: "Ross took a huge step forward in his development and was a difference-maker all year, especially in our run to Omaha. Not only was he an All-American, but also an Academic All-American."