Erstad has Huskers in contention in Big Ten
By Walter Villa
Special to ESPN.com
Nebraska outfielder Michael Pritchard, who grew up in Omaha rooting for the Cornhuskers, said this weekend's series against No. 17 Purdue is his school's biggest set of games since it last made an NCAA regional in 2008.
[+] Enlarge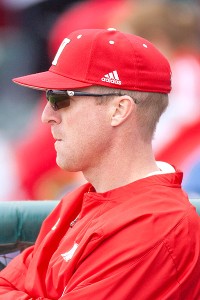 Juan DeLeon /Icon SMIDarin Erstad took over as head coach of Nebraska this season and has the Cornhuskers in the hunt for an NCAA tournament bid.
"I think we'll get 20,000 fans combined for the three games," said Pritchard of the series, which will be played in Lincoln. "It's going to be out of control. It's going to be fun to play in a series that matters this much."
Third-place Nebraska (25-13, 7-5) would tie Big Ten leader Purdue (29-5, 10-2) if they are able to sweep the series. Then again, Purdue has won nine games in a row and hasn't lost a series all year.
The most interesting matchup will be Purdue's pitching -- best in the conference on the basis of its 2.91 ERA -- against Nebraska's offense, which ranks No. 1 in the league (7.7 runs).
Pritchard, who hits leadoff, is fourth in the league in batting average (.391) and second in runs (35). He ignites an offense that also includes Josh Scheffert (.379), Pat Kelly (.358) and Richard Stock (.357).
In addition, Chad Christensen leads the league in RBIs and runs scored, Scheffert is tied for the top spot in homers (7) and Rich Sanguinetti is third in RBIs.
First-year head coach Darin Erstad, who was a two-time All-Star during his 14-year major league career, credits associate head coach Will Bolt for Nebraska's improved offense.
"Coach Bolt has done a fantastic job in getting our hitters to believe in our approach of having a balanced offense," said Erstad, 37. "We want to be able to bunt and hit and run but also hit the long ball and run the bases aggressively. We want to put constant pressure on opposing pitchers."
Erstad, who won three Gold Gloves as a big league outfielder, caught the final out of the 2002 season, helping the Anaheim Angels win the World Series.
He also won a national championship at Nebraska in 1994 -- in football. He was the Huskers' punter, averaging 42.6 yards, good for 14th best in the country.
"I had the best seat in the house for Nebraska football games," Erstad joked. "I got to run out there and somewhat help the team, but it was great to see Tom Osborne win his first national title."
Erstad's real talent, of course, was in baseball. In 1995, he led the Big Eight in hitting (.410) and added 19 homers and 79 RBIs. He was the first overall pick in '95, drafted by the Angels.
Pritchard said Erstad has made a huge difference in Nebraska baseball.
"He brings a winning mentality to our program," Pritchard said. "We have a bunch of guys who have never been to an NCAA regional, but he and our other coaches are making us believe we can get there."
Since the offense seems to be a given, the key to the Huskers reaching the postseason could be the pitching. The bullpen, led by closer Travis Huber, lefty Aaron Bummer and right-handers Dylan Vogt and Ryan Hander, has been solid.
[+] Enlarge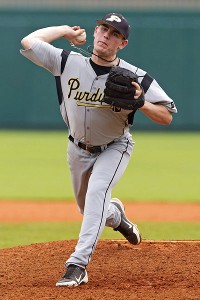 Mike Janes/Four Seam Images/AP ImagesPurdue's hold on first place in the Big Ten standings will be put to the test during this weekend's visit to Nebraska.
The rotation, though, has been in flux. The Huskers have tried eight starting pitchers this year, including Tom Lemke, who had offseason surgery to remove blood clots in his shoulder.
Lemke has made seven starts this season (3.93 ERA) but has since been relegated to the bullpen.
"He has no discomfort, but he got fatigued, and his velocity dropped," Erstad said. "We probably threw him too much too soon. We backed him off and will probably throw him shorter in the bullpen."
With Lemke out of the rotation for now, Erstad hinted that the search for consistent starters continues.
"It's an open competition," Erstad said. "We're still looking for guys to step up."
Those issues aside, Erstad said he is thrilled to be the Huskers' coach. He and his wife, Jessica, bought a house in the Lincoln area five years ago, while he was still in the big leagues, with the intention of putting down roots in the city.
"We were going to live here regardless," Erstad said of the family, which includes two sons and a daughter. "This university has been the most special thing in my life, outside my family. I absolutely love it.
"To be able to work with kids and see them progress is pretty powerful stuff. But our goal is to win Nebraska's first national title [in baseball]. It's not a pipe dream. The blueprint is there, and we want to prove it can be done."
Places to be this weekend
By Eric Sorenson
Special to ESPN.com
1. No. 12 Miami (26-11, 12-6 ACC, No. 17 RPI) at No. 2 Florida State (30-7, 16-2 ACC, No. 2 RPI)



Dick Howser Stadium, Tallahassee, Fla.

It's arguably the biggest rivalry in college baseball. For the longest time, these two programs wouldn't even shake hands. The Hurricanes have the 12th-ranked pitching staff in the country with a 2.81 ERA, which features Steven Ewing (4-0, 1.95) and Eric Whaley (3-2, 2.56). The key will be how well it can pound the strike zone as the Hurricanes' defense is definitely shaky at best. The Noles play at a great comfort level at home, so if they get their crowd into it, the Canes will have a tough mountain to climb.
2. No. 4 LSU (31-7, 11-4 SEC, No. 16 RPI) at No. 3 Kentucky (33-5, 11-4 SEC, No. 5 RPI)



Cliff Hagan Stadium, Lexington, Ky.

In their own way, these are two of the bigger surprises in the country. LSU looked average early on compared to the elite form it's shown of late, having won 14 of 15 games, including series wins over Arkansas and Florida. And of course, nobody saw the Wildcats' 33-5 start coming. Once again, it'll be the battle of a great offense -- UK hits .317 -- against a burgeoning pitching staff -- LSU has a 2.96 ERA with an SEC-best 338 K's.
3. No. 9 Baylor (32-7, 15-0 Big 12, No. 6 RPI) vs. No. 5 Texas A&M (28-9, 9-3 Big 12, No. 13 RPI)



Pat Olsen Field, College Station, Texas and Baylor Ballpark, Waco, Texas

This is the series everyone in Big 12 country has been waiting to see. Are these Bears all they're cracked up to be? Can the Aggies put together a complete weekend? If things get tight, the Bears have won 10 of their 21 consecutive wins by one or two runs. Each of the Aggies' past four losses have been by the same amount. Once again, the big key will be how Michael Wacha ( 5-0, 2.42) does in the opener. He must be on his game and match BU's Josh Turley (5-0, 2.02) pitch for pitch.
4. Arizona State (24-13, 9-6 Pac-12, No. 29 RPI) at No. 10 Stanford (22-10, 5-7 Pac-12, No. 15 RPI)



Sunken Diamond, Palo Alto, Calif.

One thing is for sure: the Cardinal need a wake-up call. They've gone from being a No. 1 ranked team to one looking to be losing its grip on a No. 1 seed. Any more lost weekends and we could be looking at a Stanford team losing its hosting assignment in June. Hard to believe, but it's possible. They'll be dealing with the loss of SS Lonnie Kauppila for the season after the sophomore injured his knee. That Cardinal order will face the No. 3 ranked pitching staff in the nation in ASU.
5. No. 7 UCLA (25-8, 10-5 Pac-12, No. 3 RPI) at No. 21 Oregon State (24-11, 6-6 Pac-12, No. 35 RPI)



Goss Stadium, Corvallis, Ore.

The Beavers have been on the fringe of the national spotlight this season, but this is their chance to get back in the conversation. The streaky Beavers will need their most complete offensive weekend of the season, instead of leaning on Tyler Smith (.425) and Michael Conforto (.357). But it's also a huge test for their arms staff, which isn't a dominating unit (just 235 K's). They'll take on a Bruins order that hits .317.
6. No. 17 Purdue (29-5, 10-2 Big Ten, No. 10 RPI) at Nebraska (25-13, 7-5 Big Ten, No. 71 RPI)



Haymarket Park, Lincoln, Neb.

When the Cornhuskers went to Ohio State and won two of three, the stakes got raised for this series. Although the Big Red don't have a great RPI, this is their chance to make a huge impression on the selection committee. Two great offenses face off as Purdue hits .324 (No. 6 nationally) and the Huskers hit .317 (No. 10). The pressure falls on Purdue, since mid-major teams aren't given much rope for weekend losses in games they are favored to win.
7. East Carolina (26-11, 8-3 C-USA, No. 25 RPI) at No. 13 Rice (28-11, 9-3 C-USA, No. 18 RPI)



Reckling Park, Houston

This is the second of three arduous road trips for the Pirates in C-USA play, having already lost a series at UCF and still having to go to Southern Miss in mid-May. ECU sits a half-game out of first place, which is shared by the Owls and UCF. The Rice offense is finally starting to match its stellar pitching with the big three of Jeremy Rathjen (.372), Christian Stringer (.358) and Michael Fuda (.319), and having come off a 5-4 win over No. 5 Texas A&M.
8. No. 23 Louisville (26-11, 8-4 Big East, No. 52 RPI) at South Florida (26-12, 10-2 Big East, No. 89 RPI)



USF Baseball Stadium, Tampa, Fla.

This might be the moment the Bulls' baseball program has been waiting for. As leaders of the Big East, they can put some room between themselves and the Cardinals and judging by the RPI for each team, they both could use some style points here, too. Since the beginning of Big East play, USF is 12-4 overall. Meanwhile, the Cards have put their offensive struggles behind them, scoring double figures in six of their past nine wins, including Tuesday's 21-4 win over Indiana.
9. No. 14 UCF (31-8, 9-3 C-USA, No. 21 RPI) at Tulane (26-11, 5-4 C-USA, No. 90 RPI)



Turchin Stadium, New Orleans

Judging by the RPI numbers, this is a huge series with postseason ramifications and the Green Wave really need it. The Knights hope to maintain their contention for a home regional, but Tulane must begin its climb into at-large position this weekend. They jumped from No. 129 to No. 90 after wins over UAB and Southeastern Louisiana last week, so it's a team with some momentum.
10. Kansas State (19-18, 3-9 Big 12, No. 109 RPI) at Missouri (18-17, 3-9 Big 12, No. 117 RPI)



Taylor Stadium, Columbia, Mo.

It's not that this is such a marquee matchup, but it's on the list because of what's at stake. Both teams are tied in the Big 12 basement at the moment, so the loser falls further behind in making the field of eight for the Big 12 tournament. We'll see if that new student section at Taylor Stadium, the Tigers on Deck, will have any effect.
Top 25 matchups
No. 1 Florida vs. Georgia
No. 2 Florida State vs. No. 12 Miami
No. 3 Kentucky vs. No. 4 LSU
No. 5 Texas A&M vs. No. 9 Baylor
No. 6 North Carolina vs. Georgia Tech
No. 7 UCLA vs. No. 21 Oregon State
No. 8 South Carolina vs. Auburn
No. 10 Stanford vs. Arizona State
No. 11 Oregon vs. Washington State No. 13 Rice vs. East Carolina
No. 14 UCF vs. Tulane
No. 15 Arkansas vs. No. 22 Ole Miss
No. 16 Arizona vs. Washington
No. 17 Purdue vs. Nebraska
No. 18 Cal State Fullerton vs. Cal Poly
No. 19 NC State vs. Boston College
No. 20 San Diego vs. Saint Mary's
No. 23 Louisville vs. South Florida
No. 24 Texas vs. Kansas No. 25 Virginia vs. Duke

Oregon's George Horton
The Pacific Northwest has become a hotbed of college baseball in the past 10 years. In fact, when Oregon decided to bring baseball back in 2008, they threw the bank at former Cal State Fullerton head coach George Horton to revive their dormant program. And that was the best pitch the Ducks' administration could throw. After a trip to the regionals in 2010, the weight of high expectations in 2011 crushed the Ducks, who sat home last June. Stud players like ace Tyler Anderson, reliever Scott McGough and top hitter Danny Pulfer all moved on, too. That's what makes Oregon's 26-10 start to this 2012 season so surprising. I caught up with coach Horton on Tuesday morning as he was driving to the office.
ES: After last year's disappointing season, and with all you lost, what has been the key to this great start you guys are off to?
GH: The hangover effect of the 2010 season was a lot worse than we thought it would be. We didn't build on the 2010 season and we underachieved last season. But our guys came back and said we're not just going to shoot for 40 wins and an NCAA bid anymore. To be honest, I am a little surprised by our success so far. Even though we have had some great recruiting classes the last few years, our talent level doesn't match up with our win total. But our guys realize, the only predictable thing is chemistry and our ability to embrace challenges. I've never had a team that has banded together like these guys do to overcome a challenge, whether it's on the field, during practice or in the classroom.
ES: What's been the biggest key to your recent run of series wins over ASU, Stanford and UCLA?
GH: The pitching has been spectacular. Alex Keudell and Jake Reed have been great on Fridays and Saturdays. Along with our defense, they've established momentum for the weekend, which carries over into Sunday. And to be honest, with the BBCOR bats and the top talent being so spread around as it is, the biggest difference in winning and losing is mentality. If you have a tougher mentality you're going to win more one-run games and play better to the last out. And I'm really proud that our guys have listened to us all year. They've bought into what we're doing and they trust us.
ES: You brought up Alex Keudell and Jake Reed. Do they compare with some of your great Fullerton pitchers?
GH: Actually, Alex compares very closely to Kirk Saarloos. He's not as uptempo as Saarloos was, but he throws the same, 85-88 and nothing is straight. He's not your prototypical Pac-12 ace that's going to overpower you. He's a straight cutter and slider guy and does a great job of holding runners and fielding his position.
Jake is very much like Wes Roemer. He's a low three-quarters guy with 89-90 speed and has a Frisbee-like slider. And he also reminds me of Wes in that he has this positive arrogance, I'll call it. He came in here in the fall as a freshman and wanted a weekend spot right away. He really likes challenges and he's not afraid of anything.
ES: How big has the emergence of Jimmie Sherfy been in your bullpen?
GH: It has been critical to our success. Jimmie is the one who has shown the most improvement from last year. He didn't really have a good work ethic. He thought he would come in here and that his talent would get him by. But he ended up getting a big wake-up call. At the same time, he watched pitchers like Tyler Anderson and Scott McGough work hard and set a good example. The big difference is that he's worked his rear end off. He's still a work in progress, I mean he still gets really down on himself and his body language shows when he's struggling, but if he matures I could see him pitching for Team USA in the future.

ES: On the flip side, does your .258 offense concern you?
GH: Well we've been winning games on pitching, defense and timely hitting. That's been our M.O. so far. We've been doing it with smoke and mirrors because the truth is we're not a juggernaut by any means. We really don't have a lot of punch in our lineup. We've got Kyle Garlick, Brett Thomas and Ryon Healy as our only power bats, so you just hope if some people can get on base that one of those guys come up next. It's something we hope will get better as the season goes on.

ES: So what's the ceiling for this team?
GH: Well first and foremost, we need to get healthy. The concerning thing is that we've lost Aaron Jones, Scott Heineman, Brando Tessar was our Sunday starter and lost him to an arm injury, then last night [versus Arkansas-Pine Bluff] our shortstop J.J. Altobelli injured his shoulder and we're not sure how long he's out for. The second thing is to make sure our guys aren't reading their press clippings. A lot of those NCAA tournament projections are out and people are excited around here because they say we're hosting, but we've got a long way to go for that to happen. And our guys can't read their press clippings and think things are going to be easy.

-- Eric Sorenson
Hot & Cold: RPI effect
These are the teams that made the biggest moves after this weekend.
Trending upward
1. No. 9 Arkansas (+9): One of those things we will never figure out about the RPI. Hogs lose three of four but move up nine places? Wow.
2. No. 12 Oregon (+18): Ducks win two of three at Stanford and jump from 2-seed range to a home regional. If only the season ended today.
3. No. 14 Gonzaga (+13): Two wins over Washington were the big catalyst. Keep in mind that weekends versus Arizona State and Oregon remain.
4. No. 34 Georgia (+20): Not sure which is more surprising, that the Bulldogs made this big of a jump or that they were way down at No. 54 to begin with.
5. No. 38 Virginia Tech (+12): The wins over Miami put the Hokies back into the at-large conversation, not to mention getting it out of the Coastal Division basement.
Trending downward
1. No. 63 Auburn (-40): Nobody took a bigger free fall this week. You have to wonder: How do the Tigers drop 40 places just for two losses at Vanderbilt? Bizarre.
2. No. 19 Arizona (-13): The Wildcats suffer a tough fall out of national seed range after losing two of three to a good UCLA team. Right now, they'd be a No. 2 seed.
3. No. 35 Oregon State (-14): This is what you get when you schedule a weekend against Arkansas-Pine Bluff.
4. No. 44 Texas State (-15): As you know, mid-majors are given no quarter for a single poor weekend. The Bobcats have now lost six straight.
5. No. 13 Texas A&M (-6): The Aggies don't make a big drop, but falling out of national seed range is significant.
-- Eric Sorenson
Mid-major matchup
Arkansas State (21-17, 10-5) at Florida Atlantic (24-14, 12-3)


The battle for the lead in the Sun Belt Conference should be a good one. FAU comes into this matchup with a two-game lead, but has lost four of its past six, including ugly blowouts to UL-Monroe and UCF in the past two losses. The big difference-maker is ASU's Michael Faulkner, who is 29-of-30 in stolen bases this year. But the Owls may have revenge on their minds after last year, when the Owls headed to Jonesboro a game out of first place, only to see the Red Wolves take them down two out of three and send FAU's season into a tailspin, going 9-11 from there. The Owls never recovered and sat home during the NCAA tournament.

-- Eric Sorenson