Baylor can breathe after streak comes to an end
By Walter Villa
Special to ESPN.com
In some respects, this has been the year of the Baylor Bears.
The school's women's basketball team -- led by 6-foot-8 center Brittney Griner -- won a national title, capping a 40-0 season and setting an NCAA single-season record for wins.
In football, quarterback Robert Griffin III became the first Baylor player to win the Heisman Trophy and was the second overall pick in the 2012 NFL draft.
[+] Enlarge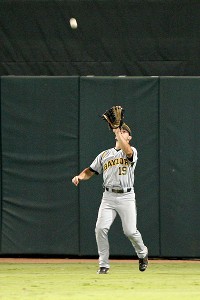 Troy Taormina/US PresswireBaylor's 24-game winning streak came to an end on Tuesday night after a 4-1 loss to UT-San Antonio.
And now, Baylor (36-8) has the hottest team in college baseball, winning 25 of its past 26 games and moving up to No. 4 in the USA Today/ESPN Coaches' Poll.
"It's a great feeling -- it's contagious," Bears junior first baseman Max Muncy said of the mood on campus. "The Baylor nation is loving it, and they're supporting us. For the first time since I've been here, you can hear people talking about Baylor baseball."
The Bears' 24-game win streak -- which set school and Big 12 records -- was snapped Tuesday with a 4-1 loss at Texas-San Antonio.
Muncy said the defeat allowed his team to breathe.
"When you have a streak like that, it puts even more pressure on you," Muncy said. "This will let us relax."
Steve Smith, who is in his 18th season as Baylor's coach, said the streak "had to end sometime."
If Smith doesn't sound crushed by the defeat, it's because he's not. The Bears started a new run on Wednesday with a 6-4 win over Texas-Arlington.
It extended their home win streak to 18 games, but, beyond that, Smith appreciates the way his team is playing -- and not just the results.
His defense is solid, his hitters don't chase many pitches, and his pitchers will battle even though they won't break any radar guns.
"I wouldn't describe our team as hot," Smith said. "I would describe it as a business-like approach on a team that is locked in to playing the same way every day."
Baylor's top two starters, Trent Blank and Josh Turley, are a combined 15-0 with sub-2.20 ERAs.
But Smith has used 19 pitchers this year, the highest number since he took over, and the Bears are just fourth in the nine-team Big 12 in ERA (3.20).
The strength of the Bears is the league-leading offense (.314 batting average and 6.6 runs per game). They also have eight .300 hitters.
Muncy, who has started 127 games in a row, arrived at Baylor in the fall of 2009 hoping to earn perhaps one start a week. He's done a lot better than that, becoming an immediate starter and hitting .300 or better in all three of his seasons so far.
"I think Muncy can hit in the big leagues," Smith said. "He has lightning hands and lightning bat speed. After Muncy, I think [Logan] Vick is also a big league hitter."
Smith said his team is tired right now because finals are next week, and that puts a lot of stress on the players, who have been staying up late to get their academic work done.
After this weekend's two-game series against New Mexico State, the Bears are off until May 9. Smith expects his players to get "their second wind" once they return from finals.
Baylor has a big series against Texas May 17-19 -- two of the three games are in Austin -- and then the conference tournament begins May 23.
Then come the regionals, and Smith believes what happened in last year's NCAA tournament has inspired his team to work harder. Baylor backers need not be reminded, but for anyone who forgot, the Bears lost a three-run, ninth-inning lead in the regional final against Cal and blew a chance to host a super regional against Dallas Baptist.
"It was the most devastating loss of my career," Smith said. "Our guys were so raw after that game -- stone-cold quiet.
"I told our guys that out of great adversity comes great accomplishment. I look back at that game and at what we've done so far this year, and I say 'wow.'
"What we've done this year was born on that day."
Places to be this weekend
By Eric Sorenson
Special to ESPN.com
1. No. 9 Stanford (26-10, 8-7 Pac-12, No. 13 RPI) at No. 11 UCLA (27-10, 11-7 Pac-12, No. 5 RPI)



Jackie Robinson Stadium, Los Angeles

The Pac-12 title isn't on the line but you get the feeling that a national seed could be. The winner will certainly have the inside track on staying home for the first two rounds of the NCAA tournament. The pitching is pretty even, but the offense, surprisingly, leans toward the Bruins, despite all that versatility in the Cardinal's batting order 1 through 9. Bruins bats hit at a .314 pace and need to pressure Stanford's defense, which will be playing without do-it-all shortstop Lonnie Kauppila the remainder of the season.
2. No. 17 Arkansas (29-12, 9-9 SEC, No. 16 RPI) at No. 2 Florida (32-10, 11-7 SEC, No. 1 RPI)



McKethan Stadium, Gainesville, Fla.

This is a really tough stretch for the Razorbacks with the Gators on the road this weekend followed by South Carolina's visit to Fayetteville, Ark., next weekend. It is also their last chance to make a statement for getting into the top 16 for NCAA tournament seeding, let alone in contention for a top eight national seed. They're going to have to lean on their SEC-best pitching, especially since so much of the Gators' success comes from timely hitting.
3. New Mexico State (30-11, 7-2 WAC, No. 20 RPI) vs. No. 4 Baylor (35-8, 18-0 Big 12, No. 4 RPI)



Baylor Ballpark, Waco, Texas

You've got to wonder what the BU mindset will be. Are the Bears taking this as a "week off" from Big 12 play and an opportunity to regroup? Or will they still be dead set on bouncing back after seeing their winning streak come to an end? Either way, they can't overlook the powerful Aggies. This will be the best offense the Bears will see all year, as the Aggies are not only 10th nationally in hitting at .318, but have the best walks total in the country. They've earned 271 free bases, a full 42 better than second-best Florida State.
4. No. 12 Texas A&M (29-12, 9-6 Big 12, No. 18 RPI) vs. No. 24 Texas (24-14, 11-4 Big 12, No. 45 RPI)



Olsen Field, College Station, Texas, and Disch-Falk Field, Austin, Texas

One of the best rivalries in college baseball, if not college sports, will have its final go-round before the Aggies move on to the SEC. Expect the crowds and intensity to be at an all-time high. The pitching matchup in College Station on Friday night will be huge with A&M's Michael Wacha going up against UT's Nathan Thornhill, two wildly talented pitchers who can't seem to stay consistent.
5. No. 19 Ole Miss (27-14, 9-9 SEC, No. 14 RPI) at Mississippi State (25-16, 8-10 SEC, No. 43 RPI)



Dudy Noble Field, Starkville, Miss.

This is another toss-out-the-record-books rivalry. Having seen this rivalry up close and personal last year, I can attest to the fact that the barbecues get ratcheted up a tidbit more here. MSU's pitching is a little more reliable right now, even though there is a large disparity between the two offenses, with the Rebels tied for first in the SEC at .313 and MSU way down at .261. But look for MSU pitcher Chris Stratton to set the tone early for the Bulldogs with his penchant for double-digit strike totals. From there, Caleb Reed and the Bulldogs' bullpen will decide things one way or the other.
Q&A with Georgia's Dave Perno
By Eric Sorenson
Special to ESPN.com
One of the more intriguing teams this late in the season has to be Georgia. Unlike last year, the Bulldogs didn't play a rugged nonconference schedule, so their RPI is No. 39, which makes them a borderline call for an at-large berth coming out of the SEC. But Dave Perno's charges are in the late stages of a rugged April schedule which saw them play Kentucky, Arkansas, Ole Miss, Florida and now LSU in successive weeks. That's harsh. But the Dawgs have improved each week and could be in line for another late-season rush to the NCAAs. I caught up with Coach Perno the morning after their midweek loss to Georgia Tech at Turner Field in downtown Atlanta.
ES: You've been to the College World Series three times, so you know how tough it is to get there. But aren't things a little out of hand when you get put on the "hot seat" for one bad season?
DP: Well to be fair, we took some backward strides in 2010. We really did. There's no way for me to defend it -- we were horrible. So whenever you have that type of year around here, it just comes with the territory. We really were the victim of our own success, because people around here expect it. What they don't realize is how competitive and how invested the programs in this league are. Our teams win national championships. Anything less than that is viewed as a letdown.
ES: I'm not sure anyone has a tougher month of a season than you guys do in April. Do you handle things any different when you play a Florida or an LSU, or is it just business as usual?
DP: The thing is, we've played OK. We hadn't won a lot. But we've been competing to the last out, playing hard and we're still breathing life. As things stand right now, we're still on schedule to be a 7- or 8-seed in the SEC tournament. That's good enough to be in a [NCAA tournament] regional. As I said, we haven't won a lot, but the good thing is that our schedule is favorable down the stretch. We've got two of the last three weekends at home and the road trip is at Alabama. There are no gimmes in the SEC, but at least we'll have a chance for a strong finish.
ES: You guys came really close to winning the series at Florida. Did that series tell you what you guys were capable of?
DP: Well, prior to last night I would've told you we had turned a corner on our season after that Florida series. Then we got beat by [Georgia] Tech [Tuesday] night and we took another few steps back. I really thought we'd play better. If we go down to LSU, play tough and hang in there, regardless of results, I feel like we can make a run. The schedule lightens up, we don't play any more two-game midweeks and we can put some things together with all our home games. This will allow us to get rested up and reload.
ES: Do you see this team making it into the NCAA tournament?
DP: We've already played the majority of the top teams in our league and the remaining ones are all winnable. I feel like we can make a run. We're going to keep fighting and keep working. I'll say this: If I've ever had a group of guys who deserve a break or two, it's this team.

Top 25 matchups
No. 1 Florida State vs. Rhode Island
No. 2 Florida vs. No. 17 Arkansas
No. 3 Kentucky vs. Vanderbilt
No. 4 Baylor vs. New Mexico State
No. 5 South Carolina vs. Alabama
No. 6 LSU vs. Georgia
No. 7 UCF vs. Memphis
No. 9 Stanford vs. No. 11 UCLA
No. 12 Texas A&M vs. No. 24 Texas
No. 13 Purdue vs. Michigan State
No. 14 Oregon vs. California No. 16 Arizona vs. East Tennessee State
No. 19 Ole Miss vs. Mississippi State
No. 20 San Diego vs. Portland
No. 21 Oregon State vs. USC
No. 22 NC State vs. Duke
No. 23 Louisville vs. Connecticut
No. 25 Sam Houston State vs. Texas A&M-CC

Preseason bracketology
ESPN's resident NCAA baseball bracketologist, Jeremy Mills, offered his NCAA tournament projections. Mills' eight national seeds are:
1. Kentucky
2. Florida State
3. Baylor
4. UCLA
5. LSU
6. Florida
7. North Carolina
8. Purdue
You can find the rest of his projected 64-team field in ESPN.com's college baseball blog.
The RPI effect
There were lots of changes in the RPI over the past week. Here's how some of the bigger movers and shakers panned out.
1. The biggest winner: No. 4 Baylor (up from No. 10).
The Bears' sweep of Texas A&M not only gave them a 5½-game lead in the Big 12 standings, but also moved them into that much-coveted top eight range for national seed consideration. The way they're playing, a total collapse is very unlikely.
2. The unprecedented: No. 8 Purdue (up from No. 16).
It's hard to believe, but yes, we could be looking at a Big Ten team as a national seed. Things could get even better with weekends versus second-place Michigan State and a trip to UCLA coming up.
3. Another new host?: No. 12 UCF (up from No. 25).
The Knights are on a six-game winning streak and made a quantum leap from No. 2 standing to having home-field advantage for a regional.
4. Spiraling: No. 18 Texas A&M (down from No. 7).
The Aggies have been a top-five team in the polls all season. Hard to believe, but they took the most serious plunge, going from national seed territory down to a traveling No. 2 seed.
5. Spiraling II: No. 19 Arizona (down from No. 6).
What lessens the blow for the Wildcats is that they are still tops in the Pac-12 (remember what winning the conference did for UCLA last year) and have better remaining opponents to build the RPI back to national seed status.
7. Proof that midweek games do count: No. 32 College of Charleston (up from No. 49).
An April 17 win over South Carolina did wonders for the Cougars' résumé.
9. The Biggest Loser: No. 88 Notre Dame (down from No. 45).
A mid-major in the mid-40s range is pretty good. But the Irish were so penalized for winning three games at Georgetown, they dropped free-fall style out of the discussion. Harsh.
-- Eric Sorenson
Mid-major matchup
Coastal Carolina (27-13, 9-3 Big South, No. 52 RPI) at Liberty (33-12, 10-5 Big South, No. 69 RPI)



You had to figure it would come down to these two in the Big South after all, right? After a brief uprising from Campbell, the Chanticleers and Flames are back to being first and second in the league standings. The Chanticleers have the distinction -- or misfortune -- of having six of their last nine losses come in extra innings, but have the No. 1 pitching staff in the country at 2.43. The Flames counter with a .307 team offense and the No. 17-ranked arms corps in the country at 2.96. Something's got to give here.

-- Eric Sorenson
Upset watch
Kentucky at Vanderbilt



How it could happen: Sure, Vandy is a wounded animal at this point, but if you look closely, you'll notice that up until last weekend's odd series loss to Alabama, the Commodores had started playing pretty good ball. And of course, the talent is there, it just hasn't come around and jelled like coach Tim Corbin (and the rest of college baseball) expected. But if the Dores recapture that mojo that helped them win games against Georgia, South Carolina, Mississippi State and Auburn, this one could get dicey.
Why it might not: This isn't the Kentucky of yore. These guys have not only arrived, they've stuck around this time, too. The emotional roller coaster that is Vandy's pitching staff will have a tough order to handle this weekend with Austin Cousino, Luke Maile and A.J. Reed, who all hit .311 or better with plus power. And the Bat Cats know they can't afford to take a weekend off, or they could risk losing their national seed hopes. -- Eric Sorenson
Under the radar
Utah Valley (26-11, 12-0 Great West, No. 101 RPI)


Offense: .343 team average; 33 HRs; 29 stolen bases
Pitching: 4.85 team ERA
Defense: .970 fielding percentage
Sadly, there's no chance for the Wolverines to get into the NCAA tournament. None. The Great West Conference, which runs from Utah to New York City, has never been given an automatic berth into the Big Dance. But the Wolverines have beaten the likes of Arizona, Arizona State and Saint Mary's and just saw their RPI jump up 66 spots after sweeping second-place UT-Pan American. They also lead the nation in hitting, are seventh in triples (with 20) and lead the country in guys named Goose. As in Goose Kallunki, the UVU first baseman, who spearheads the offense with a .395 average, 10 home runs and 51 RBIs.
-- Eric Sorenson