Places to be this weekend
By Eric Sorenson
Special to ESPN.com
1. No. 1 Florida State (40-9, 21-3 ACC, No. 2 RPI) at Clemson (29-20, 14-10 ACC, No. 24 RPI)



Doug Kingsmore Stadium, Clemson, S.C.

The one thing that distinguishes this year's Seminoles from past flash-in-the-pan squads is that they've been winning on the road. Sure, their road series wins have come against Duke, Wake, Georgia Tech and Boston College, but they've gone 14-5 away from Dick Howser Stadium, which is better than past seasons. The Tigers have a decent RPI, but the last thing they need is to get swept by the Noles. That's about the only thing that could wreck Clemson's at-large profile.
2. St. John's (31-17, 16-5 Big East, No. 60 RPI) at No. 23 Louisville (33-16, 14-7 Big East, No. 43 RPI)



Patterson Stadium, Louisville

The Big East title could be on the line this weekend, and both teams need a bump up into a more comfortable zone of the RPI. The Red Storm are playing at a completely different level now, having gone 17-5 since April 1, and their pitching has held their opponents to four runs or fewer in each of the past 12 games. All four starting pitchers for St. John's have an ERA under 3.75, but they'll face the Big East's best offense as the Cards go .301 and have 75 stolen bases.
3. No. 11 UCLA (32-13, 12-9 Pac-12, No. 3 RPI) at Washington (26-18, 11-10 Pac-12, No. 42 RPI)



Husky Ballpark, Seattle

Sitting on the bubble, the Huskies face a huge weekend. If Bruins ace Adam Plutko pitches like he did last week, nobody will beat UCLA when he's on the mound. By contrast, if Washington plays as well as it played at USC last weekend (no errors, two walks issued in three games), they won't be beaten either. The Bruins are a mentally tough team, going 13-3 in road games this year, so if their bats are able to put some pressure on the Dawgs, things will go their way. And yes, that's a big "if."
4. Mississippi State (30-18, 12-12 SEC, No. 39 RPI) at No. 5 Florida (36-13, 14-10 SEC, No. 1 RPI)



McKethan Stadium, Gainesville, Fla.

You remember the end of last year's Gainesville Super regional? After the coaches shook hands, words were exchanged, and Florida coach Kevin O'Sullivan started fiercely doing the Gator Chomp and pumping his fists. Mississippi State coach John Cohen didn't cotton to that too well. So here's the rematch, and we're talking about a Bulldogs team that really needs some wins, having fallen toward the bubble. The Gators keep playing near-.500 ball, going 11-9 since April 1, though they probably aren't in any threat to lose a national seed. But the Gators need momentum.
5. Arizona State (29-17, 14-10 Pac-12, No. 30 RPI) at Gonzaga (29-17, 9-9 WCC, No. 36 RPI)



Patterson Baseball Complex, Spokane, Wash.

Boy, do the Zags need this after seeing their RPI plummet from the mid-20s in two weeks' time. They must post a win or two here, no ifs, ands or buts. In 14 of their 17 losses, the Zags have lost by two runs or fewer, so it's not like they're ever out of any game. Plus, these two teams are pretty similar in stature; not only do both teams come in with a 29-17 record, but GU hits .295 while their opponents hit .245, and ASU hits at a .291 pace while opponents hit .241.
Rhymes still a hot hitter for LSU
David Helman
GeauxTigerNation
BATON ROUGE, La. -- In the world of college baseball, gaudy statistics are common. With so much talent spread across such a wide talent pool, it's not unusual to see jaw-dropping stats. For instance, 15 batters in the country are hitting above .400 and 50 are hitting .379 or better. A whopping 41 college pitchers have an ERA of 1.99 or lower, and the nation's best ERA is an astounding 0.63.
None of that knowledge, however, can diminish the absurd tear of LSU left fielder Raph Rhymes going into the last week of the season.
[+] Enlarge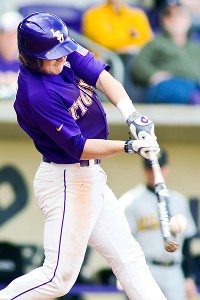 John Korduner/Icon SMILSU will have to improve on offense to reach the College World Series in 2013.
With seven regular-season games to play, Rhymes is leading the country with an unbelievable .500 batting average -- 54 points higher than his nearest competitor.
"Somebody asked me the other day, 'What does he have to do to hit .500?' and I said , 'How should I know? I've never seen anybody hit .500,'" said LSU coach Paul Mainieri. "If I were to tell you what it takes to hit .500, I'd be fooling you. Because I don't know -- I've never seen anybody do it."
Mainieri's amazement gives credence to what Rhymes has been doing this spring. If the head man, who has coached 29 seasons and won a national championship, hasn't seen it, then it probably doesn't happen very often.
"I don't like to think about it," Rhymes said. "When people start worrying about their batting average, it gets them off track of the main goal -- and the main goal here is to win."
Of course, it's probably easier to get over stat totals when you've taken the path Rhymes has. If there's one thing crazier than Rhymes' strikeout total (just 10 in 170 at-bats), it's his trip to the heart of the LSU order. Before he could suit up for the Tigers, much less lead them in hitting, Rhymes failed to make the team as a walk-on out of Monroe, La. The Neville High School standout could not find a roster spot, and instead transferred to LSU Eunice junior college, where he hit .486.
"I honestly thought maybe that was the best thing for the kid. He's going to get an opportunity to play," Mainieri said. "Well, then he goes off and has this tremendous season, gains this unbelievable level of confidence and has this tremendous experience. I think maybe he wouldn't have been the same player at LSU-Baton Rouge if he hadn't had that experience."
Said Rhymes: "I just wanted somewhere to play when I first made the decision to go to junior college. I didn't have anywhere to go, and if I do want to want to go back and play Division I baseball and make it back to LSU, this is the route I'm going to have to go."
Rhymes isn't the power hitter typically seen at the top of the stat rankings, either. The nation's current No. 2 hitter, Hofstra's Danny Poma, has knocked 36 extra-base hits this year. Mikie Mahtook, LSU's batting champ in 2011, powered his way to 31 extra baggers, including 14 home runs.
With just 14 extra-base hits of his own, Rhymes has morphed into a different sort of hitting machine, opting instead to spray base hits to every inch of the park.
"I've accepted that I'm not a guy that's going to go up there and hit it 500 feet. That's not something that's part of my game," Rhymes said. "I may hit some home runs, but I don't go up there to hit home runs. I'm looking to get on base and put good at-bats together for the guys behind me."
That talent -- the ability to lace the ball to any part of the field -- is something Mainieri said should come in handy in Rhymes' future, whenever he decides to pursue it. The adjustment to the less powerful pro game is something he said bigger hitters can have trouble with.
"It's a very difficult thing to be able to hit the ball to all fields, and he has mastered that," Mainieri said. "It's why he rarely strikes out, and you can't defend him in one way -- you can't put a certain shift on him. … Those are very unique skills, to be able to do that. And a professional ought to be grateful to have a hitter that can do those kind of things."
Marrero steadies defense for Arizona State
By Walter Villa
Special to ESPN.com
Arizona State has lost only three series this season -- all of them on the road and all of them against top-12 teams.
The Sun Devils, who this year will serve a one-season playoff ban because of NCAA infractions, were 1-8 in those games against No. 10 Oregon, No. 11 UCLA and No. 12 Stanford.
But since getting swept at Palo Alto, the Sun Devils are 5-1, and they've been winning with pitching and defense, particularly the glove work of shortstop Deven Marrero.
[+] Enlarge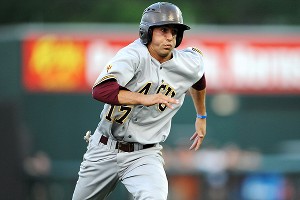 John Albright / Icon SMIDeven Marrero is known for his defense but his offense is evolving as he matures.
ASU (29-17, 14-10 Pac-12, No. 30 RPI) has allowed an average of only 2.8 runs in the past six games, and Sun Devils ace Brady Rodgers said Marrero is always key in his team's defensive strategy.
"Against right-handed hitters, I throw inside and try to get a weak grounder to short," Rodgers said. "To lefties, I work away and try for the same thing. We definitely pitch to where Deven's at on the field. I know for sure that he makes my job easier."
Marrero, a 6-foot-1, 195-pound junior, earned the league's Defensive Player of the Year honors last season and was named first-team all-conference. He and Eric Sogard (2007) are the only Sun Devils to win the league's top defensive award.
That's impressive, considering that the long list of former ASU stars includes major league Gold Glove winners and league MVPs Barry Bonds and Dustin Pedroia.
Last season, Marrero made 18 errors and had a .925 fielding percentage. With 10 games left this season, including a three-game set this weekend at Gonzaga, Marrero has 14 errors and a .945 fielding percentage.
"Deven has a quick first step and a plus arm," ASU coach Tim Esmay said. "It's one thing to have the range to go get the ball in the hole, but Deven also has the arm strength to throw you out."
Major league scouts have certainly noticed, which is why he is ranked by some publications as the top college shortstop eligible for next month's draft.
Marrero is projected to be among the first 15 players selected overall, and if that happens -- or even if it's even close -- it will give more evidence to prove he made the correct decision to turn down the Cincinnati Reds, who drafted him in the 17th round out of high school.
Perhaps the Reds were surprised Marrero chose to go to college, considering that he wasn't the world's best student at the time.
"In high school, I didn't care about my grades too much," said Marrero, who played his high school ball at American Heritage (Plantation, Fla.), which won a state title and was ranked No. 1 in the nation in 2008.
"But when I got to ASU, I finally realized that baseball is not going to last forever. I had to get my mind right. And being away from home, I had to grow up fast."
On the field, Marrero was an immediate star at ASU, hitting .397 with 6 homers and 42 RBIs in 37 starts, earning Freshman All-American honors. He also made just 10 errors (.926 fielding percentage) and had a walk-off, 12th-inning single against Arkansas in a Super regional, helping ASU reach the College World Series.
But perhaps his most surprising performance has come in the classroom, where he has a 3.56 grade-point average and is majoring in criminology.
"He came in here with some academic questions," Esmay said. "He had to push at the end of his senior year [of high school] just to get in here, and that was a red flag.
"We thought we were going to have to be on him all the time about his academics, but the opposite has been true. And he is also the first one to volunteer for any type of community service."
Marrero said he has worked it out so that if he goes pro this year, he would only need to pass online courses to be able to graduate by 2013.
He is determined to become a major leaguer, following in the same pro-ball path of Chris and Christian Marrero, his cousins.
Chris was the 15th pick in the 2006 draft and made his big league debut last year as a first baseman for the Washington Nationals. Christian, an outfielder who was picked in the 22nd round by the White Sox in 2005, is now in Triple-A.
To match the exploits of his relatives, Marrero will probably need to show continued improvement on offense. After his breakout freshman year, his batting average slipped to .313 with 2 homers and 20 RBIs last season. This year, Marrero has slumped to .276, although his power numbers -- 3 homers and 26 RBIs -- have improved from last season.
Esmay said a big reason for the downward trend offensively is that teams are pitching Marrero tougher.
"His average is down, but his strength and his power are better now," Esmay said of Marrero, who bats second in the lineup. "The ball jumps off his bat more."
Top 25 matchups
No. 1 Florida State vs. Clemson
No. 2 Baylor vs. Oklahoma
No. 3 South Carolina vs. Georgia
No. 4 LSU vs. Vanderbilt
No. 5 Florida vs. Miss. State
No. 6 Rice vs. UAB
No. 7 North Carolina vs. Duke
No. 8 Texas A&M vs. San Diego St.
No. 9 Kentucky vs. Alabama
No. 10 Oregon vs. USC
No. 11 UCLA vs. Washington
No. 12 Stanford vs. Washington St. No. 13 Arkansas vs. Auburn
No. 14 Cal State Fullerton vs. UC Santa Barbara
No. 15 Purdue vs. Michigan
No. 16 UCF vs. Marshall
No. 17 North Carolina State vs. Virginia Tech
No. 18 Arizona vs. Cal
No. 19 Oregon St. vs. Utah
No. 20 San Diego vs. Loyola Marymount
No. 21 Miami vs. Wake Forest
No. 22 Virginia vs. Georgia Tech
No. 23 Louisville vs. St. John's
No. 24 Ole Miss vs. Tennessee
No. 25 Texas vs. Texas Southern
Preseason bracketology
ESPN's resident NCAA baseball bracketologist, Jeremy Mills, offered his NCAA tournament projections. Mills' eight national seeds are:
1. Florida State
2. LSU
3. Baylor
4. Oregon
5. North Carolina
6. South Carolina
7. Florida
8. UCLA
You can find the rest of his projected 64-team field in ESPN.com's college baseball blog.
Purdue's Doug Schreiber

On Wednesday, the Boilermakers tied the school record with 37 wins in a season. With an RPI at No. 7 this week, Purdue is chasing its first Big Ten title since 1909. I caught up with coach Doug Schreiber at UCLA this past weekend to talk about the status of the program.
Eric Sorenson: What did it mean to come out here and play a team like UCLA?
Doug Schreiber: We're doing things we haven't done before with this program, including giving ourselves a chance to host beyond the regionals. Winning the Big Ten takes precedence, but we're glad we got to play UCLA instead of scheduling three easy wins at home against a lesser opponent. We've challenged ourselves, and it means it might help us play a home regional in June.
ES: For people who don't know, what is the biggest challenge to building your RPI as high as you have this year?

DS: Well, when you play your first 20 games of the season on the road, people don't realize how much that travel wears your team down. You hate that they use the RPI as a tool, or maybe as the primary tool, because there's a lot of parity in the Big Ten -- and I know that gets interpreted as being mediocre, but it's not. Just look at what Minnesota and Illinois have done in the Fullerton regional the last two years, and they weren't necessarily our best teams.
ES: What are your feelings on Purdue building Alexander Field?
DS: It's a nice book cover for our program. It's a book that's now getting a shiny, glossy cover and will get people to open it up and take a look at what's inside. It's going to be a great facility, no doubt. Although we only play 16 home games this year, so I admit it's weird to justify building a $20 million facility that gets limited amount of games, but we'll use it to our advantage.
ES: With Alexander Field not ready, I've heard rumors of where you guys want to possibly host a regional. Anything you can talk about?
DS: Well, just about every minor league team in the Midwest is at home that weekend. But we do have a shot at a minor league park in Gary that was built 10 years ago. But I've also put in a call about using Wrigley Field, which would be available. The only thing I don't want to do is be a No. 1 seed at a 2-seed's home field; then it's like being a guest at someone else's invitational.
ES: Quick-hit style here, what do you like best about this year's team? And what concerns you the most down the stretch?
DS: What I like best is that we don't panic. We're a veteran team that's been able to bounce back from a bad game, inning or at-bat. The thing that concerns me the most is what concerns me every year: the pitching wearing down, which happens to a lot of teams.
Five more to watch


1. Wake Forest at No. 21 Miami
The Hurricanes recent play has been cause for concern. Wake is a game behind the two Tech teams for the eighth and final spot in the ACC tournament.


2. Auburn at No. 13 Arkansas
At No. 64 in the RPI, Auburn can improve its shot at an at-large bid with a win or two here. The Hogs must keep winning for hopes of staying home in June.


3. Southeastern Louisiana at Sam Houston State
The Southland title is at stake here as the Bearkats will have to contain SLU's Brock Hebert, the top hitter and base-stealer in the SLC at .400 and 34 thefts.


4. No. 2 Baylor at Oklahoma
This is the Sooners' last shot at improving their postseason profile, but they'll have to get their .269 offense on-track against BU aces Josh Turley and Trent Blank.


5. Georgia Tech at No. 22 Virginia
The Cavs are back in the hosting conversation, winning 12 of their past 16 overall, while Tech is on a 4-9 ACC skid and can't afford a late-season slide.
-- Eric Sorenson
Mid-major matchup
No. 4 Lafayette (14-35, 7-13) at No. 1 Army (37-12, 18-2)

No. 3 Navy (23-27, 9-11) at No. 2 Holy Cross (30-20, 13-7)


The Patriot League does things right by having an MLB-style two rounds of playoffs, with each series going best-of-three, and the winners will face off next week. The Black Knights are a heavy favorite, trying to become the first-ever Patriot team to win 40-plus games. They held the Leos scoreless in three of the four games they played in mid-April. The Crusaders took three of four at Navy during the regular season.

-- Eric Sorenson
Under the radar
Tulane (33-16, 10-8 C-USA , No. 49 RPI)


Offense: 313 BA, 40 HRs, 50 stolen bases
Pitching: 3.33 ERA, 302 Ks, 165 BB
Defense: .978 fielding percentage
The Green Wave have seen their RPI climb 30 spots in the past two weeks. Since being swept at home versus UCF, the Greenies have gone on a 7-2 tear to put them in at-large range for the NCAA tournament. But things get interesting now, as they'll finish up versus the two bottom-feeders of C-USA, Houston and Marshall. So while the wins may pile up, the RPI may not improve. Stay tuned.
-- Eric Sorenson